Canada has a new national celebration: Ribbon Skirt Day will be held every year on 4 January. The idea came from a young First Nations girl, Isabelle Kulak, now 12, who wanted Canadians to recognise and celebrate indigenous culture in the form of the ribbon skirts and shirts many tribes create.
The country already has Orange Shirt Day on 30 September, when people remember the terrible legacy of the policy of sending First Nations children to residential schools to isolate them from their culture. Ribbon Skirt Day has a more positive message, although it also started with a bad experience.
In December 2020, when she was ten, Isabelle Kulak's school was having a "formal day", when students are encouraged to wear the sort of formal, dressed-up clothes they might wear to a dance. Isabelle, a member of the Cote First Nation in Saskatchewan, proudly wore a ribbon skirt she had made for traditional ceremonies. A teaching assistant told her it wasn't formal, and compared it with another student wearing a shop-bought dress.
When Isabelle told her family what happened, a group of Cote women decided to accompany her to school when it opened on 4 January, wearing their ribbon skirts.
The skirts are traditional in many indigenous nations in Canada and the U.S.A. They are long, so they touch the ground and connect the wearer with the earth, and are decorated with colourful ribbons. You can see a selection here.
The Cote women's protest received media attention and a First Nations Senator, Mary Jane McCallum, proposed a bill to Parliament to have 4 January recognised as Ribbon Skirt Day. The law passed in December and the first official celebration was held in January.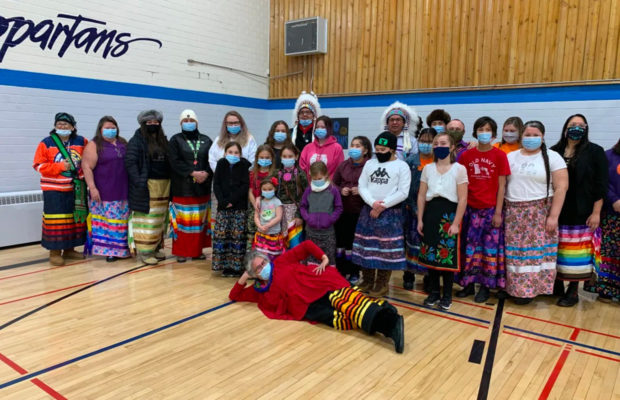 Prime Minister Justin Trudeau said, "This National Ribbon Skirt Day, I invite everyone to learn from Indigenous Peoples about their cultures and histories – from languages to traditional ceremonies and regalia to ancestral ties to the land."
Isabella reacted to the passage of the law saying, "It makes me really happy because lots of people can now wear their ribbon skirts. I hope they are now proud of who they are."
This article and/or video is a good addition to Shine Bright 2de Snapfile 11 First Nations Territories.
Copyright(s) :
Courtesy Lana Kulak

Downloadable resources ready to use in class
>
Orange Shirt Day