Edward Hopper lived and worked in New York City from 1913 till his death in 1967. Many of his paintings depict the city, but also more generally an essence of American life. Hopper's vision of that life was of isolation and solitude. He loved films, too, and his paintings often have a cinematic quality: like a still image from a film, the viewer knows there is more to the story, before and after this one image.
Many of Hopper's images are familiar. They portray the essence of what we recognise as early twentieth-century America: empty sidewalks; brownstone buildings baking in the summer heat; lonely people in roadside cafes. Many of his paintings are of New York but one that was already old-fashioned when he painted them. There are no skyscrapers. Hopper's characters may be alienated but it's not by the city. It remains human-sized and could just as easily be any American town, not the enormous metropolis of New York.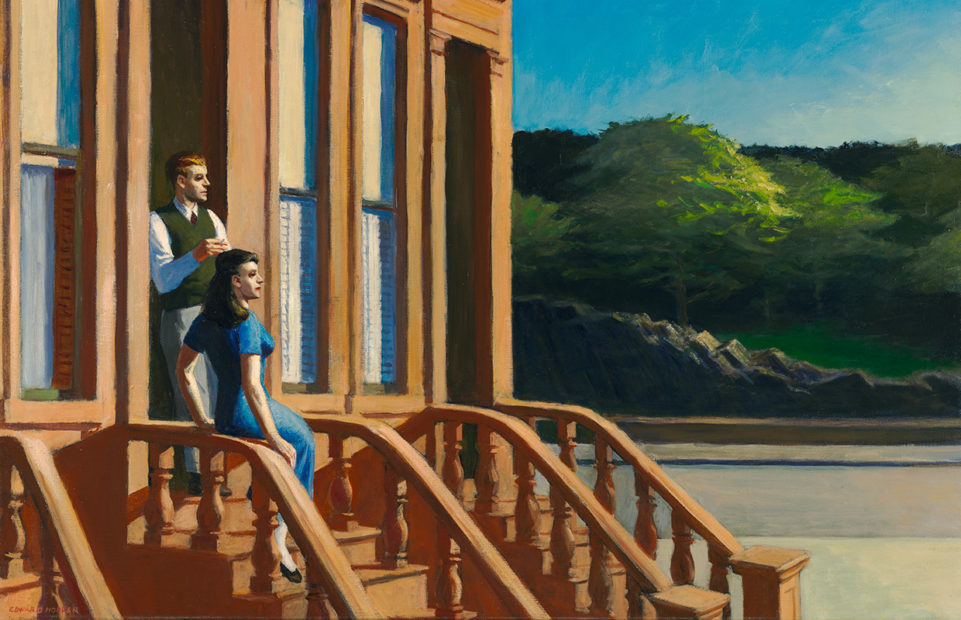 Through the Window
Hopper often used windows in his paintings. Isolated by the glass, we can view his subjects like characters on a stage. It is difficult to distinguish private space and public space.
In Edward Hopper's best-known work, Nighthawks, painted in 1942, two men and a woman sit at the counter of a brightly lit diner. It is late at night and we wonder why they are there. We are observing them through the large window of the diner, where they are like actors under the spotlights on stage.
In Automat (1927), a woman sits in a café at night staring into a coffee cup. There is an empty chair. Was someone sitting in it? Is she waiting for someone? The title tells us the setting is an "automat": a new type of café in New York where customers effectively bought their food and drinks from a vending machine, with no interaction with a member of staff.
In Sunlight on Brownstones, a couple stands on the front steps of a brownstone building, staring at a park. What is going on between them? They are both looking the same way, has something drawn their attention?  Morning Sun (1952) reveals a woman sitting on a bed staring out of a window. She cannot see us. We don't know why she is there or what she is looking at.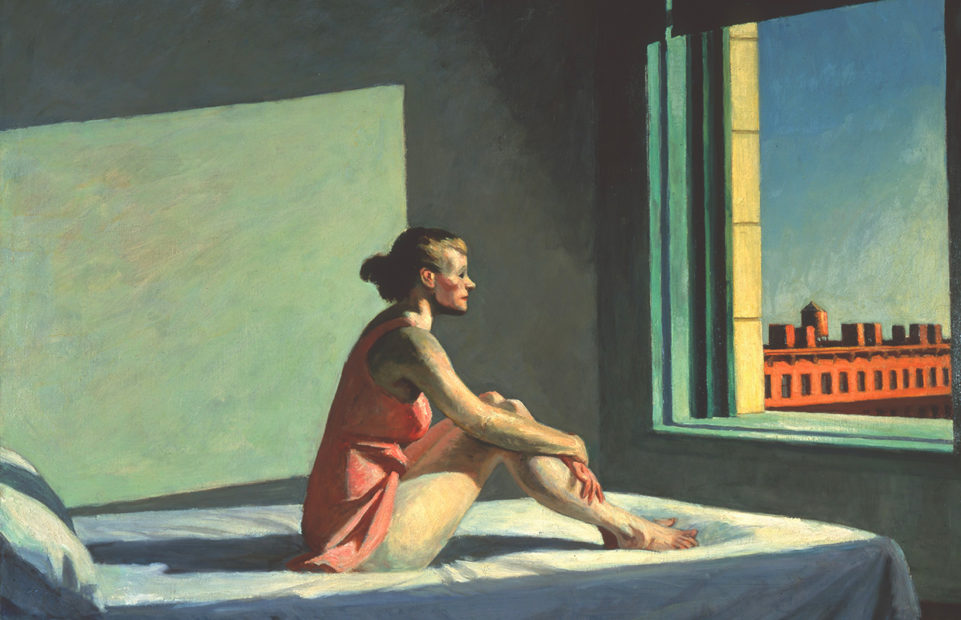 The paintings invite us to make up our own story. We can walk those city streets or look in through those windows and set our imagination free.
Edward Hopper's New York
Whitney Museum, New York
Till 5 March 2023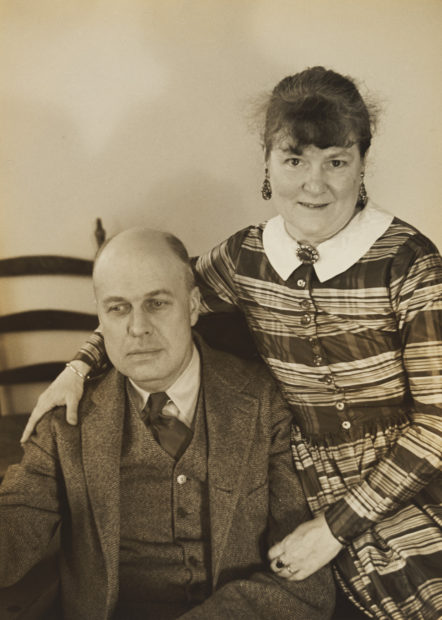 Copyright(s) :
Edward Hopper, Early Sunday Morning, 1930. Oil on canvas, 35 3/16 × 60 1/4 in. (89.4 × 153 cm). Whitney Museum of American Art, New York; purchase, with funds from Gertrude Vanderbilt Whitney 31.426 © 2022 Heirs of Josephine N. Hopper/Licensed by Artists Rights Society (ARS), New York
Edward Hopper, Sunlight on Brownstones, 1956. Oil on canvas, 30 3/8 × 40 1/4 in. (71.1 × 101.6 cm). Wichita Art Museum, KS, Roland P. Murdock Collection. © 2022 Heirs of Josephine N. Hopper/Licensed by Artists Rights Society (ARS), New York
Edward Hopper, Morning Sun, 1952. Oil on canvas, 28 1/8 × 40 1/8 in. (71.4 × 101.9 cm). Columbus Museum of Art, Ohio: Museum Purchase, Howald Fund. © 2022 Heirs of Josephine N. Hopper/Licensed by Artists Rights Society (ARS), New York
Edward and Jo Hopper, c. 1947. Photograph by Bernard Hoffman. The Sanborn Hopper Archive at the Whitney Museum of American Art, Frances Mulhall Achilles Library and Archives, New York EJHA.0941