The Five Eyes Alliance is a very discreet intelligence-gathering agreement between five major Anglophone countries: the U.S., the U.K., Australia, Canada and New Zealand. It was created during the Cold War with the former Soviet Union. But it is currently in turmoil over the five nations' relations with China.
The Alliance has existed in its current form since 1956, although it was kept secret until the 2000s. As long as it is just about gathering intelligence, the five countries get along fine. But recently, four of them have taken clear stances in opposition to China's infringements of human rights in its oppression of its Muslim Uyghur population, and its actions against democratic opposition in Hong Kong. The fifth, New Zealand, has expressed discomfort at its allies' stance.
New Zealand is usually prompt to support human rights. In this case, its objection officially is to the use of the Alliance as a lobbying organisation, changing its historic role. It prefers to make its own objections, or not, to China directly. The alliance did decide in May 2020 to take on this new role, but so far its pronouncements have clearly been too focused on China for New Zealand's liking.
Sceptics point to New Zealand's trade links to its near neighbour. Up to 30% of the country's exports are to China. However, Australia is similarly economically linked to the People's Republic but has been actively opposing China. For example, Canberra vetoed two agreements for Chinese investment signed by the state government of Victoria which were part of the "Belt and Road initiative" that has seen Chinese-funded infrastructure investments around the world.
Five to Six?
Meantime, there are more and more rumours that the Alliance could add a sixth member: Japan. A historical enemy of China, that could add further to the tensions.
Going Further
This is an interesting opinion piece on New Zealand's differences with its Five Eyes partners by Frank Gardner, the BBC's security correspondent.
The 2-minute video accompanying this Stuff NZ report features statements by New Zealand's and Australia's foreign ministers: Nanaia Mahuta and Marise Payne and is an excellent example of "diplomatic speak" for students.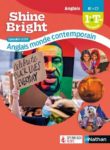 Find out lots more about the Five Eyes Alliance with
Shine Bright AMC
SnapFile 24 Five Eyes, one power . Watch the
short video guide
by author Sophie Robin-Boudjenane.
Copyright(s) :
metamorworks/Adobe Stock

Downloadable resources ready to use in class
>
Shine Bright AMC SnapFile 24 Five eyes, one power