The 25th James Bond film, No Time to Die, which has been delayed several times due to COVID, should prove of interest to pupils, the more so as the vast majority of them will be familiar with the hero.
This A2 article gives some clues about his personality. Your pupils will also learn about Ian Fleming and the making of the films. The suggested activities are for the most part open to personal views, and are meant to provide starting points for discussion whenever possible.
Vocabulary and grammar.
superlative + one of the / half of the
ordinals and dates
collocations: familiar with, participate in, inspired by, famous for
cinema vocabulary: actor/actress, character, hero, villain, role/part, stunt, be shot, be released, spy, espionage...
Pronunciation
As always, stress and intonation and possible difficulties:
Ralph Fiennes / reɪf fiːnz/
fifth /fɪfθ/
espionage /ˈɛspɪəˌnɑːʒ/
No Time to Die
On general release 6 October
Check out our video report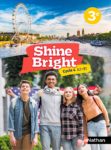 You could link this with
Shine Bright 3e
SnapFile 1 Join the Spy School.
Copyright(s) :
Nicola Dove.© 2021 DANJAQ, LLC AND MGM. ALL RIGHTS RESERVED