The interwar period was a highly creative time for the relatively young art of photography. An exhibition at the Jeu de Paume in Paris features an extraordinary collection of photographs from New York's Museum of Modern Art.
Some 230 photographs from the Thomas Walther collection, acquired over the last 20 years, give an overview of American and European avant-garde photography.
Photography went through a golden era at this period, greatly in demand for increasingly popular illustrated magazines, several of which were completely centred on the photographic image.
The form was trying to find its place in the art world, proving its artistic merit despite the mechanical nature of the production. The images on show reveal photographers trying new techniques and finding new ways of viewing the world. High and low shots change our perspective and are followed by aerial or bird's-eye views, including a series taken by Willi Ruge during a parachute jump.
Others try to capture the speed and movement of modern life, using techniques like collage, montage and double exposures.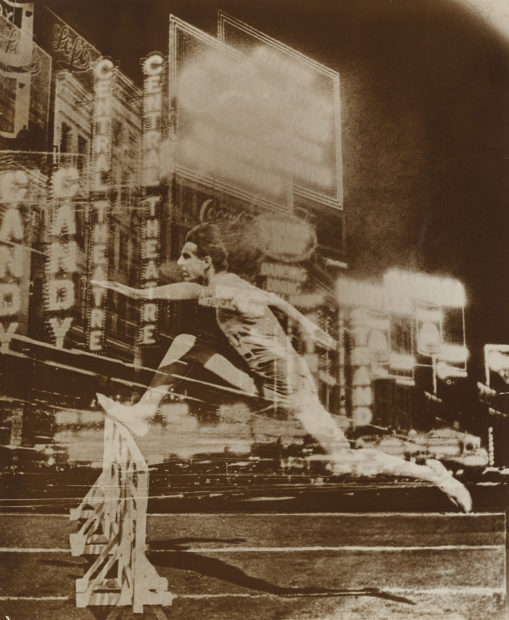 A whole section of the exhibition is devoted to self-portraits, with the artists often using photographic tricks. In this example, Bayer was clearly experimenting with Surrealism.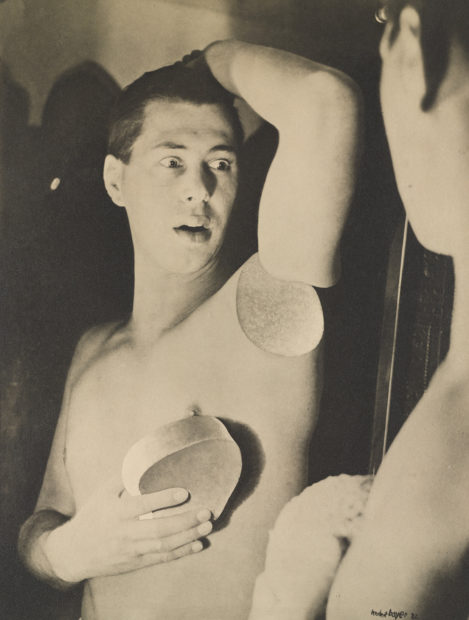 Chefs d'œuvres photographiques de la MoMA, Thomas Walther Collection Jeu de Paume, Paris
Till 13 February 2022
You can explore the Walther Collection on a special MoMA mini-site.
Although not all the photographers are American, the "Life of an Artist" section of the exhibition would be a good link  with File 15 - Shine Bright LLCER: United Selves of America  exploring what the art of self-portrayal reveals about the American experience. It's also a good fit for the 2e curriculum "Axe 4 : représentation de soi et rapport à autrui".
Copyright(s) :
Home: Max Burchartz, Lotte (Eye), 1928
Gelatin silver print, 30,2 × 40 cm
The Museum of Modern Art, New York. Thomas Walther Collection. Acquired through the generosity of Peter Norton
© 2021 Max Burchartz/Artists Rights Society (ARS), New York/VG Bild-Kunst, Germany.
Digital Image © 2021 The Museum of Modern Art, New York
Willi Ruge, Seconds before Landing from the series I Photograph Myself during a Parachute Jump, 1931
Gelatin silver print, 20,4 × 14,1 cm
The Museum of Modern Art, New York. Thomas Walther Collection. Gift of Thomas Walther
Digital Image © 2021 The Museum of Modern Art, New York
El Lissitzky, Runner in the City (Experiment for a Fresco for a Sports-Club), 1926
Gelatin silver print, 26,7 × 22,4 cm
The Museum of Modern Art, New York. Thomas Walther Collection. Gift of Thomas Walther
Digital Image © 2021 The Museum of Modern Art, New York
Herbert Bayer, Humanly Impossible (Self-Portrait), 1932
Gelatin silver print, 38,9 × 29,3 cm
The Museum of Modern Art, New York. Thomas Walther Collection. Acquired through the generosity of Howard Stein
© ADAGP, Paris, 2021.
© 2021 Artists Rights Society (ARS), New York/VG Bild-Kunst, Bonn.
Digital Image © 2021 The Museum of Modern Art, New York