The judges of this year's Costa Book Awards in the UK chose two writers from the Caribbean island nation Trinidad and Tobago as winners in the best novel, best first novel and book of the year categories.
Monique Roffey won both the novel and the overall book of the year category for The Mermaid of Black Conch. The book is set in 1970s Trinidad and inspired by a Taino legend, from one of the indigenous peoples of the Caribbean. In a neat reversal of European legends, the mermaid here, Aycayia, is helplessly attracted to a human singing, by David, a fisherman. But her attraction almost proves fatal when it brings her to the attention of some American tourists participating in a fishing competition. David comes to her rescue but love between a mortal and mermaid under a centuries' old curse is never going to be simple.
You can read an excerpt of the book on the Bocas Literary Festival site.
Roffey is already a seasoned author of novels and memoirs, and a senior lecturer in creative writing at Manchester Metropolitan University.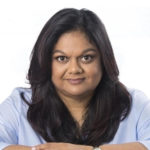 Ingrid Persaud has already won the Commonwealth Short Story Prize, and the 2018 BBC National Short Story Award. Her first novel, Love After Love, set in Trinidad, tells the story of an odd household: Betty Ramdin, a survivor of domestic violence, her son, Solo, and the lodger who brings them back to life, Mr. Chetan.
Persaud deliberately chooses to write in Caribbean English, filling her characters' mouths with the language of the island of her birth, arguing that, "By deciding that our English is less than this gold standard we are colluding with the othering of ourselves."
Trinidad's rich culture has already given the literary world Nobel Laureate VS Naipaul and novelist Sam Selvon, and the musical world calypso songs and a unique instrument, the steel pan.
Persaud's novel takes its title from a poem by another West Indian Nobel Laureate, Derek Walcott.  You can read the beginning of the book here.
The other category winners at this year's awards were social entrepreneur Lee Lawrence for his memoir, The Louder I Will Sing, late Irish poet Eavan Boland for her final work, The Historians, and Natasha Farrant for her children's book The Voyage of the Sparrowhawk, about two orphans in the aftermath of WWI who set off from England to France in a narrowboat to find their loved ones.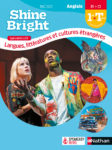 Both books would be an interesting addition to  Shine Bright LLCER File 8 From Isle to Isle, where you'll find more on Caribbean literature. The Mermaid of Black Conch would make an interesting twist on Shine Bright 1re File 11 Tales from the Sea.
Copyright(s) :
Costa Book Awards © Ian Gavan, Getty Images