William Morris was born into Victorian Britain in the throes of the Industrial Revolution. But the artist, architect and Socialist championed instead beautiful handmade objects he believed should be in every home. An exhibition in Roubaix explores his vision, from Pre-Raphaelite art to wallpaper, hand-printed books and political organisations.
Morris was born into a wealthy family in Essex in 1834. He went to Oxford to study theology but became fascinated with art. He began studying in London where he met members of the future Pre-Raphaelite Brotherhood, artists and poets Edward Byrne-Jones and Dante Gabriel Rossetti. In 1861, the group then founded a decoration company, Morris, Marshall, Faulkner and Co in 1861. Fourteen years later, Morris took it on alone, refining his vision.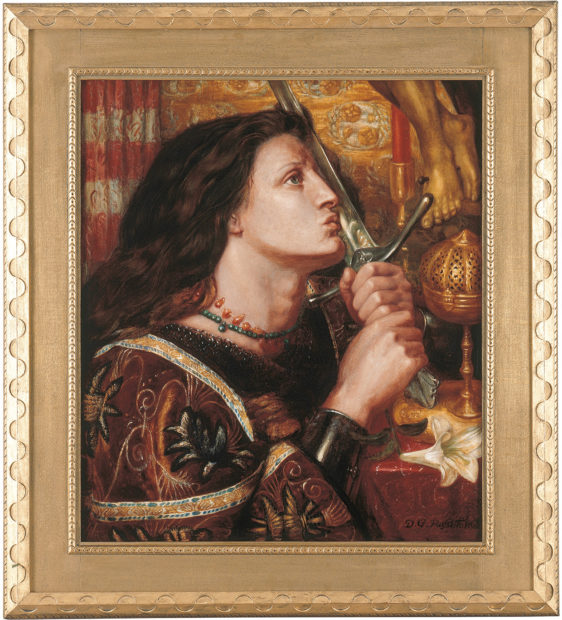 The Pre-Raphaelites idealised and took inspiration from a perceived golden age before the Renaissance (symbolised by the artist Raphael). The stained glass, tapestries, furniture textiles embroidery and wallpaper produced by Morris's companies was often inspired by medieval literature and Celtic myths.
Yet his world view was far from feudal. He believed in social equality and the tenets of socialism. He rejected industrial production as dehumanizing. He valued the work of the craftspeople he employed and insisted on paying them decent wages. He believed that we should surround ourselves with beauty — objects that were aesthetically pleasing but also optimally designed for their purpose. Yet his insistence on handcrafting meant that only a tiny minority could afford to buy his products, even once he opened a shop in Oxford Street in London in 1877.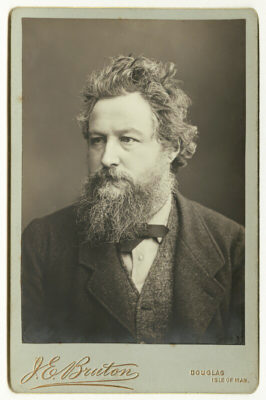 Have nothing in your houses that you do not know to be useful or believe to be beautiful. 
Morris was a true polymath. As well as arts and crafts, he was a distinguished poet and novelist. (He was offered the role of Poet Laureate after the death of Tennyson.) His utopian novel News from Nowhere featured a man who woke up in a future democratic paradise where everything was collectively owned. His interest in social reform wasn't only theoretical. He was active in several political organisations, and in 1884 he co-founded the Socialist League with Eleanor Marx-Aveling, daughter of Karl Marx.
The UK in the Collections of the Piscine, Roubaix
Roubaix, historically the centre of France's textile industry, has long commercial, artistic and technical links with Britain, where textiles were one of the first sectors transformed by the industrial revolution at the end of the 18th century. Its exhibition on William Morris is one of several linked exhibitions through till January celebrating the connections between Roubaix and the UK, French artists with British ones.
William Morris (1834-1896): Art in Everything
La Piscine, Roubaix
Till 8 January 2023
Copyright(s) :
Adoration des Mages, Edward Coley Burne-Jones, Sir (1833-1898), William Morris (1834-1896) et John Henry Dearle (1859– 1932) (dessins) pour Morris & Co, 1904, d'après un modèle créé en 1886, Tapisserie haute lisse, laine et soie sur trame en coton. H. 208 ; l. 165 cm, Paris, musée d'Orsay. Photo © Musée d'Orsay, Dist. RMNGrand Palais / Patrice Schmidt
Dante Gabriel Rossetti (1828-1882) Jeanne d'Arc embrassant l'épée de la Délivrance, 1863, Huile sur toile. H. 61,2 ; l. 53,2 cm, Strasbourg, Musée d'Art Moderne et Contemporain de Strasbourg. Photo Musées de Strasbourg, A. Plisson
William Morris (1834-1896) Tenture Peacock, Modèle Peacock, dessiné en 1878, Tenture : tissage de laine, armure sergé, 290 × 168 cm
Paris, musée d'Orsay Photo ©RMN-Grand Palais (musée d'Orsay) / René-Gabriel Ojeda