Michael Morpurgo is best known around the world as the author of War Horse, which has been very successfully adapted for stage and screen. However the English author has written more than 150 books for children and teens. An exhibition at the Museum of Childhood in London presents many of his creations, and gives fascinating insight into his writing technique.
The War Horse stage production features giant puppets of horses. It is one of the most successful productions by the National Theatre and has been seen by more than 7 million people around the world. In 2012, Steven Spielberg brought the story to an even wider audience with his film.
War Stories
Morpurgo's advice to budding writers is to "first find something you care about". A theme he has returned to regularly is war. Morpurgo grew up during the Second World War and he often adopts the point of view of a child, animal or civilian.
War Horse is told through the eyes of a horse, and Albert, the farm boy whose family owned Joey before he was sold to the Army at the beginning of World War I. As well as being a bestseller, the book has been adapted as one of the most successful National Theatre shows ever, and as a film by Steven Spielberg.
Private Peaceful tells the story of an underage volunteer soldier in WWI who can't face the reality of war and deserts. A difficult subject for teenage readers, but one which was very real for teenage boys at the time.
Billy the Kid features a promising young footballer for Chelsea F.C. whose future is changed after he joins up in World War II.
A Medal for Leroy tells the story of Walter Tull, the only black officer in the British Army in WWI, his son, a WWII Spitfire pilot, and his grandson who knew nothing of his past.
Half a Man also looks at a grandson's relationship with his grandfather — a WW2 sailor who suffered terrible, disfiguring burns after his ship was torpedoed.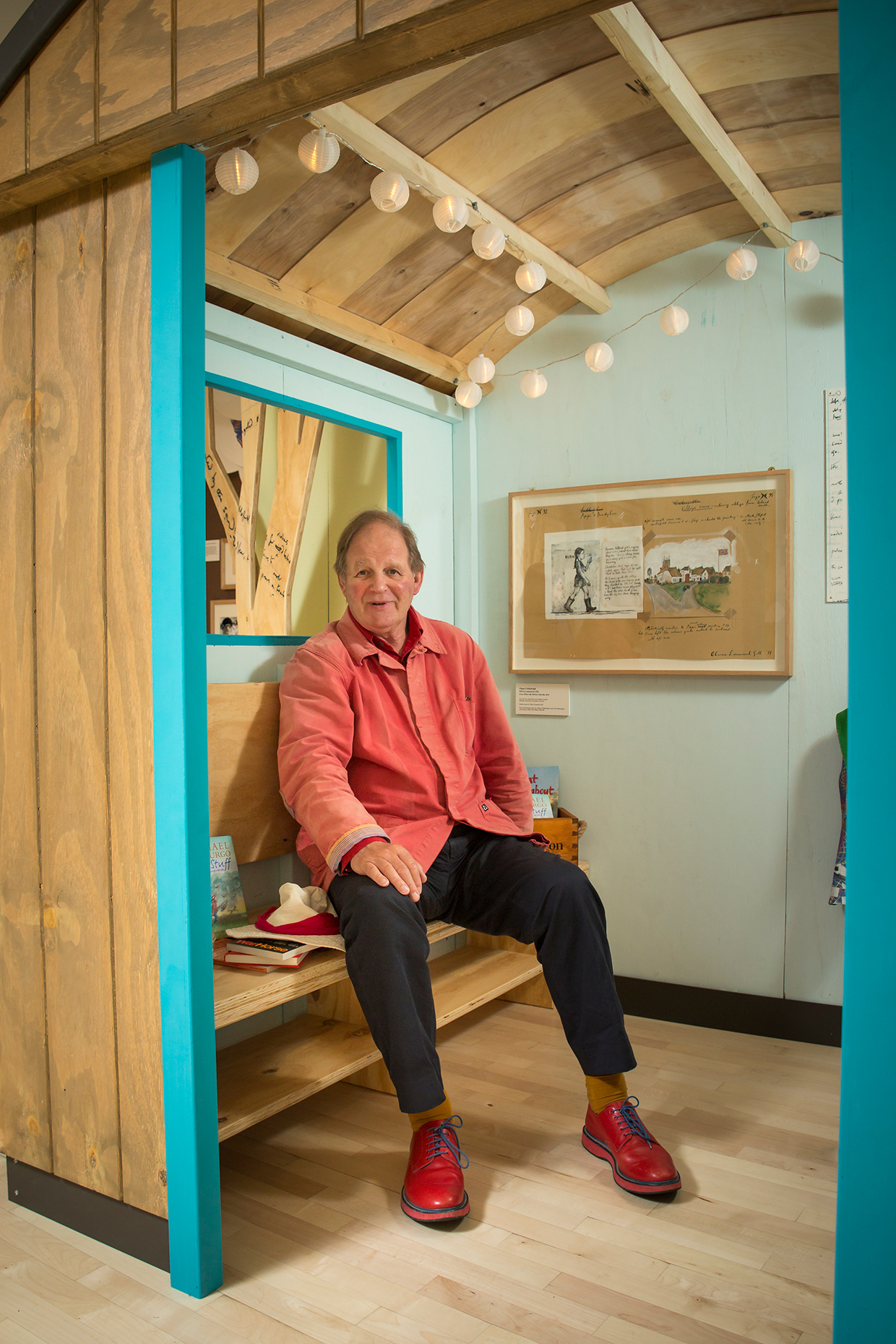 Books for All Ages
Murpurgo is a prolific author and has written for all ages. He was Children's Laureate from 2003 to 2005.
He and his wife founded a charity, Farms for City Children, more than 40 years ago, welcoming groups of children to spend a week at at time on their farm in Devon, and then establishing two more educational farms.
Michael Morpurgo: A Lifetime in Stories
V&A Museum of Childhood
Till 25 February 2018
Copyright(s) :
Victoria and Albert Museum, London
Seven Stories, The National Centre for Children's Books