No, it isn't fake news: Covid permitting, there will be an exhibition on Fake News running from 27 May 2021 to January 2022 at the Fondation EDF in Paris. Designed for school groups as well as the general public, it will be a great opportunity to have your pupils develop their critical-thinking skills.
The exhibition is subtitled "Art, fiction, lies", and many of the exhibits are artworks by artists trying to encourage observers to think about the news they consume, and the way they consume it.
A first step can be to consider with pupils the term "fake news", which has become so widespread that it covers a whole range of material. As American researcher Claire Wardle entitled a 2017 article: "Fake News. It's complicated." It runs the gamut from misinformation (mistaken, not intentionally manipulative) to disinformation (deliberately created to fool people) but can also include satire and parody, which are often taken out of context. This infographic accompanied her article, showing degrees of fakeness.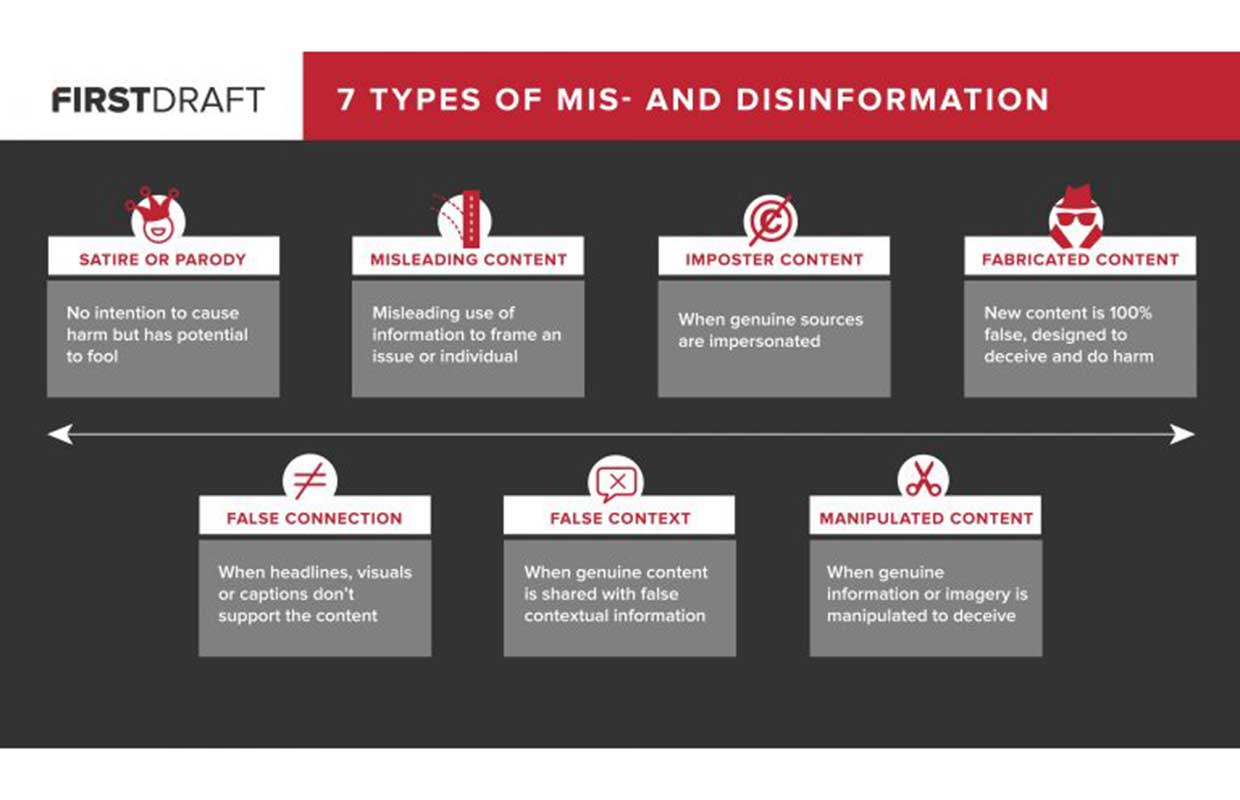 The exhibition isn't specifically designed for English classes, but quite a number of the exhibits are from the English-speaking world or don't contain specific language content.
For example, the American duo of artists the Yes Men, Andy Bichlbaum and Mike Bonanno, who printed and distributed a fake edition of The New York Times in 2008, dated several months later, and only containing good news that they hoped would happen, like the end of the war in Iraq. Pupils could discuss whether they think fake news produced with a positive intention can be considered differently from fakes that intend to deceive? Can they come up with their own hopeful good news stories?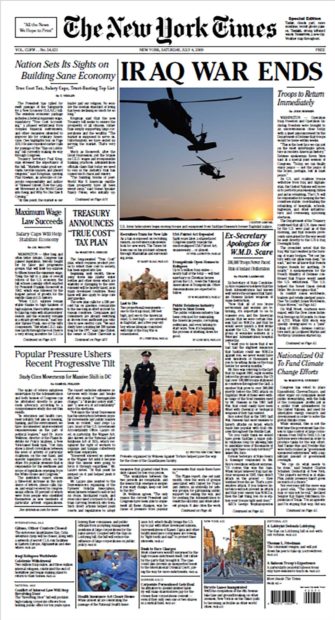 British artist "Bill Posters" and American artist Daniel Howe create "deep-fake" videos of people like Mark Zuckerberg and Kim Kardashian to make us question what well-known personalities and institutions are saying.
Again pupils can discuss if there is a difference between this and deep-fake videos designed to discredit a political opponent for example.
The Power of Images
A number of works in the exhibition look at how images can be used to give false impressions. We tend to take images, particularly photos and film, at face value, assuming that they represent "the truth", without imagining what might be just outside the frame.
On the other hand, press cartoons use visual shortcuts to make us think. This image by Russian cartoonist Mikhail Zlatkovsky is entitled "Empty News". Pupils can find all sorts of reasons for the missing stories: Censorship? Self-censorship? The stories that are ignored because they won't make money?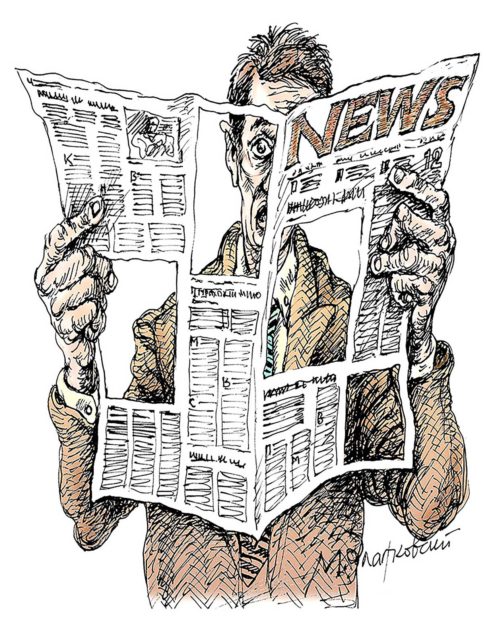 Singaporean cartoonist Kevin Lau has created a series of images about the power social media has claimed over our lives, including this one, simply titled "Trapped".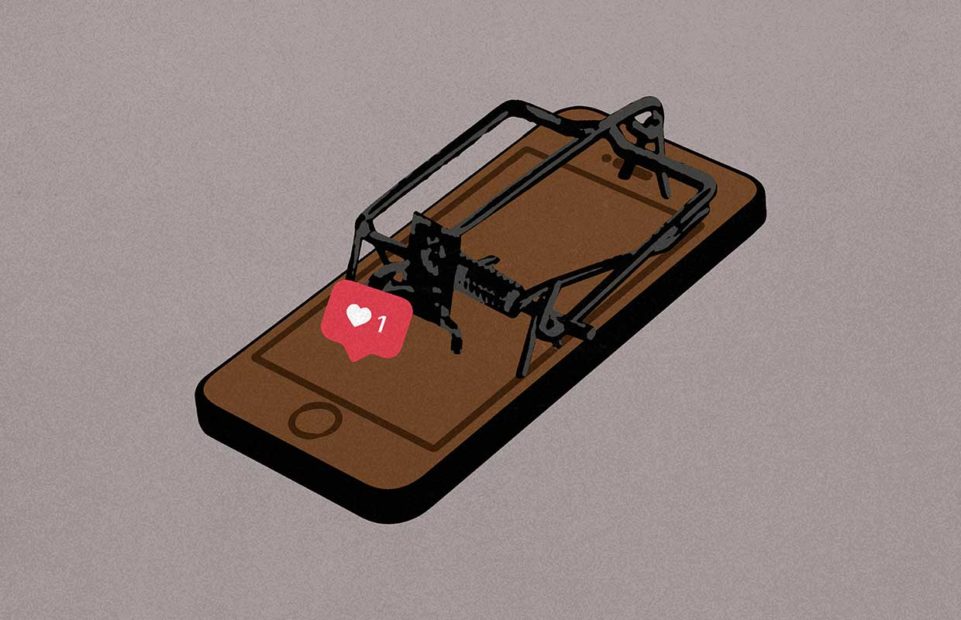 Teaching about Media
The exhibition creators invited the CLEMI (Centre pour l'Éducation aux Médias et à l'Information) to create a very detailed free teaching pack to go with the exhibition. You can download it from the CLEMI site.
On 26 May at 7.30 p.m., there will be a live programme in French from the exhibition by la Tronche en Biais. You'll find it on their YouTube channel:
Fake News: Art, fiction, mensonge
27 May 2021 to January 2022
Free, but reservation required
Group reservations:
resafondationedf@lpcvm.fr
06 24 06 57 59
The exhibition is also now available in a travelling version to download and display in your school.
This is a good addition to Shine Bright Terminale Short File 11 Real or Fake?
Copyright(s) :
Pierre BOTHEREL, Elle est fraîche ton info? , 2019
Plume et collage
©Pierre Botherel
First Draft
YES MEN, The New York Times Special Edition, 2009
Journal
© The Yes Men
Mikhail ZLATKOVSKY, Empty news, 2008
Ink, pen, color pencils
©Mikhail Zlatkovsky
Kevin LAU, Trapped, 2017
Dessin numérique imprimé sur aludibond
© KLHR, 2020
Notion(s) culturelle(s) : "Éducation aux médias"