In Shine Bright AMC File 19 A Tale of British Cities, we mentioned that Liverpool had been threatened with losing its UNESCO World Heritage status because of property develop plans in the historic heart of the city. On 21 July 2021, the announcement was made: UNESCO has stripped Liverpool of the status. And on 28th, UNESCO announced that it had awarded another British site the status.
The port city flourished during the period of the British Empire. Thanks to the global trade, including the Transatlantic slave trade, that poured through its docks, many beautiful buildings were erected. It was that dual architectural and commercial heritage that the city council put forward when it applied for UNESCO World Heritage status, which was awarded in 2004. The United Nations' cultural and scientific organisation recognises sites which have special cultural or physical significance.
But in recent years, several modern property developments have been built in the historic dock area. Unesco warned the city they were threatening its status as far back as 2012. Bur permission given recently to Everton, one of the city's two major football clubs, to build a new stadium on the waterfront, seems to have been the last straw.
There are over 1000 World Heritage sites, of which 31 are now in the UK. Liverpool is only the third site to lose its status.
Of course, where some see anti-historical vandalism, others see regeneration and jobs for a post-industrial city. Joanne Anderson, mayor of Liverpool, said, "I find it incomprehensible that UNESCO would rather Bramley Moore Dock remain a derelict wasteland, rather than making a positive contribution to the city's future and that of its residents."
The city plans to appeal.
But Wales Gains a World Heritage Site
Just a week after Liverpool lost its UNESCO status, another British site gained it:  the Slate Landscape of Northwest Wales, for its industrial heritage of slate mining. Slate has been mined in the region for at least 1,800 years. However, it boomed during the industrial revolution, being exported round the world as roof tiles. At its peak in the 1890s, the industry employed 17,000 and produced a third of the world's slate. It was the only industry in the British Isles conducted in a language other than English: Welsh. And the longest strike in British industrial history was a three year one at Penrhyn Slate Quarry.
This miniature steam railway that transported slate was the inspiration for one of Britain's favourite children's literature characters: Thomas the Tank Engine.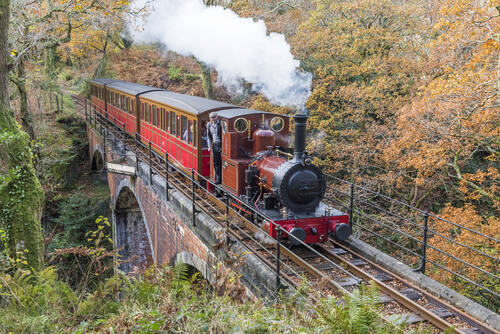 This video from the National Slate Museum gives an overview.
Copyright(s) :
Visitbritain
Darren Turner Copyright: © Rheilffordd Talyllyn Railway