If you have a language assistant in your school this year, make sure they know about the handy, downloadable guide for assistants produced by France Éducation International. It's packed full of information about the school system and French administration with everything from social distancing rules in class to advice about finding accommodation.
A first section is full of practical tips for living and working in France. The second section explains the school system and suggests activities for different levels of classes. It also includes ways to make contact with other assistants through a Facebook group and other social media.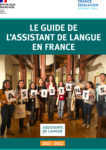 The guide can be downloaded from the FEI site.