On 2 October, the White House announced that President Trump and the First Lady, Melania, had both tested positive for Covid 19, and were self-isolating in the presidential residence. Mr Trump therefore has to interrupt his campaign for re-election and the remaining presidential TV debates are put in doubt.
Mr Trump announced the news in a tweet, confirmed in an official statement by the White House doctor Sean P. Conley, who said the couple were "both well at this time". The Vice-President, Mike Pence, Democratic presidential candidate Joe Biden and many other politicians have expressed their sympathy and support.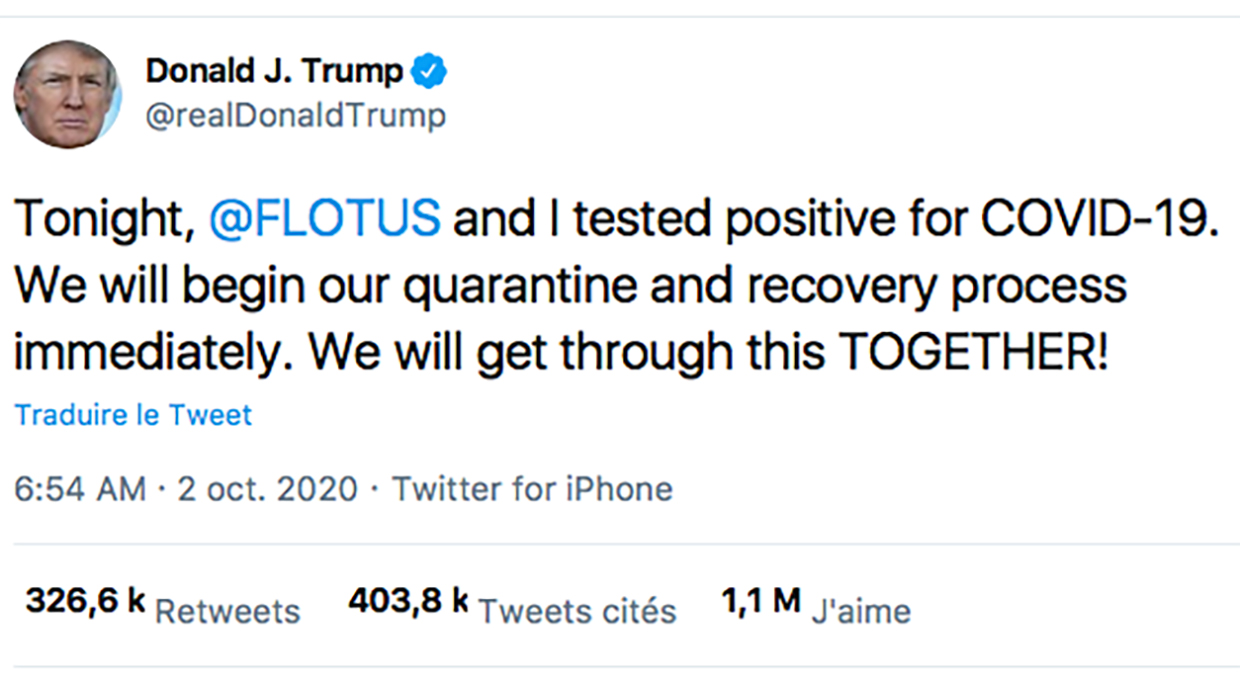 The U.S. Centers for Disease Control and Prevention impose a 10-day self-isolation period for patients with a positive test. The Trumps have said they will quarantine at home.
Later in the day, the White House announced that Mr Trump had mild symptoms. At 74, he is in the high-risk category for coronavirus. Over 80% of Americans who have died from the virus were over 65. He is also, in medical terms, obese, and is believed to suffer from a common heart disease, both factors which increase Covid risk.
Officials say Mr Trump will continue to work from quarantine. If he were to become incapacitated, the Constitution stipulates that the Vice-President would step in. If both men were gravely ill, the next in line to take control is the Speaker of the House of Representatives: Democrat Nancy Pelosi.
Repercussions for the Campaign
So much for the presidential workload, but Mr Trump is also an election candidate. His campaign rallies will have to be cancelled, or moved online, at least for ten days. Or longer if he were to develop symptoms.
The immediate question is what will happen to the two further presidential debates scheduled for 15 and 22 September. Even the Vice-Presidential debate on 7 October is likely to be in doubt, since Mike Pence is one of many people who have been in close contact with President Trump, who rarely wears a mask or practices social distancing. He would also have been in contact with Hope Hicks, Mr Trump's aide who tested positive on Thursday, and has symptoms. Hicks was in contact with much of the President's team and many members of the press, while Mike Pence spent a lot of time negotiating with Representative and Senators in the last week.
In theory, if Mr Trump remained well, the presidential debates could go ahead. The first debate, on 29 September was chaotic and aggressive. Mr Trump constantly interrupted Mr Biden, and the men spoke over each other, despite having accepted a rule that each candidate got two minutes' uninterrupted response time to each question. Afterwards, the Commission on Presidential Debates, the non-partisan group that has organised the debates since 1988, said it was considering rule changes before the following events. In a statement, the CPD said the first debate, "made clear that additional structure should be added to the format of the remaining debates to ensure a more orderly discussion of the issues". The CPD was due to announce changes by next week, with a top possibility being cutting candidates' mikes when it isn't their turn to speak.
Next Steps
The changes may become academic if the debates can't go ahead, and no one knows what other repercussions there may be on the campaign. For now, Americans can only wait and see, 32 days before an election for which some voters have already cast their votes under early voting rules. CNN estimated earlier this week that over a million votes were already cast.
Copyright(s) :
Shutterstock