The British Tate museum has a large collection of David Hockney's work. A large selection from the collection is on view in Aix-en-Provence, a great opportunity to appreciate the variety of Britain's most famous pop artist, from his California swimming-pool paintings to collages, portraits and objects.
Hockney was born in Yorkshire in 1937, and despite half a lifetime spent in California, the eighty-year-old remains attached to his Yorkshire roots. He is both prolific and versatile, turning his hand to many different media and an enthusiastic early adopter of new technologies. Over his career he has embraced Polaroid collages (joiners), photocopied and faxed images, iPad and iPhone art, and turned to video installation well into his seventies. He still paints every single day, obeying the necessity to create.
The young Hockney was strongly influenced by Picasso's stylistic liberty and Matisse's vivid colours. One of his early exhibitions was entitled Demonstrations of Versatility.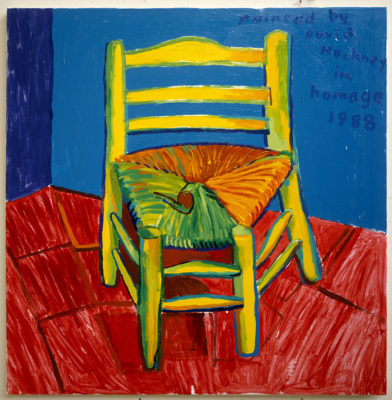 A scholarship took him to California for the first time in 1964. His adopted state and the brilliant sunlight that made it a magnet for filmmakers would drench his canvas with vibrant colours, especially in his iconic series of swimming-pool paintings including The Bigger Splash.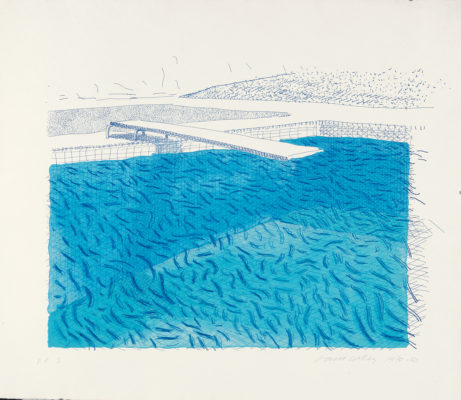 That title became so associated with his work that when he returned to Yorkshire in 2004 and undertook a series of monumental landscapes and treescapes painted on separate canvases, like his 1960s Polaroid collages, they were naturally called "A Bigger Picture". Hockney loves observing how the trees, the light, and the sun are subtly different every day. "Most people glance or scan, but don't look," he says. "I love looking. I get intense pleasure from my eyes."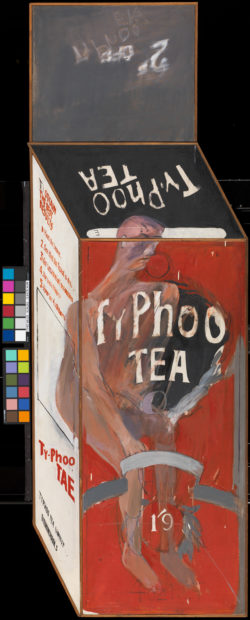 Portraiture has also been a major thread in Hockney's work. Many portraits are of his friends and family. He has made a speciality of "double portraits", featuring two subjects often incongruously juxtaposed.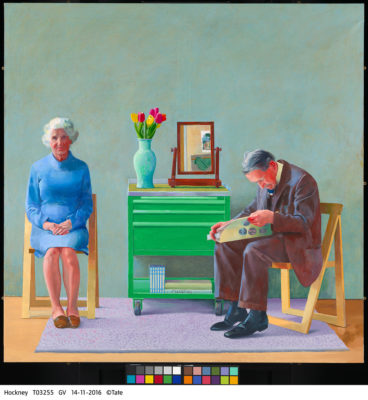 Much of Hockney's art has a superficially naïve look, like a lot of pop art. As he says , "I know children like my art, I think that's rather good." (He is very good at Yorkshire understatement, no Californian exclamations.) Hockney has no problem with appealing to a wide public or being described as populist. He says, "I do want to make a picture that has meaning for a lot of people. I think the idea of making pictures for 25 people in the art world is crazy and ridiculous."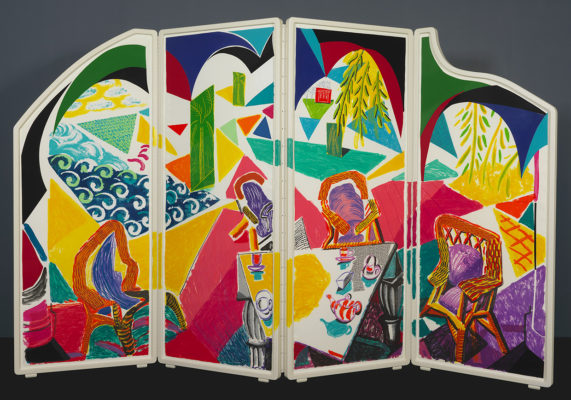 The exhibition in Aix is divided into nine sections: A Marriage of Styles, Los Angeles, Towards Naturalism, The Rake's Progress (in reference to William Hogarth), Cavafy and Friends (in reference to Greek-Egyptian poet C.P. Cavafy), Moving Focus, Spatial Experiences, In the Studio, Landscape and Masters of the South.
David Hockney in the Tate Collection
Musée Granet; Aix-en-Provence
28/1-28/5/23
Copyright(s) :
Main photo: Exposition David Hockney, collection de la Tate, 2023, musée Granet, Aix-en-Provence, photos Philippe Biolatto
Vincent's Chair and Pipe, [La chaise et la pipe de Vincent], 1988, acrylique sur toile, 90 x 90 cm, oeuvre de la collection de la Fondation van Gogh Arles, dite Yolande Clergue, © Lionel Roux © Fondation Vincent van Gogh Arles, Courtesy : David Hockney
Lithographic Water Made of Lines, Crayon and Two Blue Washes Without Green Wash, [Eau lithographique composée de lignes, de crayon et de deux lavis bleus sans lavis vert], 1978-1980, lithographie sur papier, 75 x 86,7 cm, Tate, don de Tyler Graphics Ltd en l'honneur de Pat Gilmour, Département des estampes de la Tate 1974-1977, 2004, © David Hockney / Tyler Graphics Ltd. Photo Credit : Richard Schmidt
Tea Painting in an Illusionistic Style, [Peinture de thé dans un style illusionniste], 1961, huile sur toile, 232,5 × 83 cm, Tate, acquis avec l'aide de l'Art Fund 1996, © David Hockney, Photo : Tate
My Parents, [Mes parents], 1977, huile sur toile, 182,9 x 182,9 cm, Tate, acquis en 1981, © David Hockney, Photo : Tate
Caribbean Tea Time, [L'heure du thé aux caraïbes], 1987, lithographie, sérigraphie, papier imprimé et pochoir sur papier sur 4 panneaux, 215,2 x 85,1 cm (chaque panneau), Tate, don de l'artiste 1993, © David Hockney / Tyler Graphics Ltd.