Ella Fitzgerald was one of the most recognized voices in jazz history. Named "The First Lady of Song,"  Fitzgerald was the most popular female jazz singer in the United States for almost 60 years. In her lifetime, she won 13 Grammy Awards and sold over 40 million albums. This year, she would have turned 100.
Ella Fitzgerald was born on April 25, 1917, in Newport News, Virginia.
Ella's family life was anything but normal at the time. Ella's father abandoned her with her mother at an early age. Later, when her mother got remarried, she gave birth to Ella's sister Frances. In the 1920s Ella's family moved to Yonkers, New York. Growing up, Ella and her family didn't have a lot of money.
As a teen, her dream was to be a dancer. At age 16, she was planning to perform a dance at Harlem's Apollo Theatre Amateur Night. But instead, Fitzgerald decided to sing. She captivated the crowd and won this talent contest. She was surprised to find she had no fear on stage. She felt at home in the spotlight.
"When I'm on stage I feel at home"
- Ella Fitzgerald
She was one of the first jazz singers in the 1930s. She was singing in a style influenced by Connee Boswell who is herself  considered as one of the greatest jazz female vocalists. She was a major influence on Ella Fitzgerald who said, "My mother brought home one of her records, and I fell in love with it.... I tried so hard to sound just like her."
In 1935 she joined the Chick Webb orchestra and Webb became the teenaged Fitzgerald's guardian when her mother died.
In 1936, Fitzgerald made her first recording with  Chick Webb's band called : "Love and Kisses" but it was only a moderate success.
Her first hit was "A-Tisket, A-Tasket" in 1938, which Fitzgerald adapted from a 19th century nursery rhyme. The song sold 1 million copies and stayed on the pop charts for 17 weeks. It brought her instant fame and recognition and suddenly, at the age of 21, Ella Fitzgerald was famous.
Ella Fitzgerald, Bandleader
Sadly, on June 16, 1939,  her mentor died, leaving her with his band which became "Ella Fitzgerald and her Famous Band."
But during this time, the era of big swing bands was ending. The focus was turning more towards bebop. Ella began to be influenced by the experiments of bebop* instrumentalists like Charlie Parker and Dizzy Gillespie and started to play with this new style, using her voice like another horn in the band. She had a real ability to play her voice like an instrument. In 1942, she signed a deal with Decca Records, and started to have a solo career.
In 1946, Ella recorded a version of "Flying Home" in which she indulged in extensive phonetic improvisation known as scat. While other singers, particularly Louis Armstrong had tried similar technique before, no one had executed the technique with such inventiveness and talent.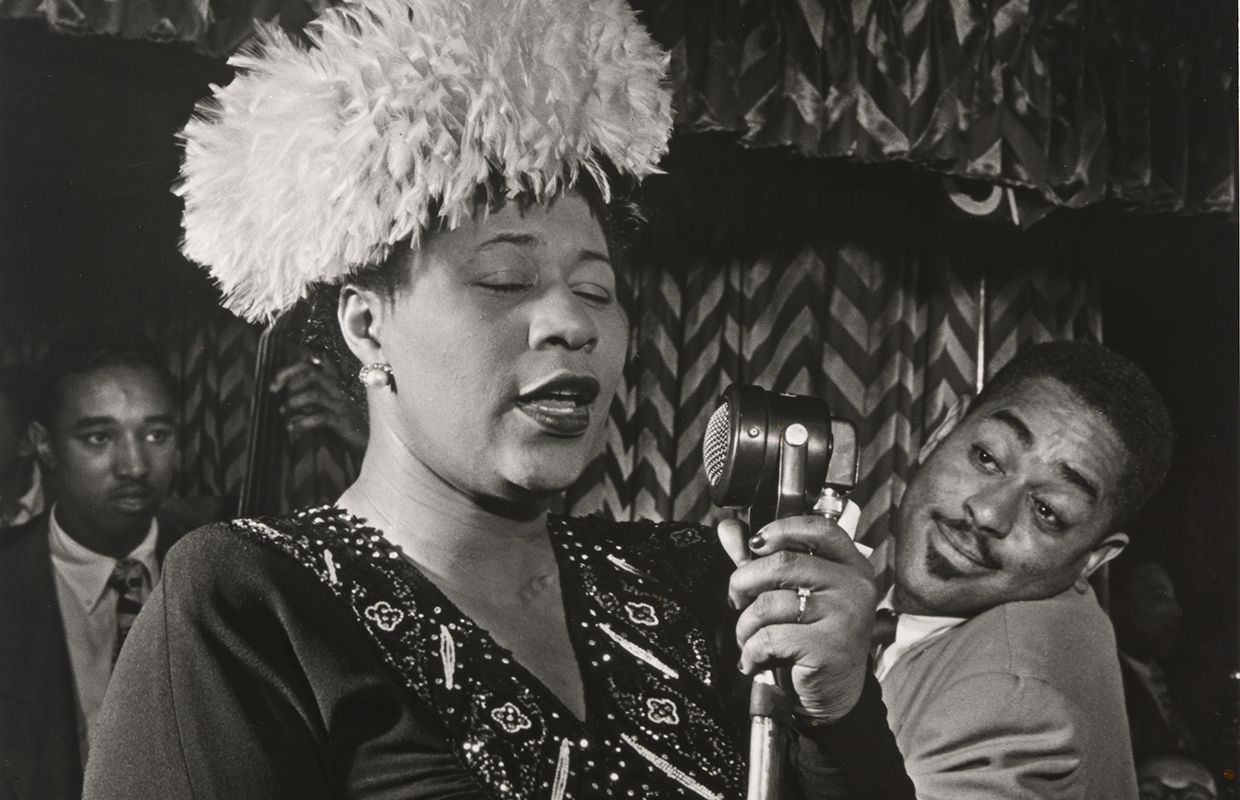 The Great American Songbook
During these years, another extremely important relationship began. She joined producer Norman Granz's newly formed organization "Jazz at the Philharmonic" (JATP). By 1954, Granz had also become her personal manager.
Norman Granz built Verve Records based on her vocal abilities. On this label, Fitzgerald focused more on singing than scatting, notably in the series of recordings referred to as The Great American Songbook.
The Song Book series became Ella's most significant work of her career. Her first in the series was a 1956 release of Cole Porter songs. She went on to record songs by Duke Ellington, George Gershwin, Harold Arlen, Johnny Mercer, Jerome Kern and Irving Berlin. During this time, she was touring around 40 weeks a year, as well as popping up on television and in the movies (Pete Kelly's Blues, 1955). Later in her career she recorded and performed with orchestras as well as small combos
On a Personal Note
Ella Fitzgerald's personal life was less successful. In 1941, on the day after Christmas, she married Benjamin Kornegay a shipyard worker with a criminal record. The marriage ended in with an annulment two years later. At the age of 30, Ella fell in love with Ray Brown, the bassist for Dizzy Gillespie's band, while she was touring with them. The couple was married in December 1947 and adopted Frances's son, naming him Ray Jr. Sadly, the family did not stay together long with both parents on separate tours and Ray Jr. being cared for by her aunt Virginia. Ella and Ray divorced in 1953 but continued to work together. She never re-married.
During a 60-year-long career, she worked with all the jazz greats, from Louis Armstrong, Duke Ellington, Count Basie and Nat King Cole, to Frank Sinatra, Dizzy Gillespie and Benny Goodman. She could sing sultry ballads, sweet jazz and imitate every instrument in an orchestra.
Outside of the arts, Fitzgerald had a deep concern for children and those in need. Though this aspect of her life was rarely publicized, she frequently made generous donations to organizations for disadvantaged youth, and the continuation of these contributions was part of the driving force that prevented her from slowing down.
By the time she retired in 1992 she had assumed the role of America's grande dame of popular jazz. In 1987, U.S. President Ronald Reagan awarded her the National Medal of Arts. It was one of her most prized moments. France followed suit several years later, presenting her with their Commander of Arts and Letters award.
In 1993, Ella had to have both of her legs amputated below the knees, and in 1996, she died of heart disease complicated by diabetes at the age of 79.
*Bebop is a style of jazz that developed in the 1940s and is characterized by improvisation, fast tempos, rhythmic and harmonic complexity. The new style developed as a result of World War II. Many musicians went abroad to fight and Big Bands struggled to preserve a full line-up. Instead,  there was a move to smaller ensembles, consisting of one or two horns—usually saxophone and/or trumpet—bass, drums, and piano. With its smaller, nimbler format, bebop shifted the musical focus from intricate band arrangements to improvisation and interaction.
This might interest you… the origins of jazz music.
This year is also the 100th anniversary of the first jazz recording, "Dixie Jass Band One-Step" and "Livery Stable Blues", by The Original Dixieland Jass Band (sic). It was recorded in the studio of the Victor Talking Machine Company in New York.
The BBC has a fascinating article on the origins of  jazz music, and the term "jazz" itself
Copyright(s) :
Main photo: William P. Gottlieb Collection (Library of Congress)