The theme for this year's Earth Day, 22 April, is "End Plastic Pollution". This poster from the U.S. Department of State puts the focus on ecological problems caused by plastic waste in our oceans, and the dangers it presents for marine creatures.
The poster is a great starting point for a class on plastic in the oceans. It depicts many beautiful sea creatures such as dolphins, whales, turtles, seahorses and corals, and sea birds like pelicans and puffins. On the back there is information about the problems caused by plastic pollution. The larger text is simple enough for A2 classes, the smaller, more detailed text can be used from B1. There is also a key with the creature names.
Click to download the poster.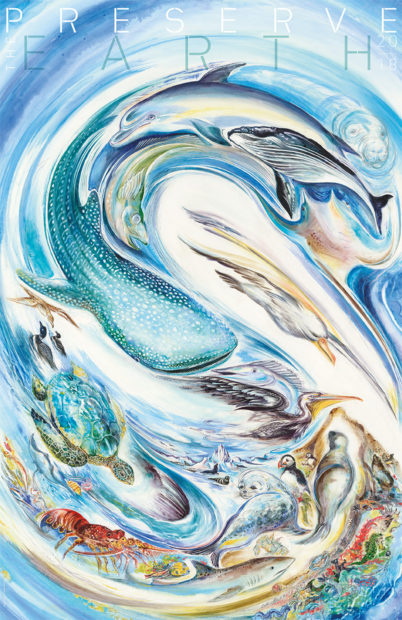 Plastic pollution is something we can all try to do something about by reducing the amount of plastics we use and throw away, like water bottles, plastic cups, plastic drinking straws and bags. The British govenrment is proposing a ban on plastic straws this year. Many of these items are blown into the oceans. They cause danger to sea creatures  when creatures swallow them or get caught up in them. The poisons released by ingested plastics can get back into our own food when we eat fish and seafood. But plastics present a further danger to the whole marine ecosystem and ultimately our own health when they are broken down by the movement of the waves into microscopic microplastics, which can make their way into our water supplies.

To go further into the topic, don't miss this article provided at A1+, A2 and B1 levels on one young man's revolutionary project to clean up the plastics in the oceans in the Banque de ressources anglais cycle 4. To see the resources, register now or log in if you already have an account:
Articles de presse > A1+, A2, B1 > Transition écologique et développement durable > "The Ocean Clean Up".
Marine Pollution Teaching Packs
The Earth Day Network has lots of teaching materials about plastic waste, The primary and secondary school teaching pack can be downloaded here.
This video is referenced in the teaching pack and is really clear.
Some of the commentary is B1 level and above, but the images are very helpful and can get the point across even at A2 level.
Surfers Against Sewage is one of the charities Prince Harry and Meghan Markle have nominated to receive donations in lieu of wedding presents. Their main campaign is against plastic pollution in our seas. Check out their Plastic Free Schools programme for ideas. There's a good 90 second video on this page introducing the project. Mixing voice-over, on-screen text and powerful images, it's suitable language-wise from A2, but do watch it first to judge it's suitability for the sensitivities of your class as it shows sea creatures that have been harmed by plastics.
Copyright(s) :
U.S. Department of State