Let's imagine a crazy machine! We look at a fun and active project that gets pupils moving and talking in English about a culturally specific phenomenon: a Rube Goldberg machine.
Cartoonist Rube Goldberg was famous for drawing comically complex machines to complete everyday task. His drawings are so well known in the U.S.A. that there are lots of annual competitions for students to invent Rube Goldberg machines. Hundreds of teams compete to create a convoluted contraption to achieve a simple task such as opening an umbrella or watering a plant. It makes a great cross-curricular project. As a Rube Goldberg exhibition opens in Grand Rapids, Michigan we talked to Christopher Bruce Director of Learning and Creativity at Grand Rapids Art Museum about an original educational project.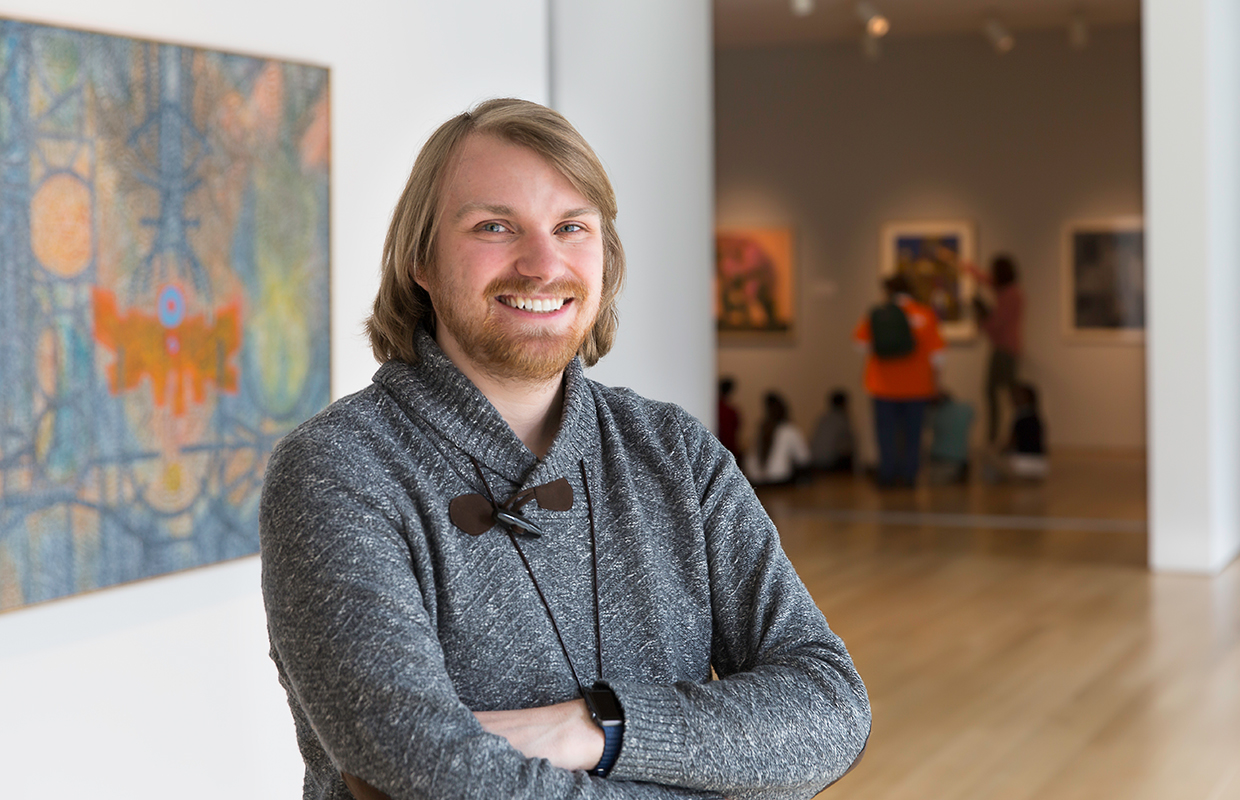 The Museum staff decided not just to have class visits to the exhibition but to have classes make machines inspired by Goldberg to be included in the exhibition. The students' work introduces the show and is installed in the first display room.
Five months before the exhibition opened, they invited seven local schools to participate. They all had 4th grade (age 9-10) STEAM clubs (Science, Technology, Engineering, Art and Design, Math).
The classes were invited to a "kick off session" at the museum in late January, four months before the opening. The Museum staff were delighted when instead of the 30 or so people they expected, 109 turned up. The kids' families were really enthusiastic and wanted to join in.
At the kick-off, the students were introduced to Goldberg's art and encouraged to brainstorm freely about a machine. The challenge given to students was to make a machine that could stamp an image of the museum's logo onto paper – that way exhibition visitors would have a souvenir of their interaction with the machines. It was stressed that it didn't have to be logical - inventiveness and creativity were the keys.
Each group was given a mystery box of random materials they could use for their creations, adding a recycling/upcycling element to the project. The finished machines use ping-pong balls, plastic tubes, hairdryers, targets, toy cars and many other everyday items.
The groups had a month to create their machine and then they had another meeting to show the museum team the machines and make any adjustments. It was important that the museum staff become very familiar with the machines so they could fix them if anything went wrong. The public visiting the museum can interact with the machines, so repairs are likely to be necessary.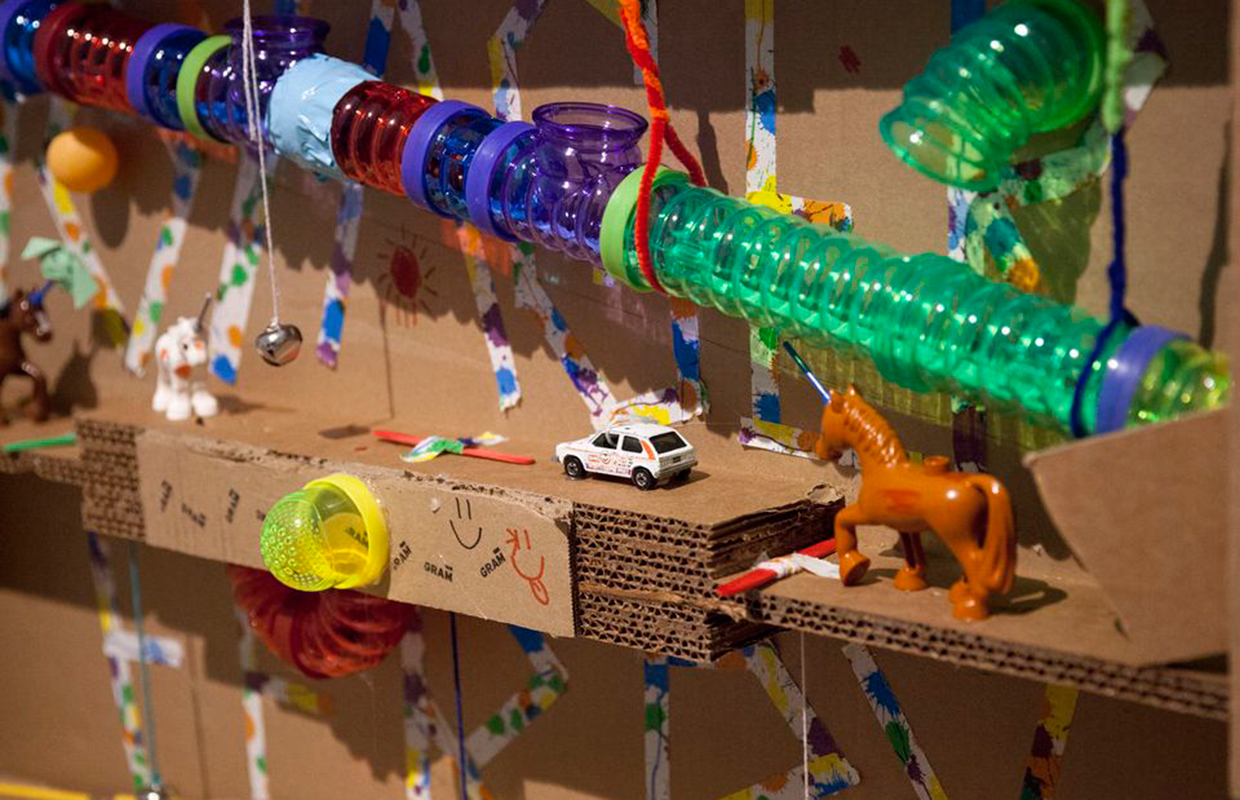 The resulting machines exceeded the museum's expectations. Themes included a farm, underwater, hamsters and "sunburnt unicorn"! The imagination all came from the students, with teachers and parents typically only needing to help in the final stages with ironing out technical problems.
You can see some of the machines, and members of the public interacting with them, in this short video.
A Rube Goldberg EPI Project
Making a Rube Goldberg machine would make a great EPI project, as suggested in Give Me Five 4e. It can pull on different pupils' talents and learning styles. Those more attracted to the scientific, technical side can focus on the practical aspects and explaining how the machine works, practising the simple present and modals. Pupils who are more inclined towards the arts can let their imagination run riot. As with any collaborative project, making proposals, responding to others' suggestions and being persuasive are all key language skills.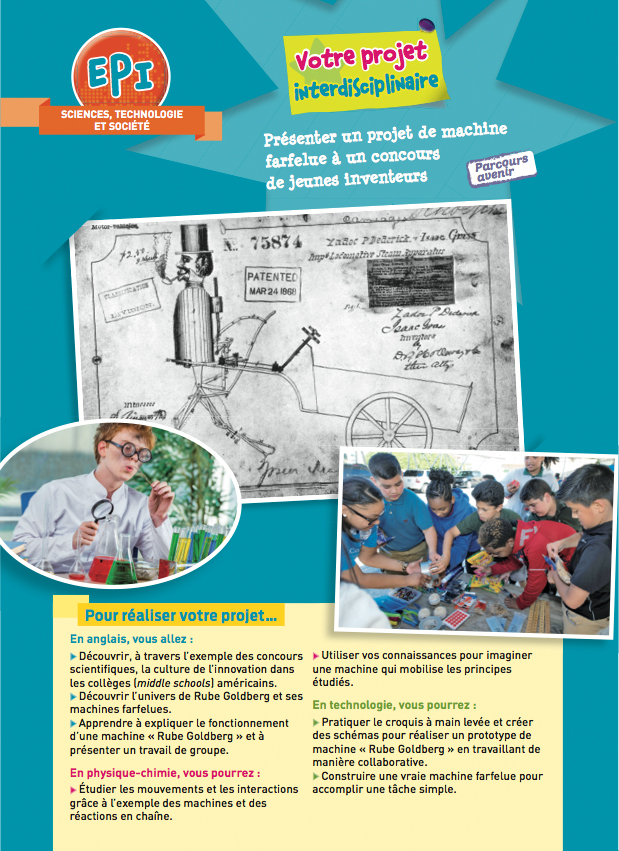 Rube Goldberg Machine EPI
Find more in Give me five! 3e
EPI sciences
Download a sample page here.
Copyright(s) :
Grand Rapids Art Museum