You may have heard about a complex concept described as a "Rube Goldberg"... then wondered what that meant. The Rube Goldberg machine is a complicated machine that does simple tasks. Rube Goldberg was an American inventor, sculptor, author, engineer, cartoonist and he is very famous for his zany inventions cartoons.

Before he was known as a cartoonist, Rueben Garret Lucius Goldberg (1883-1970) was an engineer. He had signed up for engineering school because his father refused to let him pursue a career in art. He graduated from UC Berkeley in 1904 and took a job in San Francisco where he worked as an engineer for the Water and Sewers Department. He was quickly depressed by the "lethargy of the city employees" and did not wish to be sitting behind the same desk for 40 years. He left six months later to become a sports cartoonist for the "San Francisco Chronicle" earning $8 per week instead of $100 a month as an engineer!
In 1907, Goldberg moved to New York where he worked for five newspapers. He drew cartoons that were variously political and frivolous. He created the characters of Boob McNutt, Lala Palooza, and Mike & Ike ("they look alike"). His cartoon series "Foolish Questions" and "Sideshow" of wacky inventions became nationally syndicated.
At the peak of his career, he wrote three editorial page cartoons every week, which appeared in 43 newspapers across the country!
A satire of America's technology obsession
Goldberg drew his inventions intermittently from the beginning of his career — he drew the first, "Automatic Weight Reducing Machine," in 1914, and in 1921 Marcel Duchamp published some of Goldberg's designs in New York Dada.

But the majority of these cartoons come from a bi-weekly series he drew for the magazine Collier's Weekly from 1929 to 1931 called "The Inventions of Professor Lucifer G. Butts." This character was the most popular he created.
Professor Butts (the "G" stood for "Gorgonzola") was a parody of a Berkeley engineering professor who had once asked his students to design a machine that could weigh the world. Goldberg, one of those students, found this to be a really cool task.
In this comic strip, Goldberg's engineering studies were not entirely wasted. He displayed detailed illustrations of complicated machinery that was linked together to perform simple tasks such as opening a door or hammering a nail.
"Rube Goldberg is the guy who figured out how to get from point A to point B using all the letters in the alphabet." – cartoonist Art Spiegelman (author of Maus).
Why do it the simple way when you can make it complicated? No doubt that's the way Goldberg was thinking to draw this machines. He could work over 30 hours on each invention cartoon.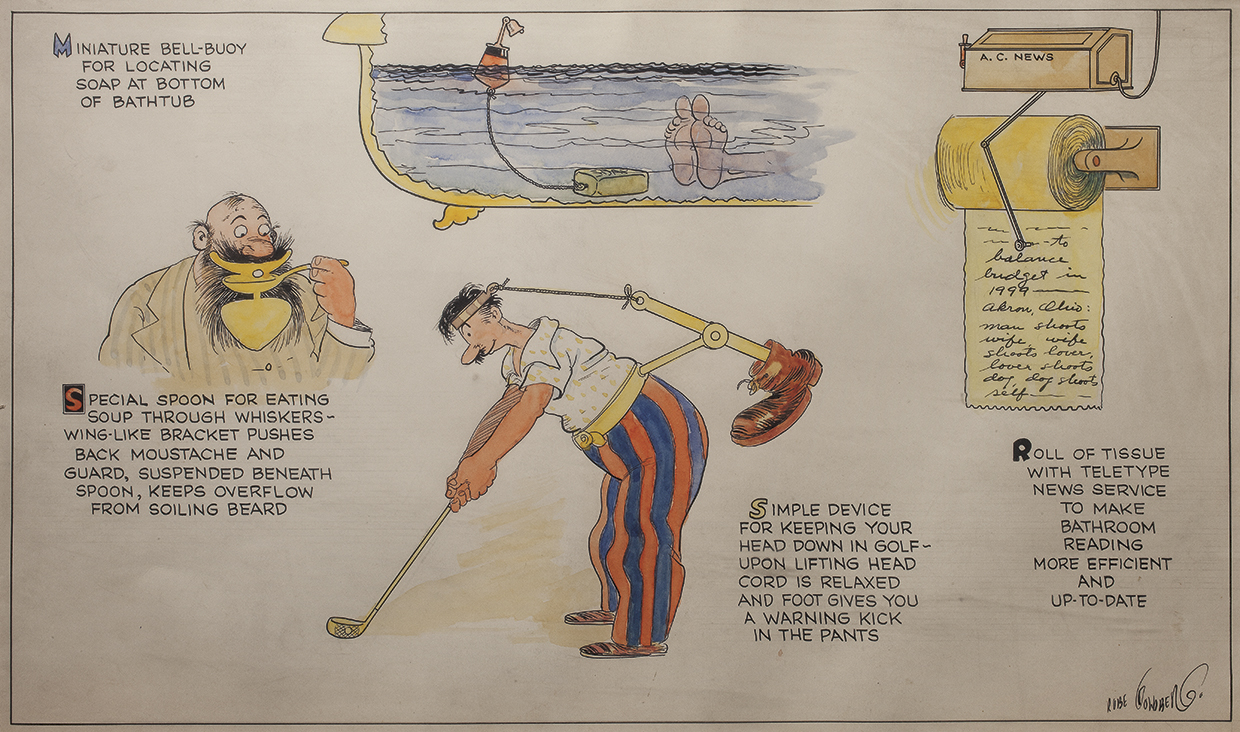 These inventions cartoons were largely influenced by the "machine age" at the beginning of the century and by the complex new mechanisms invented to simplify life. Electricity, running water, telephones and the automobile were changing the way people lived and worked. There were new mechanical inventions for everything from automatic hat tippers to motorized shoe polishers.
The point of a Rube Goldberg machine is to do a simple task in a complicated way which can be seen as a satire of America's technology obsession.
His inventions were so famous that the dictionary now includes the term "Rube Goldberg" as an "ingeniously or unnecessarily complicated machine", listed in the Merriam Webster Dictionary as an adjective.
Goldberg's work made him famous: he was named the first president of the National Cartoonists Society in 1946.
In 1948, he won the Pulitzer Prize for his editorial cartoon, "Peace Today," satirizing nuclear power.
Goldberg was also invited to the White House by Presidents Eisenhower and Nixon. He "has won as many trophies as even his most prolific trophy-inventing machine might devise," reads a short Times profile on the occasion of his 80th birthday. "He takes them seriously but not too seriously, like nearly everything else in life."
"The Art of Rube Goldberg": A Traveling Exhibition
This year, an American traveling exhibition "The Art of Rube Goldberg" celebrates all aspects of the artist's career from his earliest published drawings and iconic inventions to his Pulitzer Prize-winning political cartoons and beyond.
The exhibition brings together more than 75 drawings, photographs, sketches, and animated films—as well as rare personal photographs from the Goldberg family archives—to trace the creative process of the artist.
Goldberg is an American cultural icon. From board games and toys to music videos and Hollywood movies he has influenced some of the most indelible moments in pop culture.
Grand Rapids Art Museum, Grand Rapids, MI: May 21, 2017 through August 27, 2017
Citadelle Art Foundation & Museum, Canadian, TX: September 15, 2017 through November 26, 2017
Contemporary Jewish Museum, San Francisco, CA: March 15, 2018 through July 8, 2018

But... around the time of Goldberg, on the other side of Atlantic Ocean.
What the Americans describe as a "Rube Goldberg device" the British refer to as a "Heath Robinson" device.
British cartoonist and illustrator William Heath Robinson (1872-1944) was Goldberg's European counterpart. Like Goldberg, he was very famous for creating illustrations of machines that were intended to perform relatively simple tasks, but in incredibly complex, convoluted and indirect ways. And his name, like Goldberg, was included in the dictionary from 1912 as a synonym for absurd, ingenious and over-complicated makeshift devices.
Let's read what H.G. Wells (The War of the Worlds author) wrote to Heath Robinson in 1914: "Your absurd, beautiful drawings... give me a peculiar pleasure of the mind like nothing else in the world."
In Great Britain, Robinson was so famous that during World War Two the machine created by British code breakers at Bletchley Park was nicknamed Heath Robinson. It consisted of reels and spools, which had to be precisely aligned and timed in order for it to work. This machine was the predecessor to the world's first computer "Colossus".
Another anecdote: Mickie Robinson, the artist's daughter-in-law says, "I believe they called the buggy in the moon landings the "Heath Robinson contraption".
Then, if we want to be fair, we can describe all these complex machines as "Goldberg-Robinson machines"! A good way to link the old continent and the new world!
A museum dedicated to the British artist opened on October 2016 In London.
The museum houses a permanent exhibition of Robinson original artwork, books, photographs, film and other media. And it will also run special exhibits.