Fifty-Fifty Day on 10 May is a global event encouraging discussion about a gender-balanced world. What would our lives be like if both genders participated equally in all aspects of it? A free film and discussion guide and online Q&A session aim to spark a conversation.
Award-winning documentary maker Tiffany Shlain explains that she was inspired to make her short film "50/50: Rethinking the Past, Present, and Future of Women + Power" after having a conversation with Laura Liswood, Secretary General, UN Council of Women World Leaders. "When I learned that there were more than 50 women alive today who had led their countries, I was astounded by also disappointed in myself for not knowing that women had achieved this important milestone," said Shlain.
She asked around her, and discovered most people were as unaware as she was. So she decided it was time to start telling the story of women's contribution rather than just complaining that we don't have equal, 50/50 representation.
The result is a 20-minute film looking at the role of women in history and imagining a world in which everyone would share equally in roles of work, leadership, childcare and other aspects of our lives.
The trailer is also available for download to use offline.
Social Change
The film was originally released as part of a series of twelve films by women filmmakers which optimistically heralded the 2016 U.S. Presidential campaign and the prospect of the election of a woman president.
However, as Shlain points out in the film, social change is slow. Taking the example of women's suffrage in the U.S.A, she notes that of the 68 women who signed the Seneca Falls declaration demanding votes for women in 1848, only one was still alive by the time women were first able to vote in 1920. Undaunted by Hillary Clinton's defeat, Shlain decided to create a global event to encourage discussion of the topics raised in her film: 50/50 Day.
On May 10 almost 10,000 screenings of the film are planned around the world. To find one near you, click here. The screenings will be followed by discussions, and there will be an online question and answer session with an impressive array of speakers including one of those female heads of state, Joyce Banda, Former President of Malawi.
The film and discussion guides (including sections for children from age 7) are downloadable for free. For suggestions on using extracts in class, and cross-curricular work, see our Webpicks.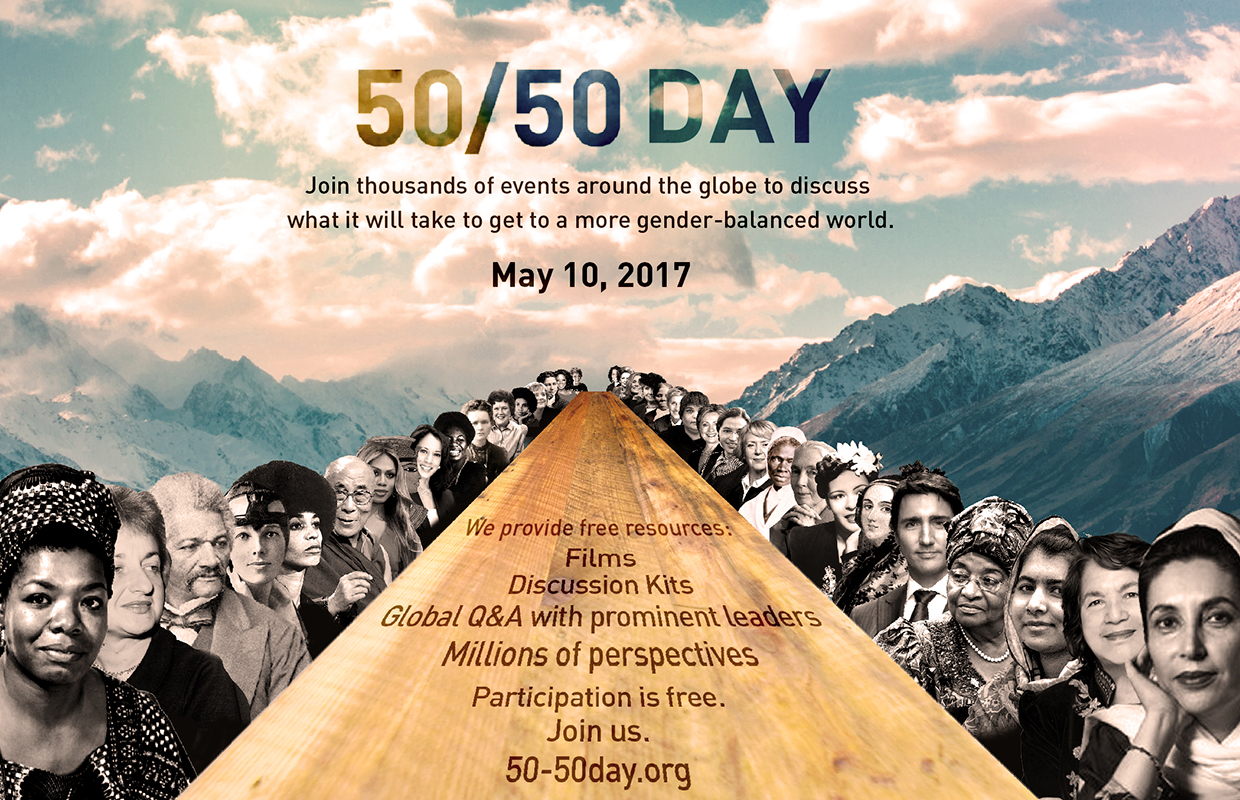 Copyright(s) :
Let it RIpple