If you are teaching LLCER Anglais, monde contemporain next year, you should be receiving your specimen copy of Shine Bright AMC right around now. And to find out more, you can watch the replay of the 12 May webinar where two of the authors presented the book. Thank you to the many teachers who participated!
The theme of the webinar was, "Comment répondre aux enjeux de l'enseignement de spécialité LLCER Anglais, Monde contemporain ?"
Corinne Escales and Lynda Itouchène, the collection director and one of the authors of the Shine Bright collection, demonstrated the philosophy behind the book and answered your questions.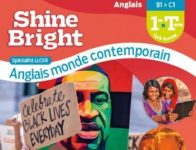 For more information about Shine Bright AMC Cycle terminal, head over to our Shine Bright section for a digital demo and several author videos presenting different chapters.

Downloadable resources ready to use in class
>
Shine Bright AMC File 12 Standard English
>
Shine Bright AMC File 5 Black Lives Matter
>
Shine Bright AMC Landmarks
>
Shine Bright AMC SnapFile 24 Five eyes, one power
>
Shine Bright AMC SnapFile 6 The Crown and the Houses
>
Coming Very Soon: Shine Bright AMC