If you're teaching LLCER AMC, or will be next year, let us introduce the latest addition to the Shine Bright collection: Anglais, monde contemporain Cycle Terminal. It includes 28 chapters of varying lengths covering all the themes of the curriculum in 1e and Terminale, ranging across the English-speaking world.
A group of authors teaching in many different types of lycée have been working hard on the new textbook while teaching this new speciality. Taking their cue from the curriculum, they have concocted sequences on up-to-date and often burning topics that should grab your students' interest and give them a solid grounding in the modern English-speaking world.
Why not find out for yourself with this extract, which features a full-length file on the U.S. justice system and various groups' struggles to obtain justice within it. You'll also find a SnapFile on the Indian pharmaceutical industry, very much in the news since it one of the world's leading vaccine manufacturers. Plus examples of the Landmarks pages, a cultural and social primer right up to the present day, and the many aids for students preparing their Bac exams.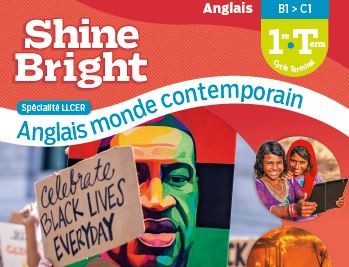 Ready for More?
Who better to tell you about the new book but its authors? They've been busy preparing videos about different chapters.
Snapfile 6 The Crown and the Houses about Britons' feelings towards their parliamentary monarchy.
File 12 Standard English, about the status of English alongside other languages in the world today.
SnapFile 24 Five Eyes, one power, about a little-known espionage alliance between English-speaking countries.
SnapFile 26 The world's drugstore,  about the Indian pharmaceutical industry.
Keep in Touch!
We'll have more videos for you soon. In the meantime, you can find three mock Bac subjects and two ready-to-use AMC sequences on the Shine Bright AMC companion site. And sign up to be informed as new resources are added, such as the teaching guides for the chapters.
Look out for specimen copies of the book arriving in lycées from the end of April, and a webinar with some of the authors in May.

Downloadable resources ready to use in class
>
Sujets type bac clé en main pour la spécialité AMC
>
Teaching LLCER anglais monde contemporain