We know from your messages that you've been waiting for them... Our first two film guides in the Reading Guide series, Much Ado About Nothing and 12 Angry Men, are now available, as is Jane Eyre.
Our film guides accompany students as they watch the film, and provide them with skills for film analysis as well as comprehension.
Much Ado About Nothing is the 1993 film version of Shakespeare's play, adapted and directed by Kenneth Branagh, who also stars as Benedick. A romantic comedy that teeters on the edge of tragedy when manipulation and gossip have potentially fatal consequences.
12 Angry Men is Sidney Lumet's 1957 film of Reginald Rose's story starring Henry Fonda as one of the members of a jury in a murder case. The courtroom drama is a classic "huis clos" , filmed almost entirely in the jury room where the twelve men have to come up with a unanimous verdict, and an exploration of the U.S. justice system.
Jane Eyre barely needs an introduction: Charlotte Brontë's classic, partially autobiographical coming-of-age novel with a Gothic atmosphere and a proto-feminist, self-assured heroine.
Already available for Terminale LLCER: The Handmaid's Tale.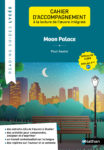 And one last piece of good news: We've managed to move up the publication date for the Moon Palace Reading Guide. Our accompaniment to Paul Auster's novel, part coming-of-age story, part road movie with a western flavour, will be available at the beginning of January.