The Bahamian-American actor Sidney Poitier who died on January 6, 2022 at age of 94, was the first Black person to win the best actor Oscar in 1964. He was also a humanitarian who was active during the civil rights movement.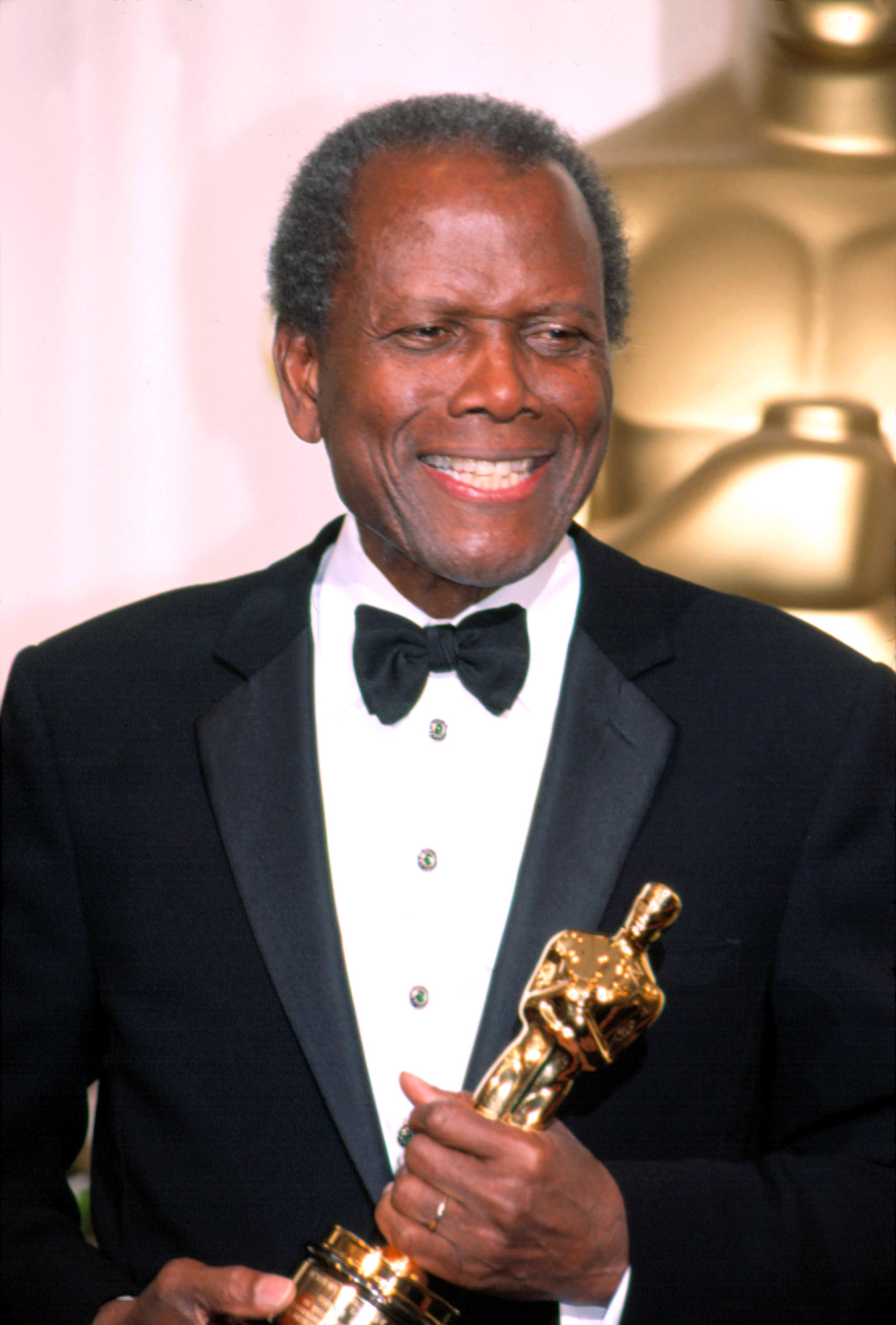 Poitier was the youngest of seven children of Bahamian tomato farmers. They used to bring their harvest by boat to Miami market and Poitier was born prematurely during one of these trips on February 20, 1927. Born on the U.S. territory, he gained US citizenship as well as Bahamian.
Though an American citizen, he spent his first years on Cat Island in Bahamas. At age 15, in order to forestall a growing tendency toward delinquency, he was sent to live with his brother in Miami.
In the U.S., he experienced the racism that divided the country, a great shock to a boy coming from a society with a majority of African descent.
"I lived in a country where I couldn't get a job, except those put aside for my colour or my caste."
To the Big Apple
At age 16, Poitier left the South for New York City, where he worked menial jobs to support himself. After a brief stint in the Army, as a worker at a veterans' hospital, he found his life's passion when he joined the American Negro Theater in Harlem.
His first audition was rejected and Poitier dedicated the next six months to overcoming his accent and improving his performing skills. On his second try, he was accepted. He was spotted in rehearsal by a casting agent, and won a bit part in the Broadway production of "Lysistrata", for which he earned good reviews.
By the end of 1949, he got an offer to work for Darryl F. Zanuck in the film No Way Out (1950). His performance as a newly-qualified doctor confronted by a racist patient played by Richard Widmark, brought him to the attention of the studios. For the record, after every offending scene, the kind Widmark would apologise profusely to the young Black actor. The two became lifelong friends and collaborated twice more. This film got Poitier plenty of notice and led to more roles. Nevertheless, the roles were still less interesting and prominent than those white actors routinely obtained.
His breakthrough came in The Blackboard Jungle in 1955, in the role of a disruptive pupil in an inner-city school. The film was immensely popular, not least because it was one of the first to have a soundtrack featuring rock 'n' roll, including Bill Haley's classic Rock Around the Clock.
After turning down several projects he considered demeaning, Poitier got a number of roles that catapulted him into a category rarely, if ever, achieved by an African-American man of that time.
One of these films, The Defiant Ones in 1958 with Tony Curtis, earned Poitier his first Academy Award nomination as Best Actor and he won a Bafta for the same film.
Broadway Acclaim
Poitier went on to star in many Broadway plays in the 1950s. One of the most famous was his role in the 1959 first production of A Raisin in the Sunn by Lorraine Hansberry. It opened at the Barrymore Theatre in New York on March 11, 1959, to great popular and critical success. It was the first play written by an African American to be produced on Broadway and the first to be directed by an African American in over half a century. It ran for 530 performances and won the New York Drama Critics' Circle Award for best play of the year. Hansberry was the youngest American, fifth woman and first black to win the award. A Raisin in the Sun marked the turning point for black artists in professional theatre. Both Sidney Poitier and Claudia McNeil received Tony Award nominations for their performances, "Best Actor/Actress in a Play". Given the success of the stage production, A Raisin in the Sun was made into a feature film, released in 1961.
1964: Poitier made the history
In 1964, the same year as the passage of the Civil Rights Act* and the Nobel Peace Prize for Martin Luther King Jr., Poitier made history with Lilies of the Field and became the first Black man ever to win an Oscar. He won the Academy Award for best lead performance for his role as Homer Smith, a handyman reluctant to help a group of German nuns lacking bricks or money for a new chapel.
* The Civil Rights Act of 1964, which ended segregation in public places and banned employment discrimination on the basis of race, color, religion, sex or national origin, is considered one of the crowning legislative achievements of the civil-rights movement.
Sidney Poitier's rise in popularity seemed linked with the hopes of the civil-rights movement and it was inevitable Poitier would find himself lauded as an example of Black achievement. It was a role he gladly accepted. He participated in demonstrations such as the 1957 Prayer Pilgrimage and the 1963 March on Washington. In this era of sit-ins, Freedom Rides and mass marches, activists engaged in nonviolent sacrifice not only to highlight racist oppression, but also to win broader sympathy for the cause of civil rights.
Sidney Poitier transformed how Black people were portrayed on screen.
His work in the 1950s and '60s helped break colour barriers, shifting the lens through which Black people were perceived and paving the way for other Black actors to make their mark. However, he was concerned that his Oscar may have been indicative of Hollywood's need for a token Black actor, rather than something he achieved on merit.
1967 saw him at his commercial peak with three films, making him Hollywood's most bankable star that year. Poitier became the top box office draw with three popular movies out the same year: To Sir With Love, Guess Who's Coming To Dinner, and In The Heat of the Night.
To Sir, With Love reflected the experience of West Indian migrants to Britain. His character's experience of being an immigrant in London mirrored that of many West Indians who came to Britain during the 1950s and '60s.
Poitier was nominated for Bafta and Golden Globe awards for Norman Jewison's film In the Heat of the Night in which he played big city detective Virgil Tibbs. He played a Philadelphia detective who found himself stranded in a red-neck Mississippi town on the night a businessman is murdered. His developing relationship with the bigoted local sheriff, played by Rod Steiger, gave Poitier his strongest role and the film won five Oscars, including best picture. Poitier's response to Steiger's question "What do they call you, boy?" produced one of cinema's most famous lines: "They call me Mr Tibbs."
Guess Who's Coming to Dinner featured Poitier as the boyfriend of a white, middle-class girl who takes him to meet her parents. Played by Spencer Tracey and Katherine Hepburn, her parents were torn between their liberal values and their reaction to a prospective Black son-in-law.
At the time filming began, interracial marriage was still illegal in 17 U.S. states. These laws were only revoked by the Supreme Court months before the film was released.
But Poitier faced criticism from some Black civil-rights activists who complained his characters were just too good to be true.
Film critic Elvis Mitchell says there was a time when Black audiences were just happy to see someone on screen who wasn't, for example, carrying a tray. But eventually, dissatisfaction with the civil-rights movement and Poitier's mostly non-threatening roles made him an easy target. "He suddenly went from being the lone representation of his race to being unfairly castigated as the man who apologized for being Black. And he was just working, he wasn't in control of the movie business, he didn't choose to make the movies — he chose to be in them, because he just wanted to work."
Going Behind the Camera
This hot wind of criticism persuade Sidney Poitier to move away from acting roles. He involved himself in the campaign for Bahamian independence, achieved in 1973, and began a new career as a director.
By the end of the 1970s, Poitier formed his own production company with other stars, including Paul Newman and Barbra Streisand.
Poitier starred in and directed comedies with large Black casts — the best known are Uptown Saturday Night, and Let's Do It Again. His debut as a director was Buck and the Preacher, a Western with comic touches, about freed slaves homesteading out West.
As he moved further away from acting, he directed Gene Wilder and Richard Pryor in Stir Crazy in 1980, his biggest commercial hit as director.
Poitier became the first Black actor to receive a life achievement award from the American Film Institute in 1992. Five years later, he was appointed the Bahamas' ambassador to Japan.
In 2002, nearly 75 years old, Sidney Poitier received an honorary Oscar for lifetime achievement. "I accept this award in memory," he said on stage, "of all the African American actors and actresses who went before me in the difficult years, on whose shoulders I was privileged to stand to see where I might go." There was a standing ovation for Sidney Poitier. Halle Berry and Denzel Washington won Best Actress and Best Actor that night, marking a new first at the Oscars.
In 2009, President Barack Obama awarded Sidney Poitier the Presidential Medal of Freedom, the highest civilian honor in the United States. In 2016 He was awarded a Fellowship by Bafta, a recognition of his outstanding contribution to cinema.