Not many countries have an annual celebration of their national poet. In fact not all countries have a national poet. But Scotland does and millions of people around the world celebrate him on Burns Night every 25 January.
The adoption of Robert Burns (1759-1796) as national poet was a natural, organic process born or real affection rather than any official recognition.
Burns was born in rural Ayrshire, in southwest Scotland in 1759. The poor farmer's son would live just 37 years but fathered 12 children and achieved fame with his poems and songs.
Burns wrote mainly in Scots, the language of Lowland Scotland. His first, bestselling collection was entitled Poems, Chiefly in the Scottish Dialect.
But that didn't seem to prevent his work being influential far from Scotland. Who hasn't sung "Auld Lang Syne" to welcome in the new year? The title of John Steinbeck's classic American Of Mice and Men is a Burns quote. As is the title of the equally classic Catcher in the Rye by JD Salinger.
Burns lived in a time of cultural effervescence in Scotland, a time when a ploughman could first get an education, then become a published poet feted in Edinburgh literary society. It was also a time when Scotland was searching for a identity distinct from its richer, more powerful southern partner in the United Kingdom. Burns wrote in the Scots vernacular and often about a rural world that seemed idyllic to urban intelligentsia, symbolizing a national ideal.
Burns Night
Five years after the poet's death, some of his friends held a dinner in his memory, in the cottage where he was born, and that is now a museum. This gave birth to a series of Burns Clubs – 350 today – in Scotland and around the world. The tradition of Burns Suppers was established by 1810, on 25 January, the poet's birthday. In 2009, the bicentenary of his death, nine million people around the world attended Burns Suppers.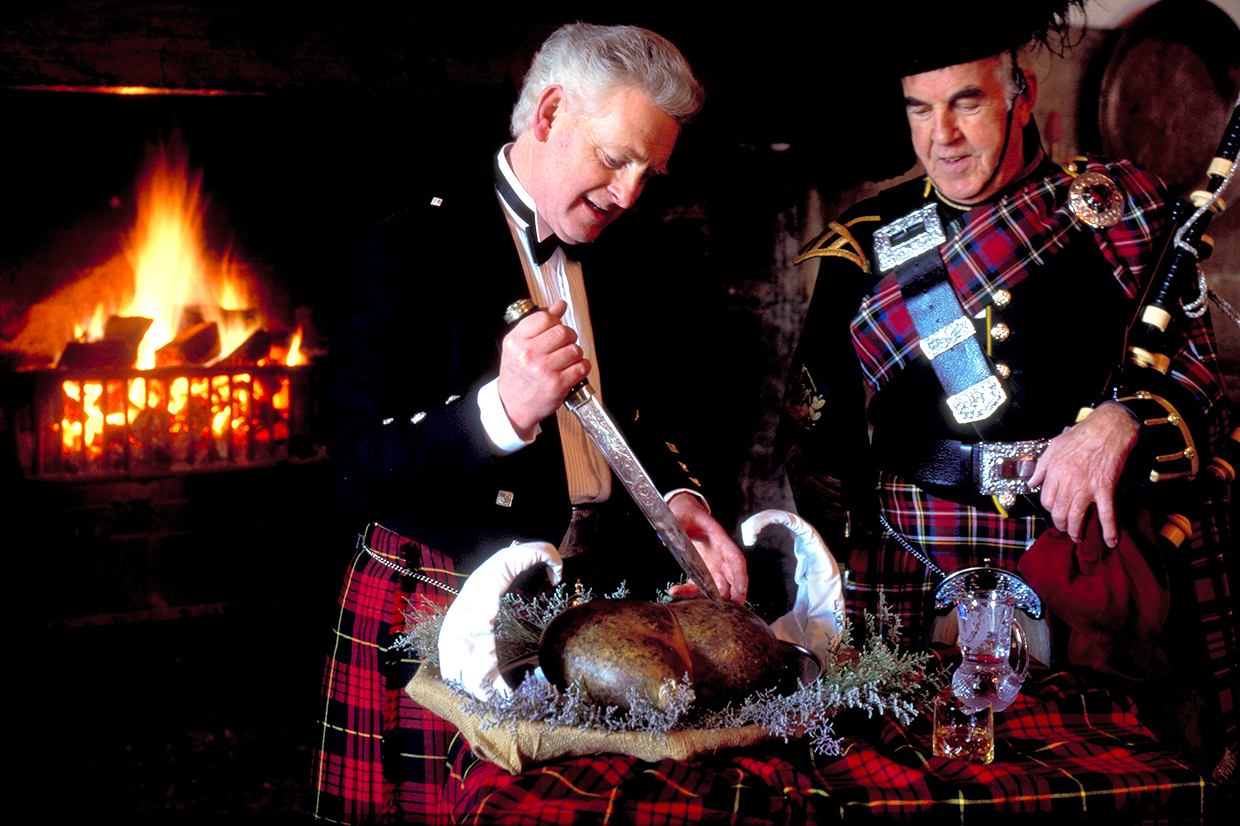 The star of a Burns Night dinner is haggis, which can only be served once someone has given an energetic recital of Burns' "To a Haggis"a humorous poem in which Burns praises the national dish and the strength it bestows on those who eat it.
The evening continues with poems, songs and speeches: the Immortal Memory, about the poet; Toast to the Lasses, containing choice quotes by the bard about the fairer sex; and a witty Reply from the Lasses. And evening of wine (or whisky), women and song the poet would approve of.
It is rounded off, like all Scottish social gatherings, when the guests form a circle and sing "Auld Lang Syne".  A nostalgic end to a nostalgic evening.
Copyright(s) :
Library of Congress
Notion(s) culturelle(s) : "Des repères géographiques, historiques et culturels" "Rencontres avec d'autres cultures"