Two Native American tribes are in a standoff with South Dakota governor Kristi Noem over checkpoints the tribes have erected to try to limit exposure to Covid-19 on their reservations. The tribes say it's a question of life and death since centuries of neglect mean their medical services are too limited to cope with an outbreak.
In early April, the Cheyenne River Sioux and Oglala Sioux tribes each decided to regulate movement on and off their reservations. Native American populations have a high incidence of existing conditions such as diabetes, which make coronavirus more dangerous. Non-essential travel in and out of the reservations was limited, and in particular, anyone coming from a Covid hotspot was asked to avoid entering tribal land.
South Dakota is one of seven U.S. states that hasn't issued a lockdown order due to coronavirus. The state has had 3,500 cases and 34 deaths in a population of 900,000. It's the 6th smallest population in the country, and 15th smallest coronavirus rate.
On 8 May, the Republican governor gave the two tribes 48 hours to remove roadblocks on state and interstate roads.
Chairman Harold Frazier of the Cheyenne River Sioux and President Julian Bear Runner of the Oglala Sioux Tribe responded by saying they would keep the blocks in place to protect their populations. Frazier says that the Cheyenne River reservation has only had one case of coronavirus, thanks to the roadblocks and monitoring. He explains, "We live basically in the middle of nowhere. The nearest health facility is a three-hour drive in Rapid City, S.D., for critical care." The reservation health facility only has eight beds for 10,000 people, totally inadequate to deal with a major outbreak.
Reservations and Sovereignty
In a statement, the Cheyenne River Sioux pointed out that the reservation is sovereign land for the tribe:
"Article 16 of the Ft. Laramie Treaty signed in 1868 by your government and our respected ancestors dictates the following, 'no white person or persons shall be permitted to settle upon or occupy any portion of the same; or without the consent of the Indians first had and obtained, to pass through the same.'"
President Julian Bear Runner contrasted the tribes' actions with those of the governor, "Due to the lack of judgment in planning of preventative measures in response to the current pandemic, Covid-19, the Oglala Sioux Tribe has adopted reasonable and necessary measures to protect the health and safety of our tribal members and our other residents of the Pine Ridge Indian Reservation."
Going Further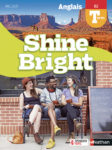 There is a 2-minute, clear radio interview with Harold Frazier on the NPR site.
Find much more on Native Americans' attitudes to reservations in Shine Bright Terminale Short File 5 No Trespassing.