John le Carré, master spy novelist, died on 12 December at the age of 89. Like James Bond creator Ian Fleming, le Carré himself worked in intelligence, but his novels were the polar opposite of Bond, portraying espionage as bleak, often tedious, and above all morally ambiguous.
Le Carré was a pen name, since he started publishing his novels while still an active member of the Foreign Service. His real name was David Cornwell. He was born in 1931 in England and had a childhood worthy of a novel character: his mother left the family when he was five and his father was a conman, who did time in jail while somehow putting David through public school.
At 17, on a whim, Cornwell decided to study German at the University of Bern in Switzerland. He would say in his 2016 memoir The Pigeon Tunnel, "It strikes me now that everything that happened later in life was the consequence of that one impulsive adolescent decision to get out of England by the fastest available route and embrace the German muse as a substitute mother.'" For it was there that he was recruited in the British Army Intelligence Corps. He would go on to work undercover for MI5, spying on his fellow students while studying at Oxford, before becoming an MI5 officer in 1958 and moving to MI6 (foreign intelligence) in 1960. The reality of being a spy runner was much less exotic than spy novels would have us believe. Most of Cornwell's espionage activity too place in a dingy office in London.
Smiley
Le Carré was best known for his Cold War novels featuring George Smiley. Smiley's world couldn't have been further from the glamour of James Bond's Caribbean islands and high-class ski resorts. A reader was more likely to encounter Smiley in a drab, rainy East German street, dressed in an ill-fitting overcoat than in a tuxedo in a casino.
Le Carré's first two Smiley novels, published in 1961 and 1962, attracted little notice, but 1963's The Spy Who Came in from the Cold shot to the top of the bestseller lists. The story of a double agent sent to infiltrate East German intelligence was bleak and gritty. Despite being passed by the Foreign Office for publication because it was clearly fictional, readers and critics alike were convinced it was a true picture of Cold War espionage.
TV adaptations of later novels Tinker, Tailor, Soldier, Spy and Smiley's People, starring Alec Guinness as the portly, bespectacled spymaster, widened Le Carré's readership.
In 1964, he left MI6 after his name was given to the Soviets by a double agent, one of his own favourite plot devices.
A Change of Gear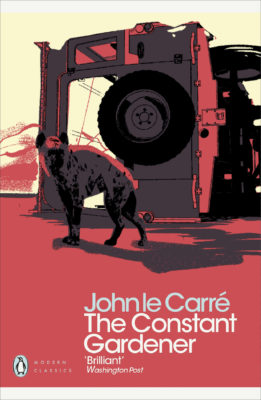 As the Cold War came to an end in 1989, le Carré switched his focus to intrigue and corruption in the wider world, whether the war on terror in A Most Wanted Man (2008) and A Delicate Truth (2013); or "Big Pharma" in The Constant Gardener (2001).
Yet he returned one last time to Smiley in 2017 in A Legacy of Spies.
Surprisingly for a man who had served the British state, Cornwell turned down honours including a knighthood, saying "I don't want to posture as someone who's been honoured by the state and must therefore somehow conform with the state, and I don't want to wear the armour."
He continued to follow the state of international relations. His final novel, Agent Running in the Field (2019), was written in reaction to the Brexit referendum.
In His Own Words
You can find details of all of Le Carré's novels on the Penguin site.  And let's leave the last words to him, in this video of edited highlights of a 2017 talk he gave a London's Southbank Centre, An Evening with George Smiley, where he gives some insights into his choice of pen name, and the man he credited both as having encouraged him to write, and served as inspiration for George Smiley: his MI5 boss, and fellow spy novelist, John Bingham.
Copyright(s) :
Denis Makarenko/Shutterstock
Penguin Books