As Boris Johnson said as he announced a new lockdown: "'Tis the season to be jolly careful". But it's nice to know that some festive traditions have survived the pandemic. Friday 11 December is the ninth Christmas Jumper Day, organised by Save the Children U.K.
Normally, people wear a Christmas-themed jumper to work or school but this is one fundraising event that can actually work just as well on social media. Dress up in a silly jumper - home decorated if possible - make a £2 donation to the charity, post your selfie and encourage your friends to do the same.
Mr Johnson is probably a bit busy with Brexit negotiations to take part, but his wax figure at Madame Tussaud's will be appropriately attired on the day.
Lots of other well-known faces have trotted out their best yuletide bling to support the charity's efforts.
The previous eight editions of Christmas Jumper Day have raised £25 million to help children in the U.K. and around the world. Coronavirus has made the charity's work more necessary than ever, as it has impacted families already struggling with poverty around the world. The Save the Children site has some short, simple examples of children who have been helped by money made by fundraising.
Time to Upcycle
The Christmas Jumper Day site has some great tips for repurposing plain old jumpers by giving them a Yultide makeover. Like this!
For last year's Christmas Jumper Day, Britain's world record holding Olympic long jumper Greg Rutherford, wore Britain's longest Christmas jumper (measuring the same as his record 8.51m jump).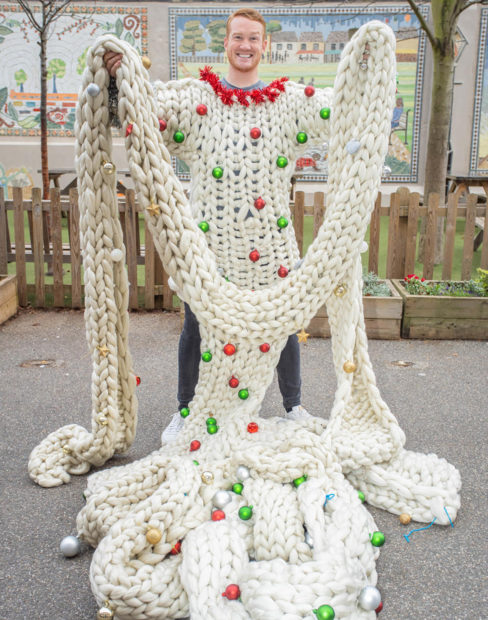 Copyright(s) :
Mme Tussaud's
Ray Burmiston/Save the Children
Jeff Moore/Save the Children