Little Amal is anything but small: she's a giant puppet of a Syrian refugee girl making her way across Europe. The 3.5-metre-tall puppet began an 8,000 kilometre journey in Turkey on 27 July. After the south of France in September, she'll be making stops across the north in October before embarking for the U.K.
The project, called The Walk, aims to raise awareness of the difficulties faced by child refugees. The Little Amal character is described at nine-years-old and was created by Good Chance Theatre company for a show called the Jungle, about the Calais refugee camp they presented in London and New York. They have also coordinated the Walk.
More than 6.8 million Syrians have been forced to flee their country during the last 10 years because of civil war, and a further 6.7 million are internally displaced within the country.
Crossing a Continent
The Walk has crossed Turkey, Greece, Italy, the south of France in September before going on to Switzerland, Germany and Belgium. It returns to France on 10 October.
Follow Amal's schedule here.
On 10 October at 5.30 p.m. in Charleville-Mézières, Amal will be encountering people carrying large suitcases like her.
Amal will stay in and around Paris from 12 to 15 October. She'll start in Seine-Saint-Denis on 12 October. First she'll participate in a giant treasure hunt in Aubervilliers on 12 Oct at 4 p.m., then move on to Bobigny to join in a giant puppet performance at 7 p.m.
On 13 October, she'll meet new friends at the Parc de la Villette in Paris from 2 p.m., then move on to a refugee camp installation at the Institut du Monde Arabe at 6 p.m. Amal will explore the rows of tents, searching for signs of home. She'll meet children's author Michael Morpurgo there, who has created a book of Little Amal's story.
At 10.30 a.m. on 14 October, Little Amal will visit the Comédie Française and meet actor Gaël Kamilindi, whose family fled the Democratic Republic of Congo. Then she'll move on to the Hôtel Coulanges at 5 p.m. and walk from there to the Place de la République in silence, representing all the refugees in the world who have no voice, or whose voice isn't heard.
At 12 p.m. on 15 October, at Ground Control, near to the Gare de Lyon, Amal will be welcomed by giant bird puppets manipulated by pupils from Collège Rodin and young unaccompanied minor refugees from the organisation Droit à l'école. She'll move on to the Théâtre Chaillot at 4 p.m. for a dance performance, and head down to the Seine from 6 p.m. to continue her journey from the Pont d'Iéna.
On 16 October, Little Amal will be on the move in Dunkirk from 3 p.m. through to the evening with events asking the public to think about the one object they would take with them if they had to flee their home.
At 11.30 a.m. on 17 October, Little Amal will begin her last day in France at la Grande Synthe with a musical event and then move on to Calais beach from 6.15 p.m., where she will be joined by "the Giants of the North".
Little Amal will then wend her way through England to finish her journey in Manchester on 3 November.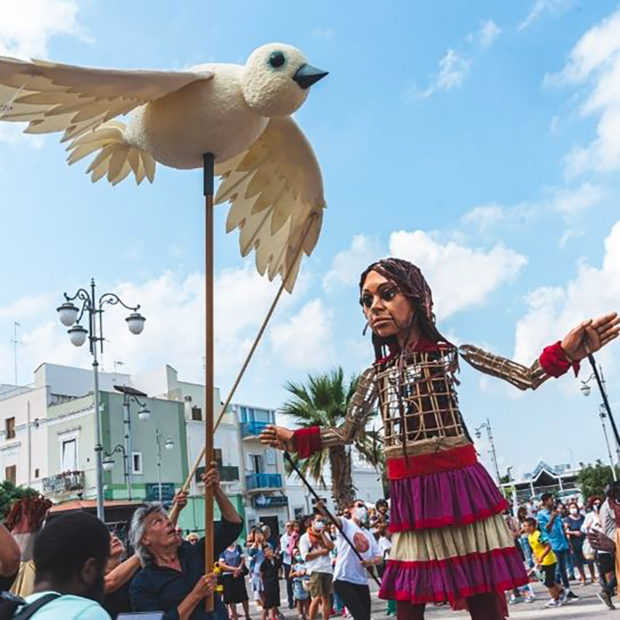 Amal was made by Handspring Puppets, the South African group who made the amazing life-size horse puppets for Michael Morpurgo's War Horse. Founders Basil Jones and Adrian Kohler even came out of retirement to create it. The 3.5-metre puppet needs three people to operate it, including one inside on stilts. Its movements are incredible lifelike.
Teaching Pack
The Walk with Amal site has a teaching pack for classes, available in English and also in French. Find out more about it on our webpicks page.
Copyright(s) :
Walks with Amal