The UK's 2023 Women's Prize has been awarded to Barbara Kingsolver for Demon Copperhead, her retelling of Dickens' David Copperfield set in modern-day Appalachia. She is the first author to win the prize twice, after winning in 2010 for The Lacuna.
Kingsolver also received the 2023 Pulitzer Prize for fiction for Demon Copperhead. She was inspired to write it when she realised the problems of child poverty and exploitation denounced by Dickens in 1850 were eerily similar to those in the region where she lives, Appalachia, one of the poorest in the U.S.A., and worst hit by the opioid epidemic of prescription drugs that is ravaging the States. The mountainous region spans 13 of the eastern states from New York in the north to Alabama and Mississippi in the south.
Like Copperfield, Copperhead is born to a single-mother, this time in a trailer park, and will need all his wit and talent, particularly at drawing, to face a world of foster care, child labour and addiction.
Kingsolver explains, "Appalachia has been so particularly exploited, almost treated as an internal colony." She calls the opioid epidemic, "one more turn in this exploitation trade."
"It's a hard story to tell. And I really spent years thinking that it was totally impossible. And then it dawned on me that that's just what Charles Dickens did. Why not tell his story, in my voice, in my place?"
You can read the first five chapters of Demon Copperhead or listen to the opening pages on the publisher's site. There are samples of her other books too.
This is an interview with Kingsolver about the novel for National Public Radio in the States.
Social Novels, Social Action
Social and scientific issues are woven through all of Kingsolver's novels and her non-fiction work. But like Dickens, her books are so full of humanity the reader never feels lectured at, just absorbed in the fascinating lives they encounter.
Many are set in rural and small town America, including several in the South-west, where Native and non-Native communities mix. In the magnificent Poisonwood Bible, she ventured further afield, to the Belgian Congo where her family briefly lived when she was a child and her doctor father went to work there. It draws comparisons with Conrad's Heart of Darkness but is told from a female point of view, that of the women in a missionary family where the father is going mad.
Environmental issues  have been a focus of her books in recent years. In Flight Behavior, a young Appalachian woman is battles to save monarch butterflies whose migration has been disturbed by climate change. In 2007 Kingsolver published Animal, Vegetable, Miracle, a chronicle by her family of their attempts to eat only locally-produced food when they move to a farm in Appalachia.  This project grew into a farm-to-table restaurant and community development project training young farmers in their area to move into sustainable food production.
Kingsolver wears her social conscience on her sleeve. In 2000, she established a biennial book prize, the Bellwether, for previously unpublished work of fiction that address issues of social justice. It is now administered by the writers' organisation PEN America.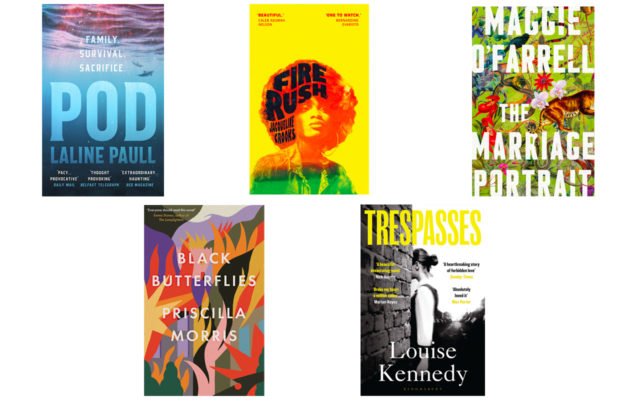 The 2023  Women's Prize shortlist also included 2020´s winner, Maggie O'Farrell, this time for The Marriage Portrait, about a teenage girl, a member of the di Medici family in Renaissance Italy. The characters in Pod by bestselling author Laline Paull are all spinner dolphins, particularly Ea, who is hoping coming of age will make her feel less of an outsider.
There are three debut novels on the list, all dealing with different aspects of the recent past. Fire Rush is set in South London during the 1970s and '80s, where author Jacqueline Crooks grew up amongst the children of Windrush. Trespasses by Louise Kennedy is set in small-town Northern Ireland during the Troubles as a primary-school teacher negotiates a complicated love affair. And Priscilla Morris draws on her mother's family experience in Black Butterflies to follow her heroine, Zora, also a teacher, through the siege of Sarajevo in 1992.