Language is constantly changing and every year British dictionary publishers Collins likes to look back and see which words have dominated the national conversation. Not necessarily new words, but ones that have come to the fore. The Word of the Year 2018 is... "single-use".
It's been in the news as more and more campaigners have called for a ban on single-use plastics such as straws and coffee cups that cause massive pollution problems. The EU parliament voted in October to ban them by 2021.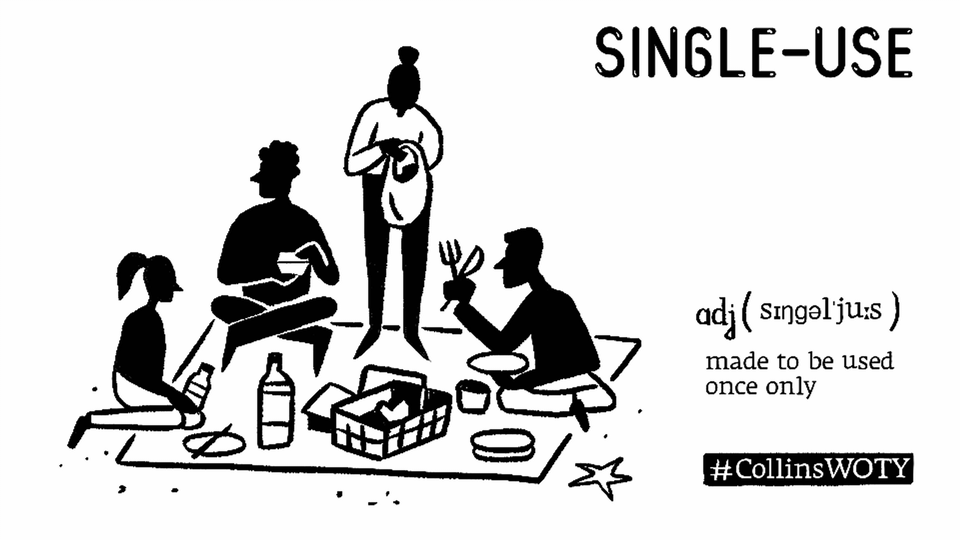 Several other words associated ecology or campaigning made the
shortlist
.
"Plogging"
is a Swedish  word meaning "picking up litter while jogging". A perfect way to do your health good, and the planet good, at the same time.
"Vegan"
isn't new, but is being discussed more and more.
"MeToo"
has become more than a hashtag and entered the language as "a cultural movement that seeks to expose and eradicate predatory sexual behaviour, especially in the workplace." Whitewash meanwhile is used to protest the casting of white actors to play minority ethnic characters. Similar protests have been made about actors who don't have a disability being cast as disabled.
Previous years' WOTY's continue to be widely used, such as 2016's Brexit. The runner-up word in 2018, "backstop", came to the fore during the Brexit negotiations. An obscure legal term meaning, "a system that will come into effect if no other arrangement is made," it became the subject of fierce debate when a backstop was suggested as a way to sign a Brexit deal even if a solution still hadn't been found for the thorny question of the Northern Irish border with the Irish Republic.
And leisure trends also made the shortlist. Its use at this summer's World Cup meant that VAR (Video Assistant Referee) was widely discussed. And the immense popularity of the video game Fortnite meant that nomination of floss. Not the stuff to clean your teeth, or candy floss that could ruin them, but a victory dance made popular by the game.
Copyright(s) :
Collins Dictionaries