Christmas Jumper Day has been a big charity event in the UK for several years. The U.S. is catching up with Ugly Christmas Sweater Day. Either way, it's a great way to get in the Christmas spirit and make a donation to a children's charity.
Christmas Jumper Day in the UK is organised by the charity Save the Children and this year is on December 14. The idea is simple: wear a Christmas-themed jumper and donate £2 to Save the Children. To encourage children to break into their "piggy banks" to make donations, Save the Children dressed some adorable micro pigs in Christmas jumpers!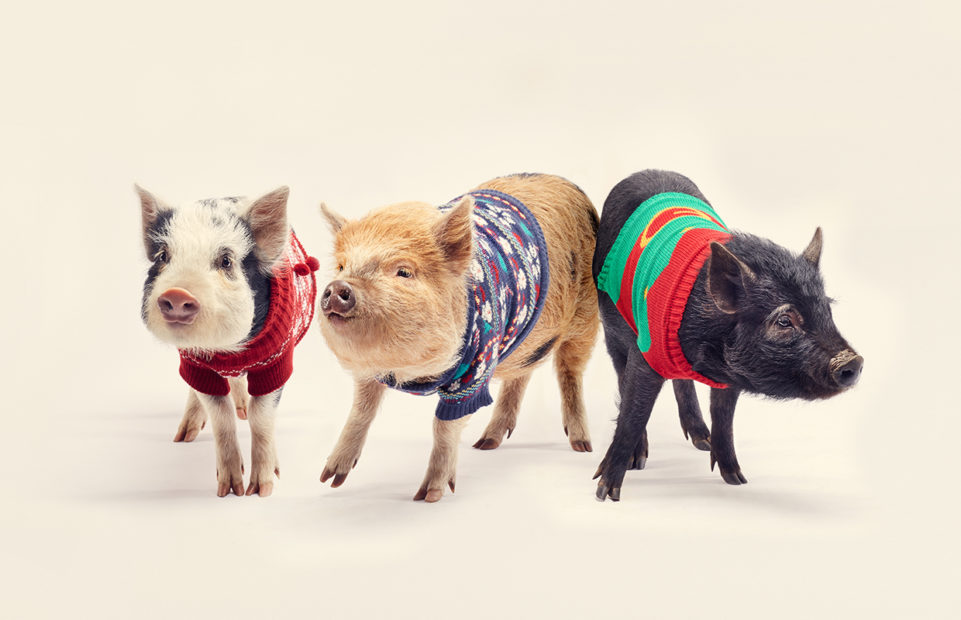 Since launching in 2012, over 17 million people have taken part in Christmas Jumper Day, raising  £16 million to help children. This year, Save the Children is expecting over 5 million people across the UK to take part in the biggest Christmas Jumper Day ever. Not to mention its international versions.  In 2017 Italy, Spain, the Netherlands, Hong Kong and the Philippines all held Christmas Jumper Days for Save the Children.
The ad encouraging people to participate is a good way to work on Christmas vocabulary and jobs: we see a gym teacher, a spy, a rapper and a dentist getting into somewhat awkward situations with their Crimbo pullovers.
You Say "Potato"
In the U.S., they're sweaters, not jumpers, and Ugly Christmas Sweater Day is on 21 December this year.
It's less institutionalised than the UK version, but in return for buying an Xmas sweater, their partners donate hoodies to homeless children.
This news report from 2016 talks about a specially made, very expensive Christmas sweater to promote the day.
Copyright(s) :
Nathan Pask / Save the Children