In a short and moving speech to the COP26 conference in Glasgow, Elizabeth Wathuti highlighted the plight of of populations in sub-Saharan Africa who are suffering the worst effects of climate change, which is threatening their livelihoods and even their lives. 
As a teenager in 2016, Wathuti founded the Green Generation Intiative in Kenya, which has helped communities plant 30,000 fruit trees to combat deforestation and provide food. She also works the Wangari Maathai Foundation. Professor Wangari Maathai founded the Green Belt Movement which has planted millions of trees to preserve water and and prevent drought. She was awarded a Nobel Peace Prize for her work in conservation and reforestation.
In her speech, Wathuti urged leaders to "open your hearts" and consider the situation of over two million Kenyans who are facing climate-related starvation after two failed rainy seasons, with little prospect of rain for another 12 months. She also referenced the recent, "deadly heatwaves and wildfires in Algeria, and devastating floods in Uganda and Nigeria. Projections show, she said, that in 25 years, 86 million people in sub-Saharan Africa will have been displaced by the climate crisis, as their land becomes unsustainble. Yet, "Sub-Saharan Africans are responsible for just half a percent of historical [carbon] emissions."
She concluded, "Children cannot live on words and empty promises. They are waiting for you to act. Please, open your hearts, and then act."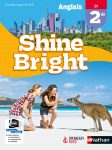 This speech  would make a great update to Shine Bright 2e File 17 Preserving Kenya. Pupils could also consult the Green Generation Intiative's website for examples for their final task.

Downloadable resources ready to use in class
>
Extinction Rebellion Short Film