On the occasion of Frederick Douglass's Bicentennial, there are lots of online resources to help you introduce this major figure of the abolition movement to your pupils.
This section on Frederick Douglass from the Library of Congress children's site is suitable from A2. It's not a very detailed biography but has an excellent quote from Douglass which is understandable: "What was possible for me is possible for you. Do not think because you are colored you cannot accomplish anything. Strive earnestly to add to your knowledge. So long as you remain in ignorance, so long will you fail to command the respect of your fellow men."
The part about his writing and speaking on abolition can be used at the same level. There are segments on his escape from slavery and work during the Civil War in two further sections but they assume a certain pre-knowledge of his story, or at least how slaves escaped to the North and the dangers they faced.
This National Endowment for the Humanities mini-site has several interesting documentaries on slavery and the movement for civil rights.
The one on the Abolitionists starts with a short segment on Frederick Douglass. The voiceover is clear and fairly slow, but some of the vocabulary is difficult. It could be tackled from B1.
Frederick Douglass's house in Washington, D.C. in is a National Park Service property preserved for historical reasons. Extracts of the NPS biography of Douglass can be used from A2+.
This video shows reconstructions of Douglass's speeches, and African-Americans young and old saying what he means to them. From A2+.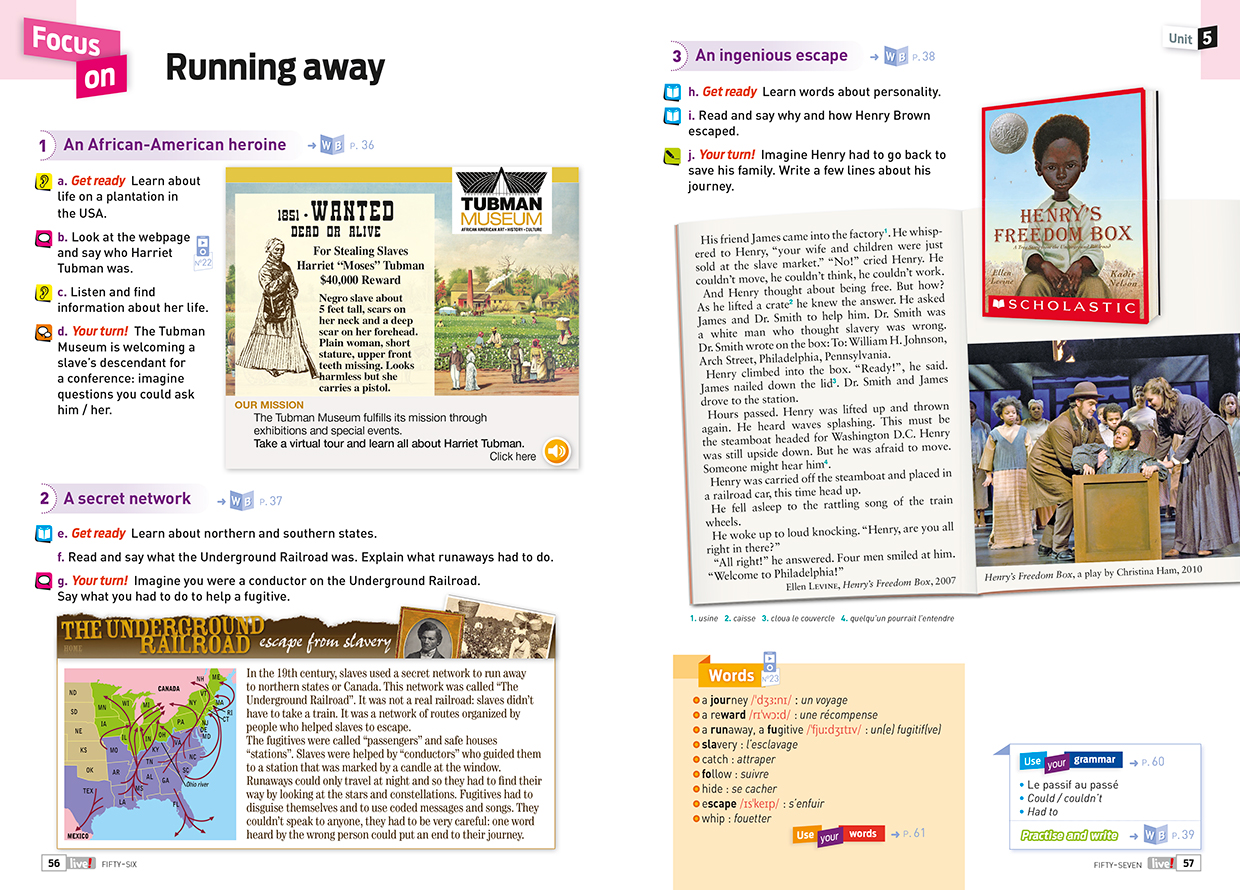 Give me five! 4e Unit 5 "Journey to Freedom" focuses on
Harriet Tubman and the Underground Railroad. It would fit well with a sequence on Douglass.
Download a sample page here.
The 2019  Pulitzer Prize for history was awarded to historian David W. Blight for Frederick Douglass: Prophet of Freedom. Professor Blight is Director of the Gilder Lehrman Center for the Study of Slavery, Resistance, and Abolition at Yale University. In these two videos, he discusses Douglass.
The first one is very short, just 35 seconds. Professor Blight briefly describes the important of Douglass's work, without mentioning his slave past. It's clear and fairly slow. Usable from A2.
The second one is more complex, and longer.  It covers five aspects of his life, from slavery until his involvement in the Civil War. Usable from B1. The third point is the most difficult in terms of language.