After the terrible school shooting at the Marjory Stoneman Douglas High School in Parkland, Texas, gun control is once again very much in the news. Here are suggestions of ways to broach this topic in class.
The Parkland students have been very active in calling for greater gun control and safety in schools (see our article).
The speech made by Emma Gonzales, one of the Parkland students who founded "Never Again", at a rally in Fort Lauderdale after the shooting, is an excellent document to use with students. At times her emotional state means she speaks very quickly, and the whole speech is more than ten minutes long. In the latter part, she famously calls out politicians for the "B.S.", which you will probably want to avoid in class. But we suggest using extracts with B1+-B2 students, and potentially helping B1 students by working with the transcript, or by giving them the chosen quotes below as debate points.
In any case, it is worth showing students the beginning of the speech to set the scene. There is a good chance that they will recognise it as it went viral on social media. They should be able to collectively establish the situation and the basic facts, without having to understand the speech.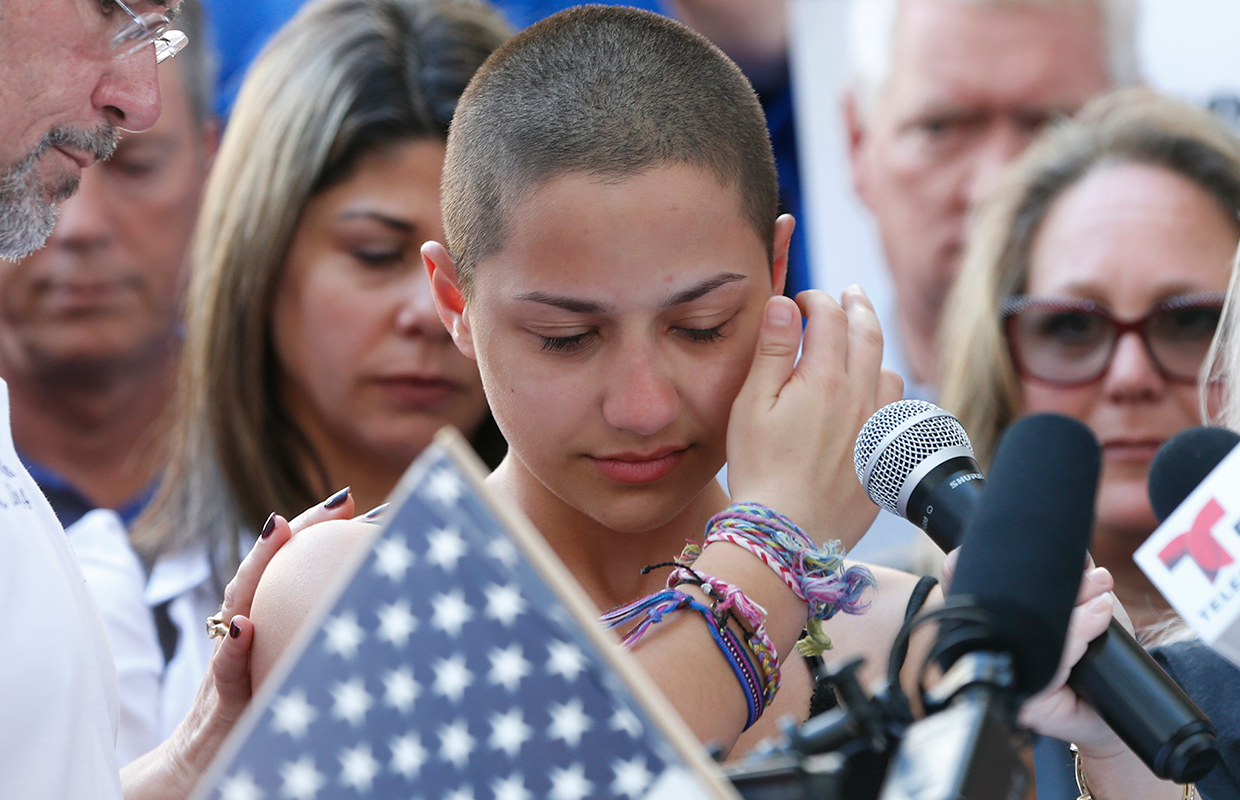 You can access the video of the speech here, and also the transcript.
We suggest concentrating on these extracts, which are easily discussable.
This first point is easy to understand, but the delivery is fast. Don't hesitate to give the pupils the text but have them listen to the speech for the emotion:
1:00-1:10 "Since the time of the Founding Fathers and since they added the Second Amendment to the Constitution, our guns have developed at a rate that leaves me dizzy. The guns have changed but our laws have not."
Two separate but connected points:
3:43-4:26 "When we've had our say with the government -- and maybe the adults have gotten used to saying 'it is what it is,' but if us students have learned anything, it's that if you don't study, you will fail. And in this case if you actively do nothing, people continually end up dead, so it's time to start doing something.
"We are going to be the kids you read about in textbooks. Not because we're going to be another statistic about mass shooting in America, but because, just as David said, we are going to be the last mass shooting."
This point is more difficult conceptually, better with more advanced students:
1:35-1:52 "I read something very powerful to me today. It was from the point of view of a teacher. And I quote: When adults tell me I have the right to own a gun, all I can hear is my right to own a gun outweighs your students' right to live. All I hear is mine, mine, mine, mine."
Shock Images
This is one of a series of posters produced by the campaigning group Moms Demand Action for Gun Sense in America. In each poster one child is holding something which is banned for health and safety reasons (the toys in Kinder eggs were judged to be a risk for choking.) A second child is holding an assault weapon. In other examples, one girl is holding a copy of a children's picture book of Little Red Riding Hood, which was banned because there was a bottle of wine in her basket of food for her grandmother. In a third, a boy is holding a ball and the caption explains that the game dodgeball has been banned in schools for being too violent (the objective of the game is to hit other players with the ball.)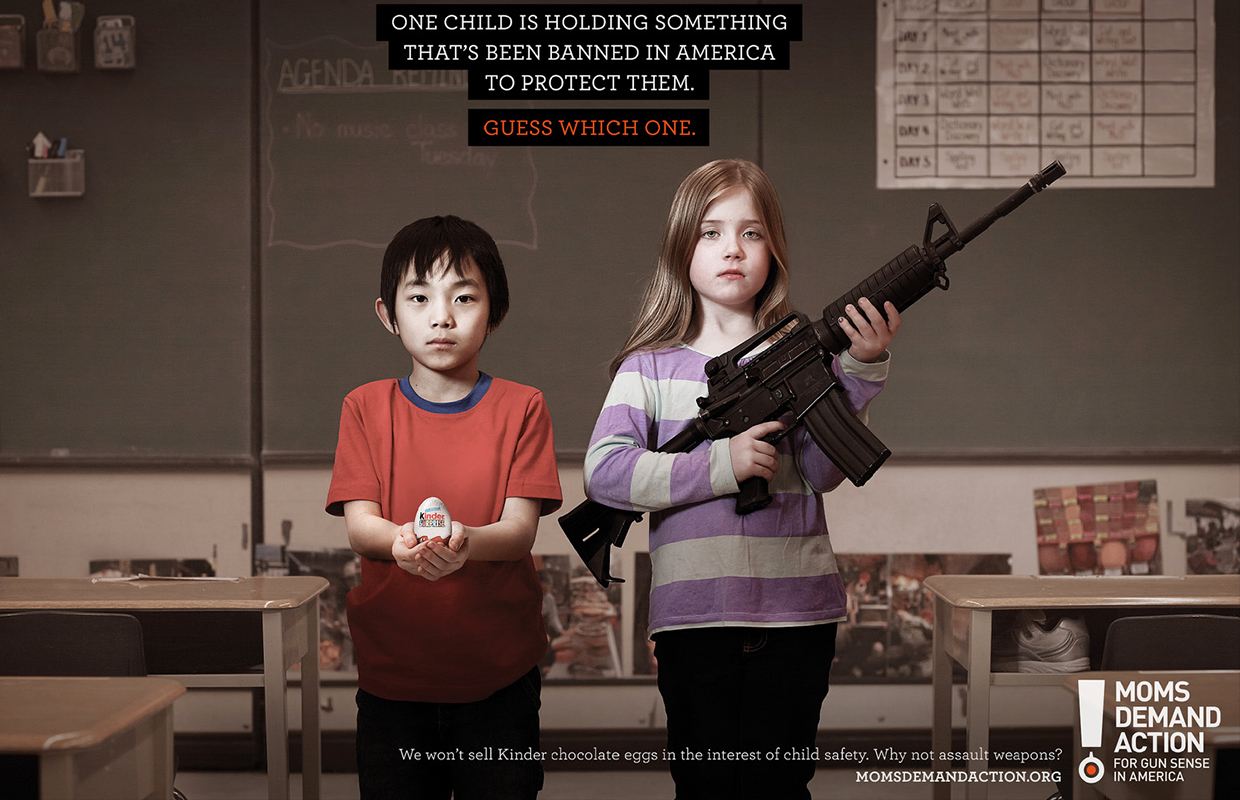 There is no real linguistic difficulty beyond A2, but teachers can best judge if their students maturity is adapted to this type of material.
This beautiful video from the same organisation can be introduce some facts about gun violence (1:40-2:15 from A2) and some solutions (2:16-3:20 from B1).
Copyright(s) :
AFP PHOTO / RHONA WISE
Notion(s) culturelle(s) : "L'art du vivre ensemble" "École et société"