Hanif Kureishi is a subversive writer in search of identity beyond the borders of race, gender and class. Vanessa Guignery draws a portrait of the author of The Buddha of Suburbia, My Beautiful Launderette and My Son the Fanatic.
In 1993, three years after the publication of his debut novel The Buddha of Suburbia, Hanif Kureishi was selected by Granta as one of the twenty "Best of Young British Novelists" in a list which included Alan Hollinghurst, Kazuo Ishiguro, Ben Okri, Caryl Phillips, Will Self and Jeanette Winterson. Although Kureishi's work is often included in analyses of Black British literature or postcolonial literature, his stance differs from that of Salman Rushdie, V.S. Naipaul or Andrea Levy, as he was born in England to a British mother and a Pakistani father and displays no feeling of nostalgia for his father's homeland even if he shares with some immigrant writers a sense of rootlessness and a concern for questions related to ethnicity.
Over more than forty years, Kureishi's work as a playwright, screenplay writer, novelist, short story writer and essayist has been remarkable for its in-depth exploration of both personal and political issues: his preoccupation with questions of social class, racism, national identity and religious fundamentalism is complemented by a focus on the nature of love, desire and sexuality, the complexities of family relationships, the construction of gender roles and new forms of masculinity.
 A journey into race, love and pop music
Hanif Kureishi was born in 1954 in a South London suburb and experienced a typical English childhood though his mixed racial background often subjected him to various forms of racism. In the early seventies, he attended the same Bromley school Davie Bowie and Billy Idol attended and was fascinated by the pop and rock music of the time.
After reading philosophy at King's College in London, he began his writing career as a playwright in 1979. His early plays explore issues of marginality and poverty, immigration and racism, gender differences and tensions between the community and the individual, which would later surface again in his novels.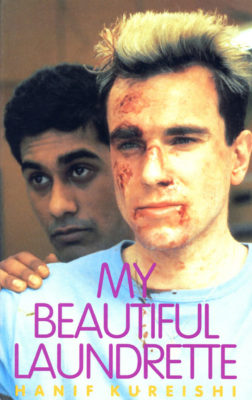 Many people discovered Kureishi through his screenplay for the film directed by Stephen Frears and starring Daniel Day-Lewis, My Beautiful Launderette (1985), the story of the gay relationship between a young Pakistani entrepreneur and his white working-class neo-Nazi lover. Kureishi wrote several other screenplays over the years, amongst which Sammy and Rosie Get Laid (1988), London Kills Me (1991), Le Week-End (2013) and My Son the Fanatic (1997). The latter addresses the issue of Muslim fundamentalism, which the writer also approached in his second novel, The Black Album (1995), written in the context of the fatwa issued against Salman Rushdie after the publication of The Satanic Verses (1988).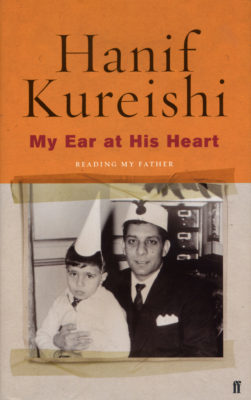 Ten years after the publication of The Buddha of Suburbia, Kureishi followed once again the journey into discovery of a restless and confused teenager in Gabriel's Gift (2001) and explored the father-son relationship, a topic which is also scrutinised in his memoir My Ear at His Heart. Reading my Father (2004).
Another recurrent concern is the treatment of love and sexuality. In The Buddha of Suburbia and My Beautiful Laundrette, love is presented as transgressive and Kureishi deconstructs the binary system of heterosexuality and homosexuality, with characters starting off in life and experimenting with various sexual games. Several years later, his novel Intimacy (1998) dealt with the end and impossibility of love, while the short stories collected in Love in a Blue Time (1997), Midnight All Day (1999) and The Body and Seven Stories (2002) are infused with a sense of stagnation and loneliness. In Kureishi's 2008 novel, Something to Tell You, which focuses on a middle-aged psychoanalyst struggling with a sense of guilt over a crime committed in his youth, Karim, the hero of The Buddha of Suburbia, makes a cameo appearance as a famous actor just out of a rehabilitation centre.
"An Englishman born and bred, almost"
"My name is Karim Amir, and I am an Englishman born and bred, almost." The striking and humorous opening sentence of The Buddha of Suburbia already points to one of the main themes of the novel, i.e. the definition of Englishness and of national and personal identity in a post-imperial world. The novel takes place in a multicultural and multiracial Britain in the 1970s, which saw the rise of the National Front and of an increasingly strict immigration policy.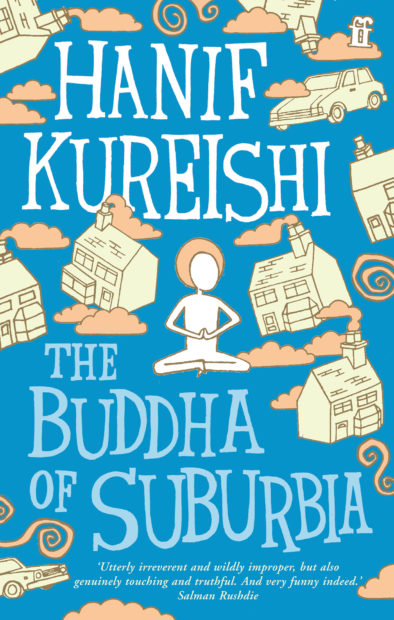 The first-person narrator, born to an English mother and an Indian father, straddles two cultures and is subjected to various forms of racist abuse and prejudices, which he sometimes chooses to ignore or even to play with: "The thing was, we were supposed to be English, but to the English we were always wogs and nigs and Pakis" (p.53). In the suburbs, he loathes his Pakistani self when it leads the racist father of his white girlfriend Helen to forbid him to see his daughter again. When he becomes an actor in fringe theatre in London, he has to suffer the humiliation of being smeared with "shit-brown cream" (146) and asked to put on an authentic Indian accent to play the part of Kipling's Mowgli. But he then willingly embraces racial stereotypes and clichés by inventing and performing the part of a caricatured character based on Changez, the crippled and farcical man from Bombay his friend Jamila was forced to marry.
Changez's and Jamila's relationship to the Western world they live in and to their family traditions is also ambivalent: Jamila's committed feminist and anti-fascist militancy is thrown off balance when she gives in to the arranged marriage her father, suddenly "behaving like a Muslim" (p.64), coerces her into. Changez's attack by racist thugs does not prevent him from looking up to English people and despising his fellow immigrants for their lack of education and bad manners.
Karim's father, "a renegade Muslim masquerading as a Buddhist" (p.16), has "spent years trying to be more of an Englishman", but is now "exaggerating his Indian accent" (p.21) and assuming the role of a Buddhist guru to pander to the whimsical cravings for exoticism of the south London suburban white middle class. Even though issues of ethnicity, religion, identity and tradition are matters of serious debate, Kureishi always injects comedy and farce in the most disturbing scenes thanks to the facetious perspective of the self-deprecating narrator. All ethnic communities and social classes are subjected to his satirical brush.
Blurring class and sexual boundaries
In this postmodern Bildungsroman, Karim's quest for identity also entails finding a secure place in the complex system of social classes in England. After his father leaves his working-class, self-pitying wife for Eva, an arty and ambitious upper-middle-class woman, Karim departs from the suburbs and "the world of ordinary people and the shit they have to deal with – unemployment, bad housing, boredom" (p.195), to pursue his picaresque adventures in London and New York.
His wish to climb the social ladder is comparable to the great expectations of Dickensian heroes but also of protagonists in novels of social mobility of the 1950s by John Braine, Kingsley Amis or Alan Sillitoe. However, Karim is bound to his lower-middle-class suburban background and his perspective on fake would-be-revolutionaries such as the left-wing actor Terry or the pseudo-radical and liberal stage director Pyke and his wife, but also on the self-confident upper-class circles he moves in with his bohemian girlfriend Eleanor, is deeply ironic.
Karim himself is not devoid of manipulative and exploitative skills and knows how to take advantage of situations by playing self-serving roles. The novel thus demonstrates the contingency of ideologies and the hypocrisy of characters who compromise their social and political integrity by assuming inauthentic or volatile identities and putting their self-interest first.
A 'Condition of England' novel that ends with the Labour Party's fall and Margaret Thatcher's rise to power in 1979, The Buddha of Suburbia uses irony and satire to point to the flaws and contradictions that afflict English society and the compromises that individuals stoop to.
The novel also blurs sexual boundaries as Karim, in the course of his sentimental education, sleeps with men and women alike and finds it challenging to clearly formulate his sexual identity. As he witnesses the disintegration of his parents' marriage, he falls under the spell of Eva's opportunistic son, Charlie, who masquerades as a punk rock star and takes on a series of personae. Sex with Helen is conceived as revenge against her racist father; love for Eleanor is tied up with class envy; casual sexual encounters often leave Karim with a sense of bitterness and humiliation. Despite this suffused feeling of resentment, the novel usually uses comedy to explore new modes of masculinity and sexuality far from traditional polarities.
The Buddha of Suburbia thus unremittingly subverts notions of racial, cultural, sexual and class identity as immutable and reified. It shows instead that fluidity and instability prevail, and repeatedly presents identity as cultural performance. The novel ends with Jamila, "an Indian woman" living "a useful life in white England" (p.216), and Karim both "happy and miserable" (p.284), though still confused over the contours of his own self.
Copyright(s) :
Faber books

Downloadable resources ready to use in class
>
Studying "The Buddha of Suburbia" in LLCER