In this B1-level article, your students will learn how a group of dedicated female mathematicians known as 'human computers' used their talents to help NASA launch rockets, and astronauts, into space. Even if Virginia's Jim Crow laws required them to be segregated from their white colleagues, the black women of Langley's group contributed to America's decisive victory over the Soviet Union in the Cold War.
The film Hidden Figures is based on a book by African American writer Margot Lee Shetterly, whose father was an engineer with NASA.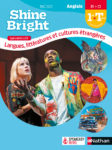 You can find more on Hidden Figures in Shine Bright LLCE cycle terminal File 12 Equality on trial.
Vocabulary and structures.
Space-related vocabulary (astronauts, carry into orbit, scientists, mathematicians, aeronautical engineers, human computers, the Space Race, space travel, space rockets, spacecraft, calculations…).
Education and job vocabulary (grow up, go to high school, start working as a…, fight for the possibility to…).
Relative clauses.
Passive voice.
Comparison and contrast
See the Webpicks link below for teaching suggestions for using the trailer and another video from the film.
Copyright(s) :
20th Century Fox