It's one of those ideas that seem so obvious you can't imagine why someone has already had it. A Christmas movie inspired by one of the most perennially popular (though bittersweet) yuletide pop songs: "Last Christmas" by George Michael.
The 1984 song, a hit for Wham!, is a sad love song about heartbreak at the festive season. Ten years ago, producer David Livingstone had the idea that it could be the basis of a romantic comedy. He asked award-winning actor and scriptwriter Emma Thompson to consider writing it.
She was intrigued at the idea of testing herself on the rom-com genre. (Although she had won an Oscar for her Sense and Sensibility screenplay, that was an adaptation of Jane Austen's story.) But such a veteran performer, writer, and campaigner was never going to do "Rom-com 101".
When she came up with an idea, she went to see George Michael, who was very enthusiastic. Thompson says, "He was a very kind man who loved the idea of the story…and elements of it that were socially conscious because he was always very involved in that."
London Christmas
The story revolves around Kate (Game of Thrones' Emilia Clark), whose life is a mess. She has been life-threateningly ill but now she is better she is making the least healthy life-choices possible on permanent party mode and sleeping on friend's couches. While auditioning for singing jobs, she works as an "elf" in a year-round Christmas shop in London's Covent Garden. There, she bumps into Tom, who seems about her polar opposite. As she exclaims in frustration when he mentions that he volunteers at a homeless shelter, "Why don't you just get 'Saint' tattooed onto your forehead?" Well, it is a truism of rom-com's that opposites attract, right?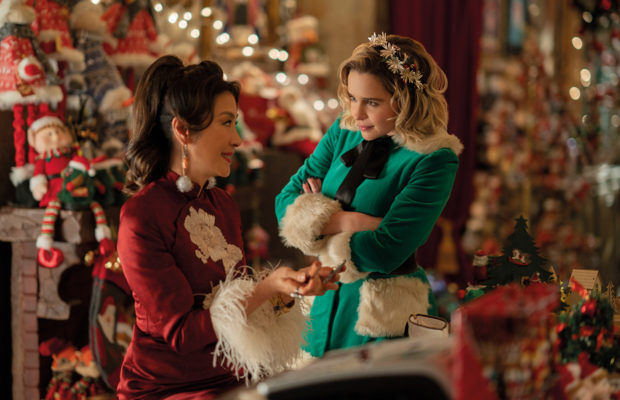 But there is another side to Kate's life. Her family fled war-torn former Yugoslavia in the 1990s. Although she and her sister have grown up in London, her parents have strong accents and have not been able to practise their previous professions in their adopted country. The film opens just after the Brexit vote, and Kate's mother, Petra (played by Thompson) is convinced they will all soon be thrown out of the UK.
The story plays out against the backdrop of London bedecked in Christmas decorations and a soundtrack of Christmas carols and George Michael songs. It thankfully doesn't play too much into the "princess saved by a prince" narrative common in the genre. But we can't say more without giving away spoilers. You'll have to see for yourself. Everyone needs a good Christmas movie at this time of year.
Last Christmas
On general release
Copyright(s) :
© 2019 Universal Studios