Take the real attempted assassination of Bob Marley and a vast cast of fiction characters. Mix together and you get the 2015 winner of the Man Booker, Britain's most prestigious prize for fiction, by Marlon James, who will be a star guest at the 2016 Festival America in Vincennes from 8 to 11 September.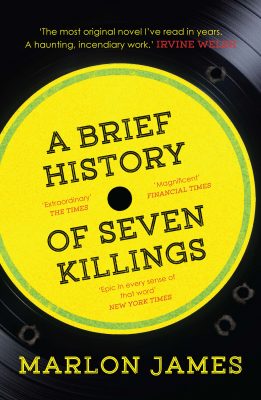 Marlon James grew up in Marley's home town, Kingston, Jamaica, though he now lives, and teaches at university, in the U.S. Despite an adolescence listening to alternative pop like The Cure, the reggae star loomed large in James's memory. In a fascinating piece for The Guardian, James described the genesis of his mammoth novel A Brief History of Seven Killings — a series of abandoned novellas based around different characters which he suddenly realised had one thing in common: Bob Marley. Specifically, the gun attack on Marley, his wife and manager in 1976 two days before he was due to give a free concert to try to calm conflict between communities in Jamaica. The New York Times described the novel as: "like a Tarantino remake of [reggae movie] The Harder They Come but with a soundtrack by Bob Marley and a script by Oliver Stone and William Faulkner." Some serious credentials.
In his acceptance speech for the Man Booker, James described evenings spent in Kingston's rum bars. His drinking partner was his father, and their pastime was having Shakespeare contests, seeing who could out-quote the other.
At the America Festival
Marlon James will participate in several forums and debates at Festival America on Saturday 10 and Sunday 11 September.