Many teenagers in the U.S. have been terribly disappointed to miss those major life milestones that are their high-school proms and graduations this year. But they've been using great ingenuity to still have memories to keep for ever.
High school senior year in the U.S. is a time for rites and traditions. Yearbook, Senior Prom and graduation are all time-honored traditions that even non-Americans feel part of thanks to their ubiquitous presence in films, books and TV series.
Many students plan for months, or even years ahead for the prom. Having the perfect clothes and the perfect date (to whom they make a "promposal")  is an obsession. Sharing a limousine to the event, having photos taken, choosing the Prom King and Queen are all essential elements.
So when most 2020 proms were cancelled, many students tried to find ways to reproduce some of the prom experience. Dressing up in the outfit planned for the prom (for those organised students who had already bought them), or ones improvised with the clothes available. They joined virtual proms, which often attracted many more attendees than there were students at the schools.
Carson High School in Carson City, Nevada, announced its Prom King and Queen on a Zoom meeting (below).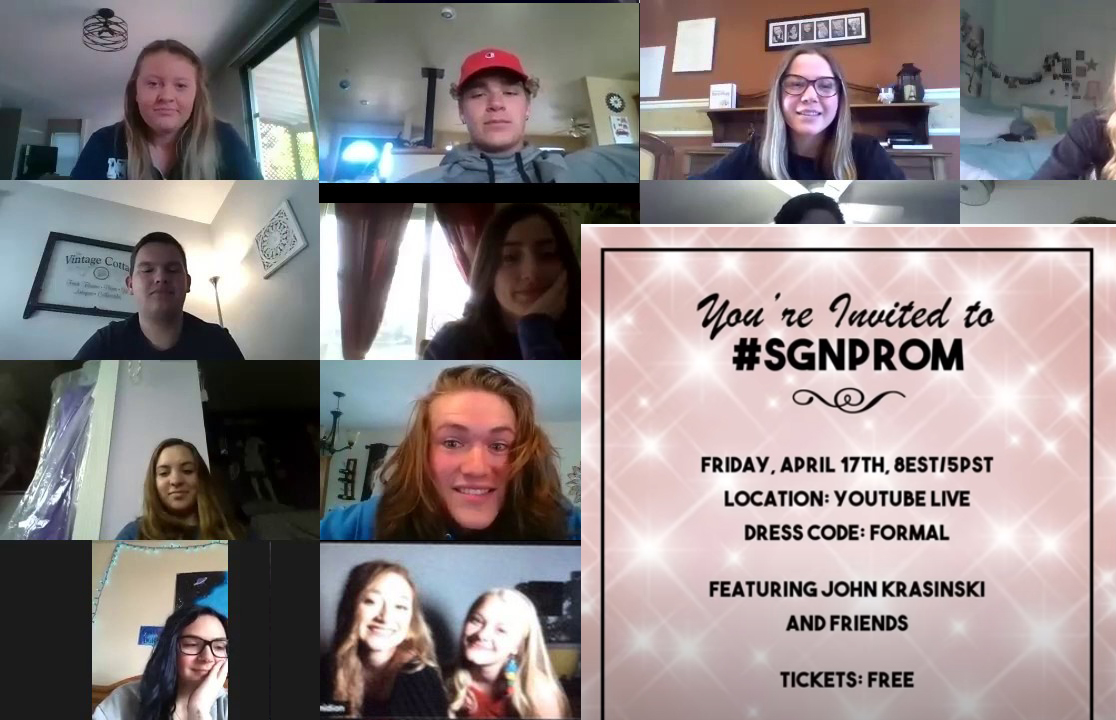 Actor John Kraskinski has been hosting a YouTube programme from his home called Some Good News. Kraskinski starred in the U.S. version of The Office and plays the Jack Ryan in the TV adaptation of Tom Clancy's books. He decided to hold a virtual prom for students all over the country. More than 200,000 people tuned into a live stream, not just those missing their prom this year, but some who hadn't been invited to their own prom back in the day. Kraskinski got into the festive mood with a tuxedo over a prom dress, and persuaded guests Chance the Rapper, the Jonas Brothers and Billie Eilish to provide that prom essential: music. You can see highlights here:
The SGN prom worked so well, Kraskinski also hosted a virtual graduation.
Prom or Bust
Some people will never let adversity get them down. A mother in Florida didn't want her son and girlfriend to be disappointed, so she hosted a prom just for the couple, including the 1920s themed decor and food that had been planned for the original event. The two families had been in contact during the lockdown, and the couple had been meeting regularly. Check out the photos here.