African American novelist Colson Whitehead has joined an exclusive club of only four authors who have won Pulitzer Prizes for literature for two different novels. After 2017's prize for The Underground Railroad, Whitehead has been awarded the 2020 prize for The Nickel Boys, set in the Civil Rights era and based on the true story of a notorious reform school in Florida.
In a 20-year career, New Yorker Whitehead had already won numerous prizes and topped the bestseller list. But it was his 2016 novel The Underground Railroad that made him internationally famous. It tells the story of slaves escaping to the free states in the North along the Underground Railroad, the real network of abolitionists and freed slaves which helped escapees. But Whitehead added a surreal twist by imagining a real underground railway system that his protagonists Cora and Caesar use to flee. The novel is currently being adapted as a TV series.
The Nickel Boys
Only three authors had previously won the U.S.'s most prestigious literary prize twice, Booth Tarkington, William Faulkner and John Updike. Now Whitehead joins them with the 2020 prize for The Nickel Boys.
Set in the Jim Crow era in a real reform school where generations of boys were beaten and killed, Whitehead focuses on two boys with very different attitudes to the teachings of Dr Martin Luther King. Despite finding himself in the reform school, Elwood wants to practise non-violent resistance and believes in a better future. Turner, rejects all such optimism and has a dog-eat-dog attitude to survival. They will both be tested by the brutal regime inside the school.
You can read an excerpt of The Nickel Boys on Doubleday publishers' site, or listen to an audio extract.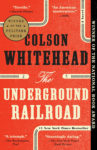 You can find an extract of The Underground Railroad in Shine Bright 2e File 19 "Breaking the Chains.
Colson Whitehead was supposed to appear at the American Center for Art and Culture in Paris this month, in conversation with short-story writer Nana Kwame Adjei-Brenyah, author of the collection Friday Black. Hopefully the event will be rescheduled once travel is again possible.
Copyright(s) :
Markus Wissmann/Shutterstock
Doubleday