2019 marks the bicentenary of the births of Britain's Queen Victoria and her beloved husband Prince Albert. Victoria reigned from 1837 until 1899, the longest reign of any British monarch until the current Queen overtook the record in 2015. Victoria reigned over an era of imperial expansion, ultimately ruling over a quarter of the world's population. It was also an era of technological progress, with transport and communications innovations that made her the first monarch of the information age.
Princess Alexandrina Victoria was born in London on 24 May, 1819. Her father, Edward, was the fourth son of King George III. As such, and as a girl, Victoria was far from destined to rule. But her father died when she was just eight months old, and her uncles each died without successors. In 1837, when Victoria was 18, King George IV, died, and she acceded to the throne.
Victoria was born and brought up at Kensington Palace in London. The Palace is holding two exhibitions for the bicentenary (details below). In this video, the Palace Curator describes Victoria's first morning as Queen, and how it is brought to life in the Palace, where it took place.
Three years later, she married her cousin Albert, a German prince. The couple were true soulmates. For 20 years, and the birth of nine children, they were devoted to each other.
Albert took a great interest in science, industry and the arts. He masterminded the 1851 Great Exhibition, designed to showcase Britain as the leading industrial nation. The legacy of that events to this day, with many of London's major museums and institutions housed in the South Kensington buildings created for the Exhibition; the Victoria and Albert, Science and Natural History Museums, The Royal Albert Hall, the Imperial College for the Sciences and the Royal Colleges of Art and Music.
Modern Monarch
Changes in an increasingly urban and industrialised society led to political dissent. The constitutional monarchy didn't necessarily receive the automatic respect it had in previous generations. Rumblings of republicanism could be heard. In response, Victoria became increasingly visibly involved in the life of the nation, becoming patron of over 150 educational and charitable institutions and making many royal visits around the country on the newly expanding railway network.
It was no doubt because of this public visibility that the Queen faced eight different assassination attempts during her lifetime. Although she was proclaimed Empress of India as a symbol of "the Empire where the sun never set", Victoria would never visit the country that fascinated her, as her advisors felt assassination risks there would be far higher.
When Albert died suddenly of typhoid at the age of only 42 in 1961, Victoria wore mourning black for the rest of her life. She retired from public life, while continuing her official duties in private. It wasn't until then years later, when her son and heir Edward also fell ill with typhoid, that she returned to the public scene, She gave a thanksgiving service in honour of Edward's recovery..
"Long to Reign Over Us"
Although the British nations have had far fewer reigning Queens than Kings, three of them have had such long reigns that their legacy is indelible: Elizabeth I (1558-1603), Victoria, and the present Queen, who overtook her illustrious great-great- grandmother as Britain's longest reigning monarch in 2015.
Victoria's Golden (50-year) Jubilee in 1887 symbolised the "Victoria" and "Great Britain" brands as never before. As befit an industrialised nation, her face was emblazoned on millions of mass-produced mementoes. She would go on to celebrate her Diamond Jubilee ten years later. In 1901, the century that will always be associated with her name had come to a close and Victoria quietly slipped away. She had reigned over a quarter of the population of the world. Her influence would continue, not only across Britain and its empire. Many of her 42 grandchildren married into the royal families across Europe. They would be the witnesses of the end of the age of monarchy and the inexorable rise of democracy.
Exhibitions celebrating the Bicentenary
Kensington Palace
Victoria: A Royal Childhood. New permanent exhibition.
Victoria: Woman and Crown till 5 January 2020
There is a beautifully illustrated biography of the Queen on the Kensington Palace site.
Buckingham Palace
Queen Victoria's Palace
20 July-29 September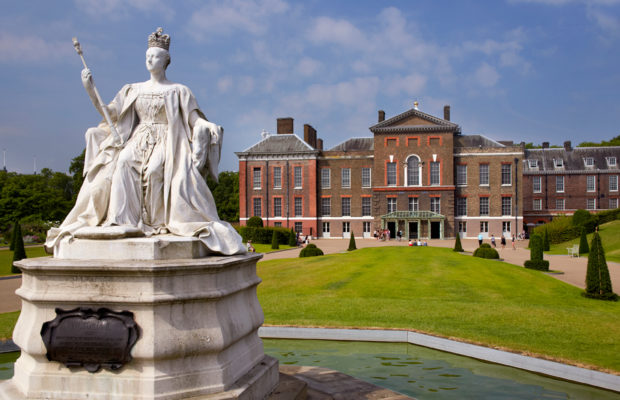 Copyright(s) :
Royal Collection Trust © Her Majesty Queen Elizabeth II 2019
T.H.A.E., The Royal Children in the Nursery. Hand-coloured lithograph, London, 1847. Museum no. E.834-1936. Given by Mr J. Gaitt © Victoria & Albert Museum, London.
Historic Royal Palaces