The subjects covered by the films in the main competition at this year's Cannes Festival are very varied. The English-language competitors are a case in point, ranging from zombies in small town America to washed-up actors in Hollywood, to an indictment of the gig economy in the UK.
82-year-old director British Ken Loach has planned to retire after making the heart-rending I, Daniel Blake, which won the Palme d'or in 2016. But the veteran socially committed director had unfinished business. As he and his team had visited food banks for Daniel Blake, Loach had discovered that many of the people using them were actually in work. But they had been forced into part-time jobs or "zero-hours" contracts, where an employee has to be available to work whenever the employer calls, but has no guaranteed minimum number of hours she or he can count on. Increasingly, food-bank users also include those working in the "gig economy", for example for Uber or food-delivery drivers, again with no guaranteed minimum income.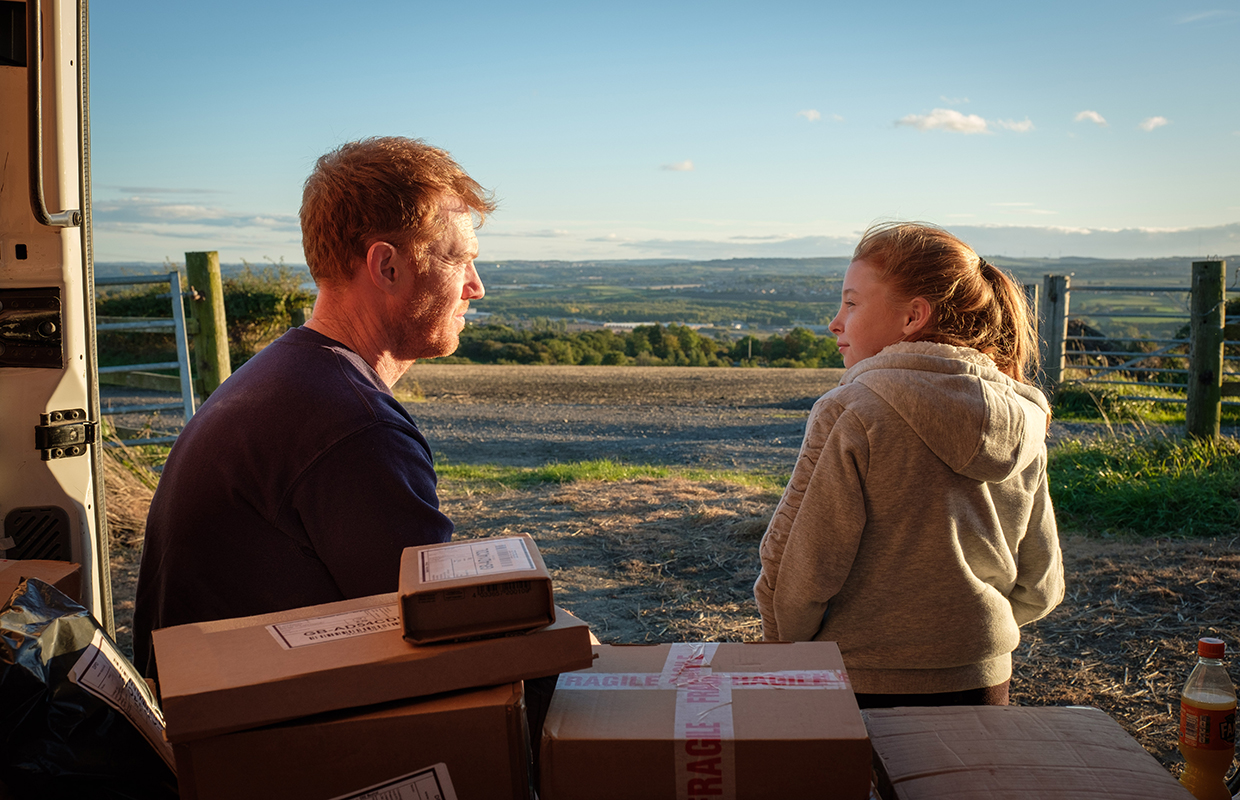 This inspired Loach to set Sorry We Missed You in Newcastle, like Daniel Blake, this time in a family where both parents work but in low-paid and often insecure jobs. When the father Ricky decides to join the gig economy as a delivery driver, the family's life will be majorly impacted.
Sorry We Missed You will be on general release later in the year.
Zombies Galore
American indy director Jim Jarmusch is another Cannes favourite. He's been coming to the festival since Stranger Than Paradise won the Golden Camera award in 1984.
This year, his zombie comedy The Dead Don't Die opened the festival. A small town in America is invaded by zombies after American fracking at the Earth's poles knocks the Earth off its axis. Jarmusch got the idea for the film after watching people walking around oblivious of their surroundings while staring at their phones. As well as human flesh, is lo-tech zombies each insatiably search for something they were obsessed with in life, like Iggy Pop hunting for coffee. Three police officers, Adam Driver, Chloë Sevigny and the wonderfully deadpan Bill Murray join forces with the town's samurai-sword-wielding funeral director Tilda Swinton to fight off the undead. Classic Jarmusch.
The Dead Don't Die is on general release.
QT9
Quentin Tarantino's ninth film Once Upon a Time in Hollywood stars Leo DiCaprio as a washed-up actor, and Brad Pitt as his longtime stunt double, trying to reboot their career in 1969 Hollywood. The film is Tarantino's love letter to the Hollywood of his youth, but, despite the title, is far from a fairytale as it also includes the infamous Manson murders of five people including actress Sharon Tate, played by Margot Robbie.
Once Upon a Time in Hollywood will be on general release on 14 August.
Rocketman
Last but not least is Rocketman, the R-rated biopic of singer-songwriter Elton John, which has the full backing of its subject. Whereas there was criticism that Bohemian Rhapsody painted over some of Freddie Mercury's most outrageous rock 'n' roll excesses, Elton John apparently insisted the filmmakers go ahead with a "warts and all" depiction of his career (and some very dodgy glam rock outfits!) It isn't in competition at the festival but has attracted a lot of attention. John (or, to give him his birth name, Reginald Dwight) is played by British actor and singer Taron Egerton. Egerton has form in biopics, having played Vera Brittain's brother in Testament of Youth, and a true-life character perhaps as improbable as Elton John: Eddie "The Eagle" Edwards, the bespectacled one-man British ski jump team in the 1988 Olympics.
Rocketman will be on general release on 29 May.
Copyright(s) :
Le Pacte
Universal Pictures
Sony Pictures
Paramount