We had so many fabulous entries to our Dorothea Lange creative writing contest that we've chosen 30 winners instead of 10. Here are the winning texts from Première pupils, in alphabetical order except where we've regrouped texts about a single photo. (We've included Première LVA pupils with the Terminale winners.)

Here are two of our favourite texts inspired by Lange's iconic photo "Migrant Mother", an interview and a poem.

Eve-Maris, Mme Paccard's class, Lycée Jules Ferry, Paris
At the request of the state, I went to a migrant camp in Nipomo, to take pictures to do a report on the situation there. I met a migrant mother, who agreed to tell me her testimony. Hunger, Suffering, and Mourning are full members of her life.
"I was born in Oklahoma. When I was 22, I had a husband, Cleo. He was working in a farm. We had 3 daughters.  My life was perfect, I was happy, despite our poverty.
"When I was pregnant for the fourth time, my husband was fired, because of the poor harvests. Depressed, he started to drink. He came back home very late in the night. He beat our children and I. He was totally destroyed by alcohol. And still today, I don't know what's happened with him. I knew a friend who moved to California with her two children when her husband, died from polio. So in 1930 we decided to leave our country, with our four children, to go to promising California.
"We started our journey in the coldest November I had ever experienced. We lived on frozen vegetables from the surrounding fields and birds that the girls killed. We were hungry. It took us nearly two months to reach California, because we had to sell the tires from the car to buy food. We didn't have money, just enough to survive.
"When we arrived in Oroville, after around fifty days walking, we were starving! The little one was just 2 years old, the oldest was 7, Cleo was sick and I was pregnant for the fifth time. Because of his sickness we stayed two weeks there. He died on January 1931. It was terrible for us, but a relief anyway, he was always more violent with us.
"We kept walking for a week. In Firebaugh, I gave birth to this little girl. So she never even saw her daddy. When she was a ten-month-old baby, I moved with my five children to Nipomo. 
"Nowadays, we panhandle and live in a tent. I don't know what will happen."
Florence Thompson, the migrant mother, looked away, her face gaunt with wrinkles, not because of old age but because of her fatigue and weariness. She was uneasy about the future of her children, so young but already exposed to many risks.
Will the richest state in the nation manage to help their people, migrants in
Honorine, Soana and Cléo, Miss Veyrune's class, Lycée Dupleix, Landrecies (59)
Dear Mr. Roosevelt,
Come to California, at Nipomo,
Let me talk with you,
Let me tell you about our plight.
You and I are from the United States.
United you think we are…
When we needed some help,
You weren't there.
Do you know the Okies?
We had to leave home.
We had to quit the land of our forefathers.
Do you know how we feel now?
The Dust Bowl destroyed not only our home,
But also our life…
My children, their children, the orphans,
All of them wanted to understand what happened.
Some of them died,
But also our eagerness has withered.
Do you think it was leisurely?
You don't know what we had to bear.
Oh Mr. President, I have to tell you so many things,
But if I tell you them all, it will take all day.
I hope you understood,
Because I wanted to make you aware of it.
Mr. President we wanted you.
We wanted you to help us.
We wanted you to save us.
We wanted you to show us what you were able to do for us.
But you didn't.
Franklin, how dare you abandon us?
Solène and Sarah, Mme Bourgain's class, Lycée Léonard de Vinci, Calais (62)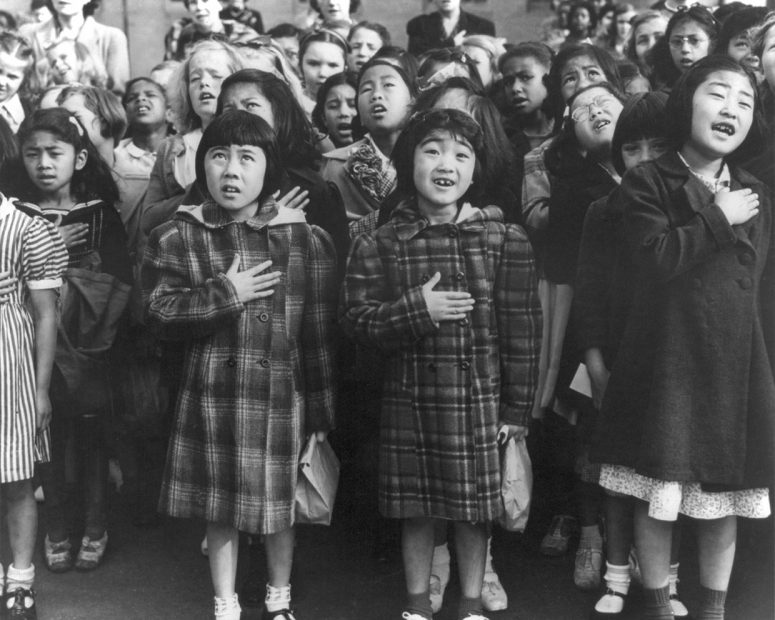 When I look at these children, I can't help thinking that the government is hypocritical. These children are asked to take the oath even though the authorities are arresting Japanese Americans. They have been shutting all Japanese people in relocation camps since Pearl Harbor and the Niihau incident hasn't settled the problem. The American government requires respect but it doesn't respect this population even though the Japanese Americans are as American as them. I can see their innocence through my camera. I'm so sad for them; they didn't do anything to deserve this. It's not their mistake. Children shouldn't be involved when war is concerned. Are these children separated from their parents in those camps? The government's hypocrisy disgusts many people but nobody reacts… I have to do something…
Mariel and Charlène, Mme Seigne's class, Lycée Edmond Perrier, Tulle (19)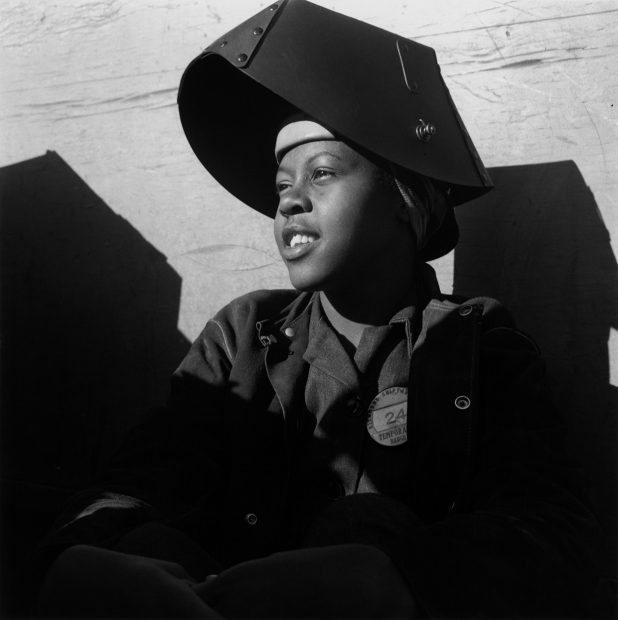 August 21th 1983
This story takes place during World War II. I was eighteen at that time. I was living near the shipyard. I had been recruited by the government to help build war ships and to replace most of the men who had gone to war. Before that time, I had spent hours looking at the people who were working but now I was one  of them. Life was hard for all of us because we had to work as fast as we could, which put us under a lot of pressure. It took me a while to get used to such a rhythm. At the beginning my job was to repair ships; then I worked as a welder. Sometimes, the men I worked with were mad with rage because I was a woman but I succeeded in imposing myself.
A new life started for me and for all the women when we got this job, and as weeks went by, we became more and more confident and proud of ourselves as we knew we were contributing to the war effort. We were even congratulated for our work.
My lovely granddaughter, I am writing this to you because you need to know that even if you grow up in a misogynistic society, you will always find a place for yourself but you must fight to reach your goals and you must believe in yourself! I do hope you will be one of those who make things change in this world.
I'm sending all my strength and love to you.
Keep fighting,
Your grandmother Two texts inspired by "Toward Los Angeles, California, 1937"
Coralie, Mrs Wozniak's class, Lycée Christophe Colombe, Sucy-en-Brie (94)
"Want me to hold your bag?" I say.
"No, I'm good. Don't worry," he answers and so we walk in silence.
We are heading towards Los Angeles, towards a new, better life. Until a week or so ago, we lived on our family's farm with our parents, in Texas. When the farm was destroyed in the Dust Bowl, my little brother and I decided to go wherever we could find a job and a new home. Los Angeles seemed like the perfect place!
Our parents were too old to survive this long journey, so they chose to stay, even if that meant letting us go and living our life alone. It's pretty sad that surely I will not get to see my parents ever again, but at least I still have my little brother. Marcus (that's him, the shortest one of course). He is the reason I can walk all day long without whining. We support each other more than anyone could, even if we fight from time to time.
"Hey, William!" His voice suddenly pulls me out of my thoughts.
"What is it?" I ask.
He points his finger towards a billboard: "Look at this! If only we could take the train."
"If you really want to we can wait for one to pass by and hop onto it, you know?"
"Yeah, but…" he grins. "You know I'd like to take a normal train, not a freight one. Like" (he whispers the last word), "legally."
I smiled warmly at him, starting to understand, and say, "You know what? One day we will have enough money to do that. And, even better, we will have one car each, and we will come home again to build a magnificent new house."
He laughs, "Yeah that would be wonderful. But for now… Let's go to Los Angeles."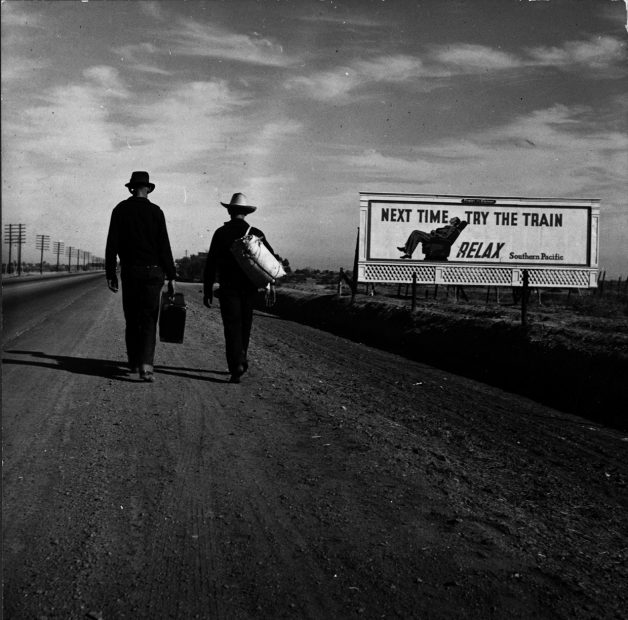 A group text from Chloé, Karine, Léa, Maël, Dylan, Marceau, Antoine, Constance, Léonie, Elsa and Candice in Mme Delamarche's class, Lycée des Andaines, La Ferté Macé (61)
These two men are childhood friends. Let's call them, John and Ron. They are walking toward Los Angeles, California. They may be walking on Route 66, the Mother Road, like many Okies did.
John and Ron are migrant farm workers. They go from farm to farm to find work. They spent a few weeks on a farm for the harvest. Now it is over and this morning, they had to leave the farm in search of a new job on another farm. But they are fed up with their difficult lives. They had to leave Oklahoma and their farms a few years ago because their crops had been destroyed in the Dust Bowl. Now, they are determined to find better working conditions in California.
They are just travelling with a suitcase and a bag, they have left most of their belongings behind. However, they are wearing their best clothes.
They refused to pose. That is why I photographed them walking away. Maybe that was a way to show their past was behind them and their only goal was to continue their way and try their luck in California.
They are walking past a billboard on which we can read, "Next time try the train Relax". They can't help thinking about their hard lives. John and Ron can't afford to take the train and have been walking for so long. They are exhausted by their long and hard journey. One thing is sure, one day, they will have enough money to take the train. The idea cheers them up. They know you have to be brave to leave your lives behind and to go to an unknown place to start a new life. What does the future hold in store?  They just want to ignore this question. They will remain hopeful. They wish they could have successful lives in California.
A group text from Clémence, Coralie, Maëva and Maïlys, Mrs Peyronnet Blackmore's class, Lycée Saint Caprais, Agen (47)
The rat in my stomach gnaws more earnestly. I have been waiting in this line for more than two hours. Thoughtful, I stare at the city, where I was born, where I grew up, where I lived, where I lost my job... I can't stop imagining what would have happened if there had been no crisis. My life would have been way better. A place to live, food to eat, a bed to sleep in, money to spend. I could have raised my sons properly, I could have taken care of my wife decently. But reality isn't a dream anymore, it's a fight. A fight to survive. I'm pushed and shoved, packed with all these poor, desperate people begging for food. Today it's Thanksgiving. I remember the particular smell of freshly-cooked soup, love and happiness. The whole family meeting around an appetizing, delicious meal. I can still sense the enticing smell of a succulent turkey sitting prominently on the table, surrounded by looks full of longing. Warm, shining colours; festive, glad atmosphere; this day seems to be very far behind me. No more past, just memories, no more future, just uncertainty, only the present moment; precarious and in need...
"Dad! Come on, it's our turn... I'm hungry!"
Juliette Decarsin, Ms. Couasnon's class, La Ferté Sous Jouarre (77)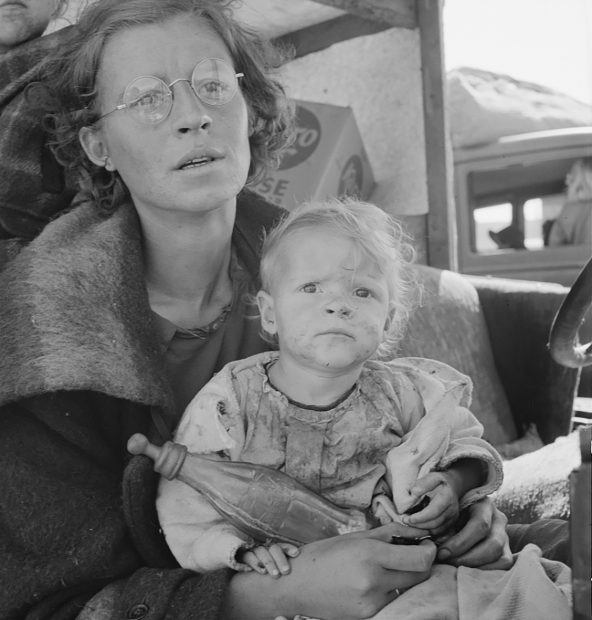 Katherine Smith
My name is Charly. Today I am thirty years old, but, I am the dirty child on the picture. I found it today during my move, in a dusty box. I remembered all my memories as soon as I saw it. This woman, with the curly hair and the round glasses is my mother, Katherine. With her and my father, we lived in a poor area of Los Angeles' suburb. We had nothing, however I kept in mind the love of my parents who always kept their smile in spite of our terrible conditions of living.
My family had little money so my mother and I had to beg and my father worked in a car factory. He died of a lung disease when I was one year old. Then my mother placed me in an orphanage so that I could have a roof, that she could not supply me.
It was very difficult for her because she, who had nothing, was going to lose the only thing which had some value for her.
This photo represents the last moment which I shared with her.
If you have any information concerning Katherine Smith, please, contact me at the following number: (213) 509-6995. Thank you.
A group text by Luc, Su-Jeong and Yohann, Mrs Le Saout-Dutay's class, Institution Sainte Marie, Antony (92)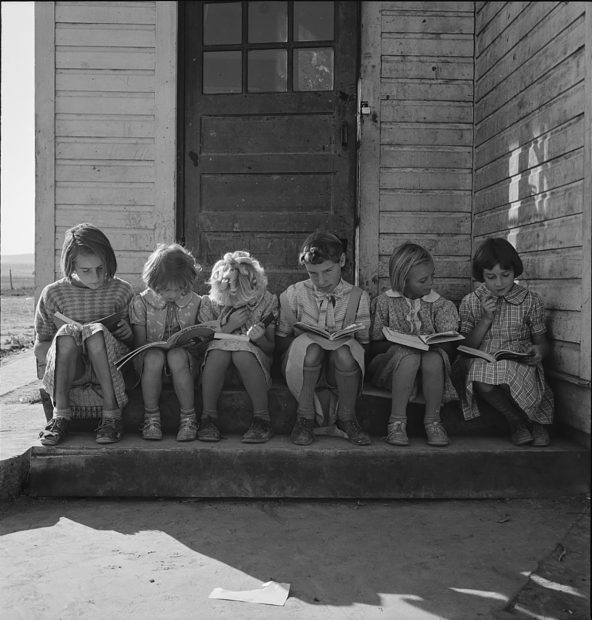 In the evening, six little girls were playing in front of an old church. They were having a laugh. The wind was warm and reassuring. There was nobody around. You could only hear the girls enjoying their youth.
Suddenly, they saw the shadow of a woman carrying a big object that frightened them. The children, surprised, ran towards the back of the church. They hid behind the church. They whispered. One said that it might be a time machine, another one said that it was surely a weapon, and the last one said that it may be something magic. But one thing was sure, they were all absorbed by this strange machine. They could hear someone coming closer and closer. As a result, they took a capital decision. They decided to go and ask the woman even if they were scared.
Each girl pushed the other to go first, they finally went together. When they turned back, they saw the woman just behind. And the woman asked who they were. The little girls, afraid, said their names at the same time. So the woman laughed and told them her name: Dorothea Lange. One girl didn't want to talk because her mom told her not to talk to strangers. But she quickly forgot her mother's advice, when her friends began asking what the thing that Dorothea was carrying so carefully was. They started talking loudly.
However, Lange decided to stop them and suggested to sit somewhere and to talk. Then, they sat in front of the church, and started asking questions about what she was carrying. They first asked questions about what was inside her bag. So she answered that there were books that she was often carrying on her trips. She took out the books of her bag and she gave each girl a book. Then, she understood that no one knew how to read.
They finally asked about what they were really interested i : the nature of this captivating object. So they explained what they thought it was, and Dorothea laughed for a long time.
She finally answered that they were right. She only added that it was: a camera. She said that it was a time machine, because it can capture a moment forever. She added that she also used it as a weapon, because she was fighting for feminism and against the exploitation of social change and that it permitted her to defend her opinions. She finished by saying that as a result the camera was a powerful and a magic machine.
Elykia, 16 ans, Mme Makele's class, Lycée Français Charlemagne, Pointe-Noire, Republic of Congo
"Dyanna lying on her back in the grass", circa 1961
We can't publish this photo. You can see it here. 
It could be the perfect photograph …
Don't you see her? So cute, so peaceful.
Don't you notice her smile, her eyes looking at the sky, as if it was the most pleasant thing she had ever seen?
Lying down on the grass with the sunlight reflecting on her face, it could be the perfect photograph.
It could be the perfect photograph if the little girl was not a beaten child.
It could be the perfect photograph if the little girl did not have to wear a pullover to hide her wounds.
It could be the perfect photograph if the little girl was happy and healthy.
But she is not.
Once again hidden between the plants in a park near her house, Pauline escapes home. Because home means alcohol bottles spilled on the floor, home means permanent cries, home means blows. "So good to be home," becomes, "So good to be out" for Pauline. But when she admires the sky, God's wonderful creation, and counts the clouds, nothing else matters.
So, for now, Pauline is going to look quietly at this beautiful blue and look like the perfect photograph
Aline, Mrs Medjahed's class, Lycée Eugène Ionesco, Issy-les-Moulineaux (92)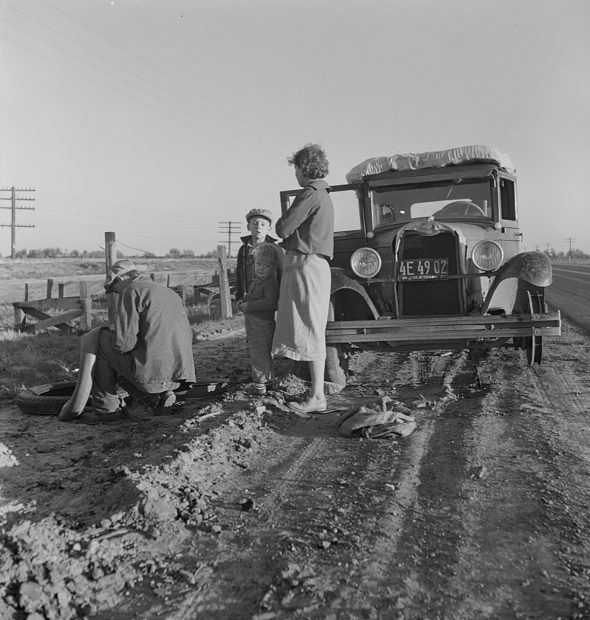 I'm going to tell you a story, my story. It took place 80 years ago. In the '30s, the USA was hit by the "Dust Bowl", an important dust storm, and an economic crisis called "the Great Depression". I lived with my family in Oklahoma. We were farmers, "Okies". So, our farm wasn't huge, but we had crops and animals like cows and sheep. I was too young to understand, but I remember that life wasn't easy every day. At that time, we couldn't eat much, because we were poor. My parents were very anxious about that, especially my mother. The crash of 1929, that happened before my birth, worsened our situation, my father had to sell our cows and sheep to the slaughter-house. But one day, the worst came to us. The Dust Bowl destroyed our farm and the crops were totally ruined. Then, my family and I became homeless, jobless and penniless. All we had built, had been destroyed. So my parents decided to leave Oklahoma. They decided to look for a better life for us. They decided to go to California. My father started the car and we hit Route 66 in order to start over.
When Dorothea Lange took a picture of us, we were on our way to California, in 1937, and my father had to change a tire. I was 6 and I'm the little boy with a cap, standing up. I was very interested in what my father was doing with tires. Behind us, there are my little brother Sam and my mother. She was smiling just for the photo. We were broke, destitute. But my mother tried to keep smiling for my brother and I. Both of us had to believe that everything was okay even if we were in dire straits. Sam was only 4. On our car's roof, we had everything that could help us during the trip to California, like covers and materials to build a shelter or a tent for the nights. And inside the car there were trunks with a few clothes and stuff. My brother was huddled up against my mother, I think that he didn't realize the situation. The only things that we had were dreams, such as reaching California.
The journey was long, very long, but when we arrived at the end of Route 66 and when I saw the sea for the first time, I told myself that the dream came true. Here in California, we could really start over. I'll never forget the smiles of my parents and my brother when that moment happened. It was like a second chance for us. It was a new start, it was my story.
Now in 2018, I'm an old man and I'm very proud to be Californian. This period of my life taught me that when everything seems lost and impossible, we must to keep going and believe in our dreams. On the day this picture was taken, Dorothea Lange told me that, "Photography takes a moment out of time, changing life by holding it still." I'll never forget this sentence, it gave me hope.
Nadine, Mrs Porter's class, Institution Sainte Céline, La-Ferté-Sous-Jouarre (77)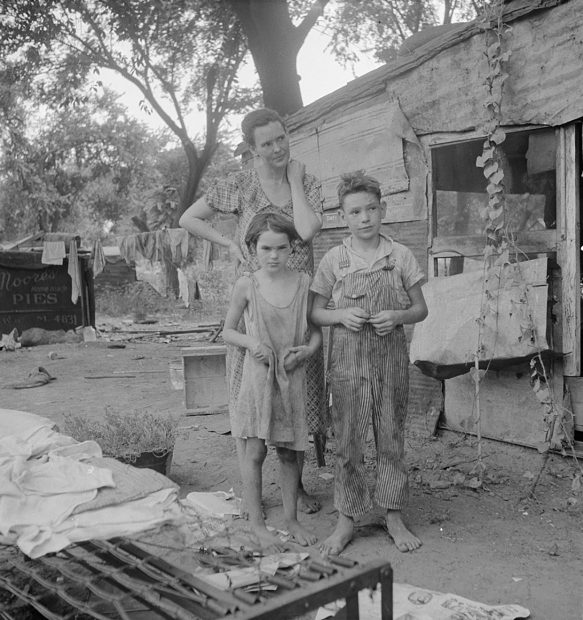 That day, my father and I were coming home, after an exhausting day of labor in the fields. A car was parked in front of our makeshift house. It really intrigued me, because no one ever visits us. When we entered our shack, I saw a man, wearing glasses, dressed in a suit, and a woman in a yellow skirt, limping. "What an odd evening," I thought.
My mother was cooking, and Mary, my little sister was hanging out the laundry.
"Good evening guys! Here's Dorothea and Paul, their car broke down while they were driving by our house, I was wondering if you and Gabriel could help them repair it?"
"Sure", answered my father.
I put on my striped overalls, and went to help my father with the broken car. After everything was fixed, my father was just finishing off repairing some small details inside the car, when he suddenly jerked open the car door and it hit me in the head. I fell, and fainted, because of the pain.
I woke up in my bed, the next day. My father decided to go to work alone and let me recover. I went out of the house, and saw our mystery guests were leaving. Right before getting into the car, the couple asked us if they could take a picture of our family to keep a souvenir of the experience. We agreed. My mother, Mary and I posed for the picture, a little ashamed of our decrepit clothes and messy yard. To thank us, they offered us some meat and some money. Then they jumped in the car, and left, waving at us.
Copyright(s) :
Migrant Mother, Nipomo, California, 1936
Shipyard Worker, Richmond California, around 1943
Toward Los Angeles, California, 1937
White Angel Breadline, San Francisco, 1933
All: © The Dorothea Lange Collection, the Oakland Museum of California, City of Oakland. Gift of Paul S. Taylor
All other photos; Library of Congress