Toutes les informations sur Shine Bright LLCER cycle terminal en quatre étapes faciles.
Step 1: cette vidéo explicative de 4 minutes: les thèmes, les séquences de taille variée, les outils numériques, la préparation au baccalauréat, le progamme limitatif d'oeuvres...
Step 2: Cliquez sur les liens ci-dessous pour le feuilletage, l'extrait du livre du prof, etc.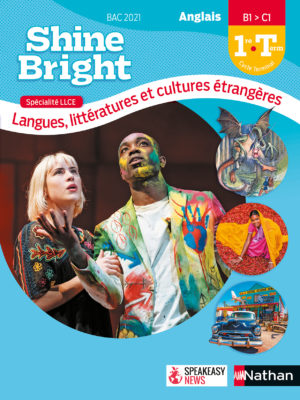 Feuilleter Shine Bright LLCER.
Télécharger la brochure destinée aux enseignants.
Le site compagnon avec ses ressources et des extraits du Guide pédagogique.
Step 3: La directrice de la collection Shine Bright, Corinne Escales, et l'une des auteures, Cindy Ferrère, ont répondu à vos questions lors d'un webinaire le 20 mai intitulé :
Comment articuler littérature, culture et travail approfondi sur la langue en spécialité LLCER ?
Vous avez été nombreux de demander le programme limitatif pour la Terminale, qui a été publié juste après le webinar:
Le programme de langues, littératures et cultures étrangères publié au Bulletin officiel de l'éducation nationale spécial n° 1 du 22 janvier 2019 précise que trois œuvres intégrales, dont deux œuvres littéraires, ainsi que, pour les langues vivantes étrangères, impérativement une œuvre filmique, seront lues et étudiées au cours de l'année de terminale, à raison d'une œuvre par thématique. Pour les années scolaires 2020-2021 et 2021-2022, ces œuvres seront choisies par les professeurs dans le programme limitatif suivant :
Œuvres littéraires :
- Atwood Margaret, The Handmaid's Tale (1985) ;
- Auster Paul, Moon Palace (1989) ;
- Brontë Charlotte, Jane Eyre (1847) ;
- Kureishi Hanif, The Buddha of Suburbia (1990) ;
- Miller Arthur, Death of a Salesman (1949) ;
- Roy Arundhati, The God of Small Things (1997).
Œuvres filmiques :
- Branagh Kenneth, Much Ado About Nothing (1993) ;
- Ford John, The Searchers (1956) ;
- Lumet Sidney, 12 Angry Men (1957).
Step 4: Vous pouvez également découvrir l'un des Snapfiles de Shine Bright LLCER, autour d'une réécriture de Pride and Prejudice dans le Pakistan de nos jours : Unmarriageable par Soniah Kamal.

Downloadable resources ready to use in class
>
Reading Guides LLCER Terminale
>
The Handmaid's Tale: Sneak Peek
>
"Emma": a New Austen Film
>
Table-top Shakespeare Free Streaming