Two exhibitions in Paris celebrate the life and legend of the first African-American artist to become an international star.
Jean-Michel Basquiat, an African-American artist of Haitian and Puerto Rican descent, was born in New York in 1960. He began spray painting graffiti slogans on walls and doorways in the city's Lower East Side in 1979. Three years later, at age 21, he was the youngest of the 176 artists invited to the prestigious Documenta 7 exhibition in Kassel, Germany. The year after that, he was the youngest artist at the Whitney Biennale exhibition in New York.
By 1988, he was an international art star, famous for wearing thousand-dollar Armani suits while creating million-dollar works of art. Then, in August of that same year he died of a heroin overdose. Interest in his work went sky high. So did the works' prices: in 2007, an untitled Basquiat painting from 1981 sold at auction for $14.6 million.
Basquiat's moment at the top coincided with the Eighties' art-market boom. By 1983, the total value of New York art market was estimated at $2 billion.
Naturally, young artists in search of fame and fortune were drawn to this scene. Many found success, among them Jeff Koons, Keith Haring, Eric Fischl and Julian Schnabel.
But Basquiat was the poster boy. His big, colourful paintings, filled with art-world and pop-culture references, expressed the rebellious spirit of the period. They also gave viewers, and buyers, a unique window into African-American experience.
By cataloguing and commenting on black culture – through cartoon-like portraits of African-American jazz musicians and Hollywood actors, for example, or by using voodoo imagery – his giant canvases became genuine artefacts of cultural identity.
Basquiat became friends with the "grandaddy" of pop art: Andy Warhol, and the two artists collaborated on over 150 paintings they worked on together in 1984-85.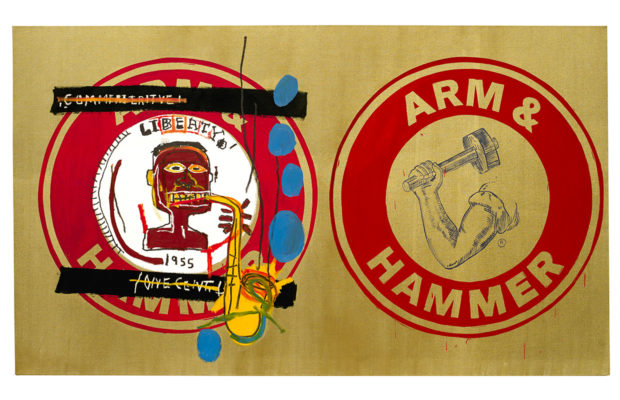 Basquiat was also a musician and a DJ, fascinated by jazz, hip-hop, blues and classical music. A new exhibition looks at the links between his art and his music, each influencing the other.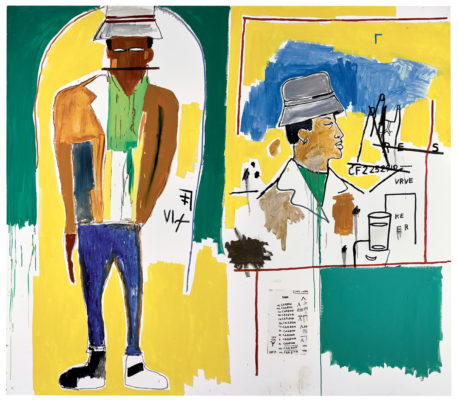 Today, Basquiat's life and work continue to fascinate. He is more than just a short and tragic footnote to art history. He has become an influential artist with staying power.
Basquiat x Warhol à quatre mains
Fondation Louis Vuitton till 28 August 2023
Basquiat Soundtracks
Philharmonie de Paris till 30 July 2023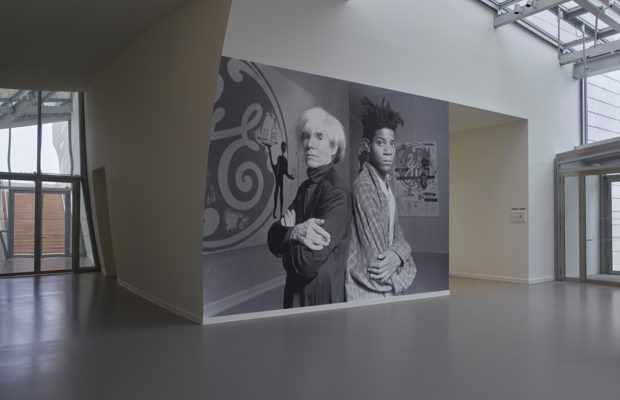 Copyright(s) :
Jean-Michel Basquiat dansant au Mudd Club, New York, 1979
© Courtesy of Nicholas Taylor
Jean-Michel Basquiat, Andy Warhol Arm and Hammer II, 1984-1985
Acrylique, encre sérigraphique et bâton d'huile sur toile, 167 × 285 cm
Collection Bischofberger, Männedorf-Zurich, Suisse
© The Estate of Jean-Michel Basquiat. Licensed by Artestar, New-York.
© The Andy Warhol Foundation for the Visual Arts, Inc. / Licensed by ADAGP, Paris 2023
Vue d'installation de l'exposition "Basquiat × Warhol, à quatre
mains", du 05 avril au 28 août 2023 à la Fondation Louis Vuitton, Paris.
© Estate of Jean-Michel Basquiat Licensed by Artestar, New York, 2023
© The Andy Warhol Foundation for the Visual Arts, Inc. / Licensed by ADAGP, Paris, 2023
Jean-Michel Basquiat, ERO, 1984,
Mugrabi Collection © Estate of Jean-Michel Basquiat. Licensed by Artestar, New York.

Downloadable resources ready to use in class
>
Basquiat, Music and Warhol