Keith Haring grew up in small town Pennsylvania reading, watching and drawing cartoons. When the 20-year-old arrived in New York City to study art in 1978, his fast, cartoonish style was soon recognisable all over the city. A retrospective at Tate Liverpool, then going onto Brussels, shows the astonishing output of his short life.
Haring drew fast and lived fast. He loved the flamboyant creative culture of 1980s New York. He lived in the East Village and formed friendships and collaborations with Andy Warhol, Jean-Michel Basquiat, Madonna and punk designer Vivienne Westwood.
At first, he had no choice but to work fast, because he made chalk drawings on empty advertising spaces in the Subway.
He wrote later:
"One day, riding the subway, I saw this empty black panel where an advertisement was supposed to go. I immediately realized that this was the perfect place to draw.
"I kept seeing more and more of these black spaces, and I drew on them whenever I saw one. Because they were so fragile, people left them alone and respected them; they didn't rub them out or try to mess them up. It gave them this other power."
Between 1980 and 1985, Haring created hundreds of these images, drawing free-hand, combining a number of stylised pictograms that became his signature: a crawling baby, a flying saucer or, cookie-cutter people or a barking dog. The subway drawings were white on black, but when he painted on canvas, walls or tarpaulins, he used a thick black frame, like a cartoon frame, bold black lines and bright colours.
New Yorkers became very familiar with them, and would stop to talk to the artist.
Art Market vs Popular Art
Haring's work was soon being exhibited, and appreciated in the art market. But he was never entirely comfortable with his new-found wealth. He often gave it away to children's charities. In 1986, he opened his "Pop Shop" in SoHo, selling reasonably priced reproductions of his images on T-shirts, badges and mugs.
A child of the 1960s, he understood the power of eye-catching images and memorable slogans, and used them to support causes such as ending apartheid, and particularly the fight for LGBTQ rights, and for AIDS research.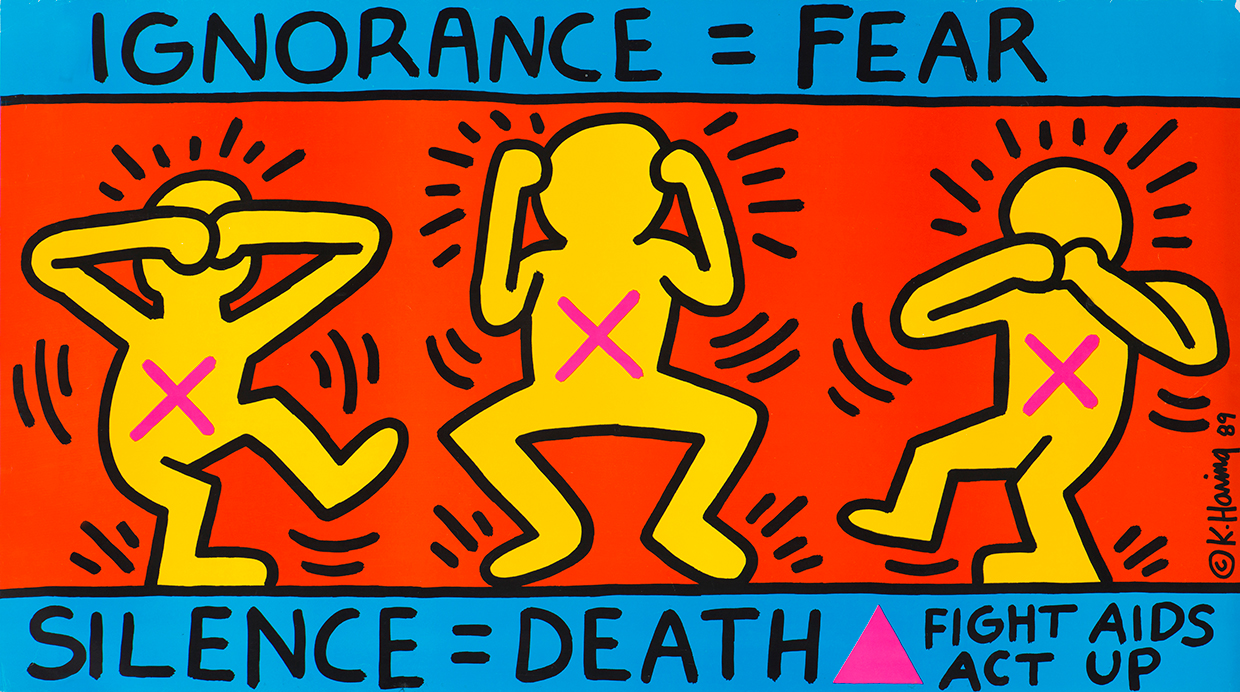 Haring was diagnosed with AIDS in 1988. He set up the Keith Haring Foundation the following year. It continues to support underprivileged children and projects which help people affected by HIV/AIDS. Haring himself died on February 16, 1990. He was just 31.
Keith Haring
Tate Liverpool
Till 10 November 2019
The exhibition will then tour to the BOZAR/Centre for Fine Arts in Brussels
6 December 2019-19 April 2020

Shine Bright
2de Snapfile 8: "Will You Get Banksy-ed", has students look at street artist Banksy and his motivations. It would be interesting to compare him with Haring. We'll have a downloadable resource on the Haring exhibition in September.
Copyright(s) :
All Haring Works © Keith Haring Foundation/ Collection Noirmontartproduction, Paris
Keith Haring, 1958
Keith Haring in subway car, (New York), circa 1983.
Photo © Muna Tseng Dance Projects, Inc. Art © Keith Haring Foundation