Britain has a new Prime Minister. After a two-month voting process following Theresa May's resignation, the Conservative Party announced the name of its new leader on 23 July. On 24 July the Queen invited Boris Johnson to form a government.
The new government has just over three months to try to find a solution to Brexit before the delayed deadline of 31 October. There are three options. Either manage to get parliament to approve the deal negotiated by the May government, which it has already rejected three times. Or try to renegotiate the deal, despite Brussels' reluctance and the short time window. Or leave the European Union without a deal and no clear vision for businesses of what the situation will be in 1 November.
To do this Mr Johnson has exactly the same resources as Mrs May. Since the Conservatives are seven seats short of a Commons majority, they are dependent on the 10 votes of the small Northern Irish party the DUP. It is vehemently opposed to the "backstop" arrangement which would avoid border controls being reinstated between Northern Ireland and the Republic for an indefinite time while negotiations continue, effectively meaning that Northern Ireland has a different status from the rest of the UK after Brexit.
The Conservative Party itself is divided over Brexit policy, which is why Mrs May's deal was defeated at best by 58 votes, including Conservatives.
Back to Brussels
Mr Johnson, a journalist and columnist has been an MP since 2001. He  was Mayor of London from 2008 to 2016. He led the Brexit campaign but chose not to stand as Tory leader after David Cameron resigned. He was Theresa May's Foreign Secretary from 2016 to 2018, when he resigned over the Brexit deal.
He is extremely familiar with Brussels and the European institutions. He lived in the city for part of his childhood as his father was a European civil servant, then MEP. He was Brussels correspondent for The Daily Telegraph from 1989 to 1994, honing a Eurosceptic discourse in contrast to most other British correspondents.
Yet Johnson is far from a textbook Eurosceptic. He seriously hesitated between Remain and Leave before plumping for the latter.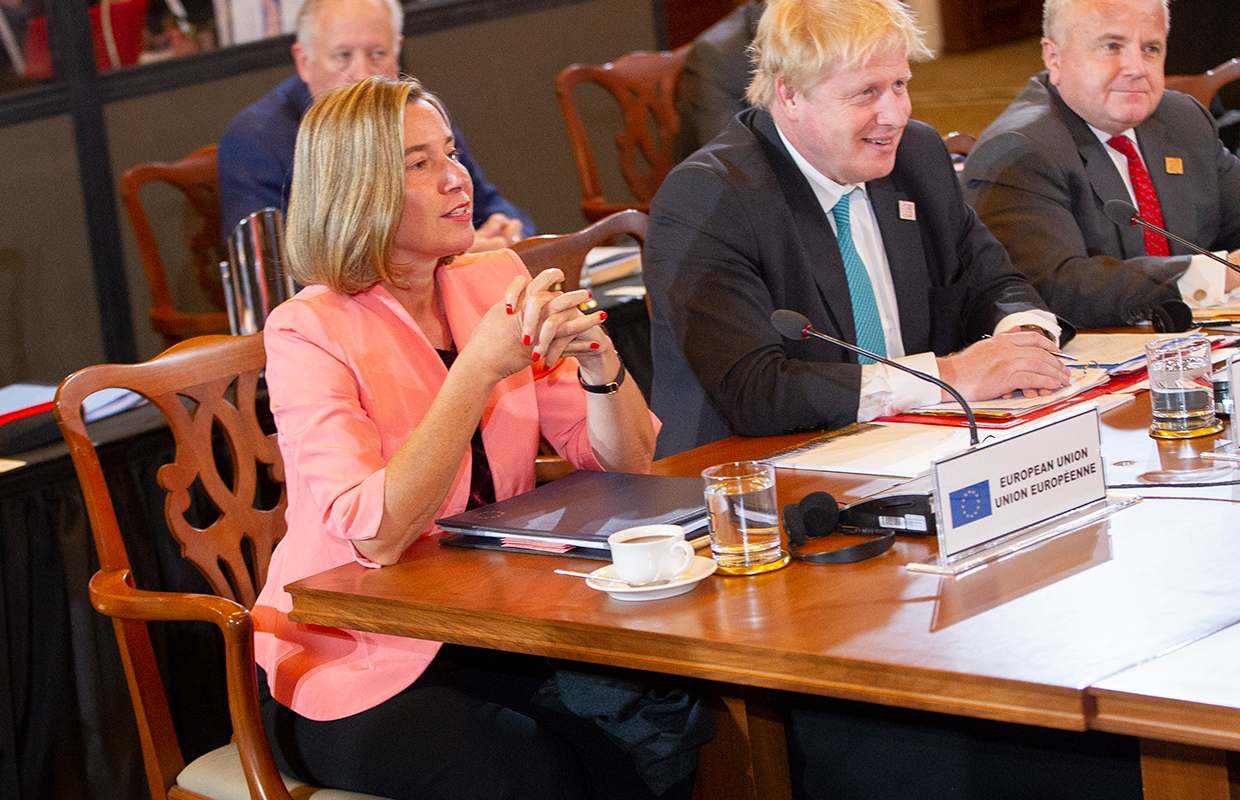 What's Next?
Parliament goes into recess – effectively is on holiday — from 25 July till the beginning of September. On 1 August, there will be a by-election in Wales for a seat held by a Conservative, Chris Davies. Mr Davies was removed from his seat after a petition signed by 19% of his constituents called for his removal over a conviction for a false expenses claim. Yet the Tory party has re-selected him as its candidate, a risky move for a minority government.
Meantime the new Prime Minister will form his cabinet and attempt to batter out a solution for Brexit. In the leadership campaign, Johnson swore Britain would leave the EU on 31 October with or without an agreement, "Do or die." The sort of fighting words favoured by Johnson's hero, and fellow old Etonian, Winston Churchill. But can he follow them up with actions?
Copyright(s) :
UK Government
Geoff Robins/EC - Audiovisual Service