It's become a cliché to describe a celebrity as an iconic figure but a new exhibition about Michael Jackson takes the word "iconic" in a more literal sense. Michael Jackson: On the Wall looks at how the visual artists depicted and idolised one of the biggest music stars of his, or any, time.
Jackson was the most depicted figure by contemporary artists, starting when Andy Warhol made a cover image of his face for Interview Magazine in 1982.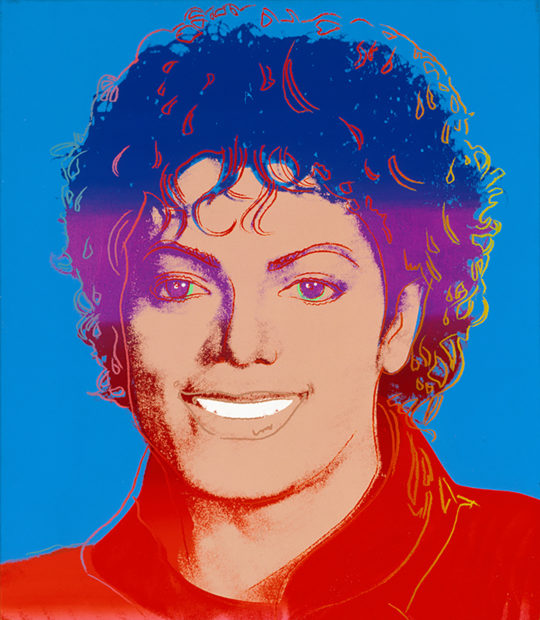 Jeff Koons' ceramic statues of the King of Pop and his chimpanzee Bubbles are also well-known, but many other artists from many different cultures have taken him as their subject. The exhibition, which has transferred to the Grand Palais in Paris from the National Portrait Gallery in London, features works by 48 different artists (including Grayson Perry, who has his own exhibition at the Monnaie de Paris.)
Some of the works were commissioned by Jackson, as album cover art or stage decoration, or for his personal collection.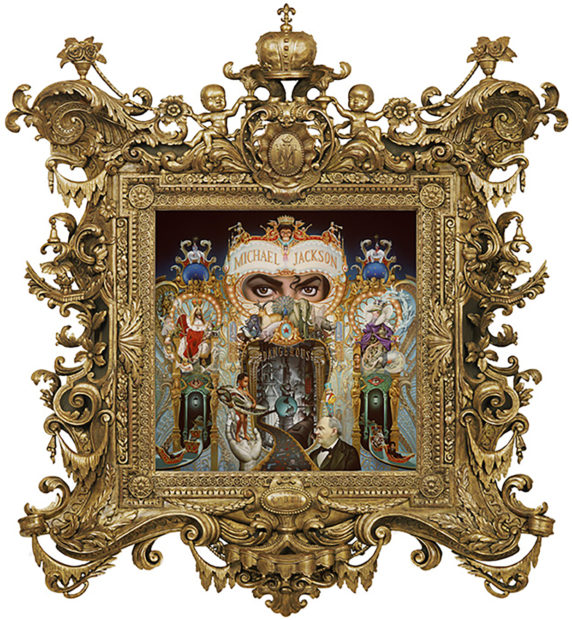 Much of it was produced independently by artists reflecting his status as a social phenomenon, including a number of works created in reaction to his death, such as the one at the top of this page by Johannes Kahrs.
One entire room is given over to works referencing various items of clothing that became synonymous with Jackson. His shoes, suspended by balloons to symbolise his light-footed dancing. A hat, a single glove, the red leather jacket he wore in the "Thriller" video — a groundbreaking music video, almost a short film in the horror genre. These objects, associated with the icon, themselves became iconic.
Song and Dance
If you visit the
Musical Comedies exhibition
at the Philharmonie, don't miss the short film that recounts Jackson's fascination, and friendship with the legendary dancer Fred Astaire, and shows how Jackson paid homage to Astaire in his video "Smooth Criminal", inspired by an Astaire dance in
The Band Wagon (Tous en scène)
.
Look out for a Ready to Use Resource on the Musical Comedies exhibition, coming soon.
Jackson: Life and Death
Michael Jackson was born on 29 August 1958 in Gary, Indiana, the eighth of 10 children. At the age of six, he joined the group formed by his older brothers, which became known as The Jackson Five. The group became a massive success with Motown and Michael became the main songwriter as he got older. From the outset, he was as well-known for his dancing as his singing. During his meteoric solo career from the 1980s, his dancing on his music videos helped them become some of the most popular ever. His albums Off the Wall, Thriller and Bad established him as an international star.
But his itinerant childhood, and physical discipline by his father, left their mark on Jackson and the bizarre world of truly global celebrity left him an isolated and damaged adult. His musical success continued but his private life was a succession of disasters: marriage, divorce, fatherhood, accusations of child molestation (for which he was aquitted.) Despite all this, Jackson was planning a comeback, and a sold-out tour in 2009 when he died on 25 June. His personal doctor was convicted of involuntary manslaughter in relation to his death.
Michael Jackson: On the Wall
Grand Palais Paris
Till 14 February 2019
You can download a teaching pack (in French) and find out about class visits in English (download the "offre de médiation" leaflet).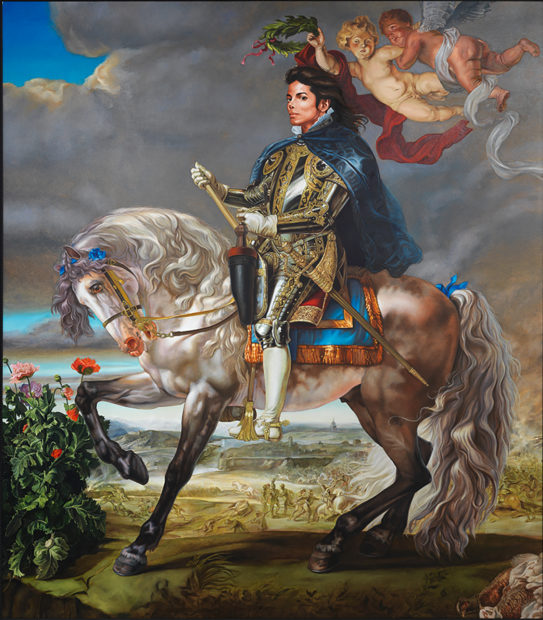 Copyright(s) :
Home: Johannes Kahrs Untitled (Jesus aged 43) 2015
Huile sur toile 63,4 x 111,4 cm
Avec l'aimable autorisation de l'artiste et Zeno X Gallery, Anvers © Johannes Kahrs
Michael Jackson by Andy Warhol, 1984
Acrylique et encre sérigraphique sur toile 76,2 x 66 cm
The Andy Warhol Museum, Pittsburgh; Founding Collection, Contribution The Andy Warhol Foundation for the Visual Arts, Inc. © The Andy Warhol Foundation for the Visual Arts, Inc. / Licensed by Adagp, Paris, 2018
Mark Ryden "The King of Pop" (#135) 1991-2018
91.4 x 91.4 cm Acrylique sur panneau, sculpture sur bois
Collection particulière
Who's Bad? Faith Ringgold 1988
Acrylique sur toile et bords en tissu
Avec l'aimable autorisation de ACA Galleries, New York © Faith Ringgold
Notion(s) culturelle(s) : "Mythes et héros"