New Zealand's 17 October election was originally scheduled on a historically significant day: 19 September, the annual anniversary of the date in 1893 when New Zealand women became the first in the world to legally vote. It was postponed because of Covid but was historic anyway: the Labour party became the first in 24 years to win an outright majority.
In 1996, New Zealand adopted MMPR: mixed-member proportional representation. It is a system that generally produces coalition governments. Each voter votes once for their MP and once for the party they want to win.
There seemed little doubt that Jacinda Ardern would lead her party back into government, but not necessarily a majority. For the last three years, Labour had been in coalition with the Green Party and the nationalist New Zealand First.
Crisis Management
If the U.S. election may hang on problems with its government's response to Covid, New Zealand's was won by the world's most successful response. After an early tight lockdown, only 25 out of 5 million Kiwis have succumbed to the virus and life has largely returned to normal, despite a recession. This was of course easier to achieve in a small island nation in the middle of the Pacific Ocean, but New Zealanders in general feel they have been in a safe pair of hands throughout the crisis. Ardern's regular virus briefings were clear and reassuring— in contrast with many other nations' leaders. In April, Ardern announced that she, her ministers and the chief executives of public services would all take a 20 per cent pay cut for six months in solidarity with the efforts they were asking the general public to make.
Ardern is probably the first New Zealand PM ever to have global name recognition. Her calm, friendly style has won her praise around the world. She started her premiership by becoming only the second elected leader of a country to give birth in office. She attended the UN General Assembly with baby Neve.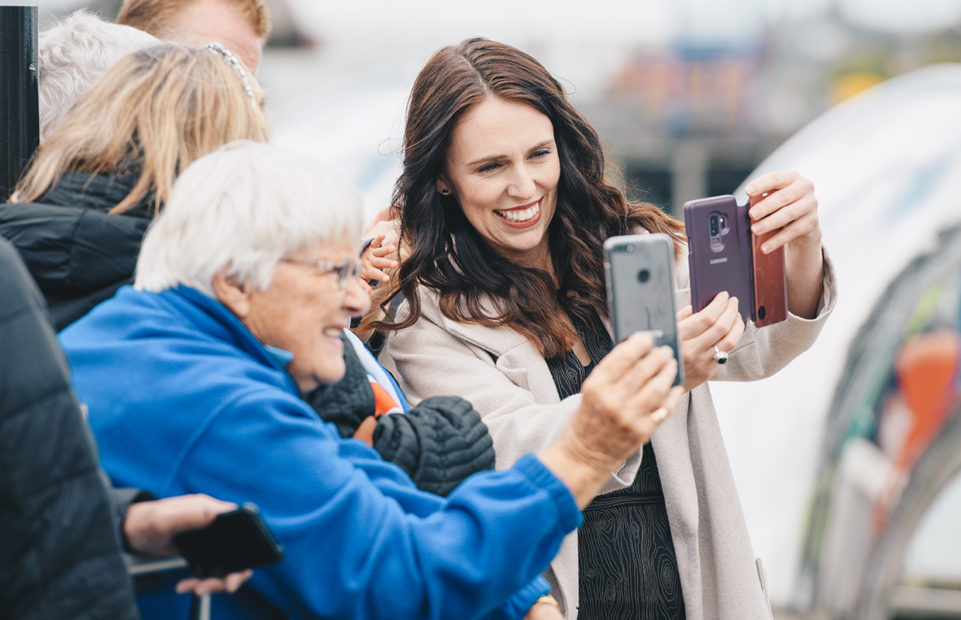 Before Covid, she faced two other major crises with astonishing grace. In March 2018, an Australian white supremacist killed 51 one people in shootings in two mosques in Christchurch. Ardern donned a headscarf and went to meet the shocked Muslim community, hugging survivors and relatives. A ban on semi-automatic weapons like those used in the shooting passed practically unanimously through Parliament shortly after. That was followed in December by a deadly volcanic eruption on the remote White Island, which killed 22 people, mostly tourists.
Let's Keep Moving
Labour's opponents in the election campaign said the party had not fulfilled campaign promises on reducing child poverty and building much needed housing. With 64 seats out of 120 in the Beehive parliament, Ardern and her team now have three years to try to pursue those pledges, against a backdrop of global recession.
Copyright(s) :
Shaun Jeffers/Shutterstock
De Seita/Shutterstock