Green Book — winner of the 2019 Best Picture Oscar —is a road movie about friendship and race relations in the 1960s American South.
The biopic is based on a real story: In 1964, Dr Don Shirley, a virtuoso classical pianist, was booked to play a series of concerts across the Deep South. Dr Shirley was African American, and he would be travelling through heavily segregated states. He needed a bodyguard/driver to ease his path, so he employed Tony Vallelonga, an Italian-American nightclub bouncer. The men were very different in temperament and background, but two months on the road cemented a friendship that would last for fifty years.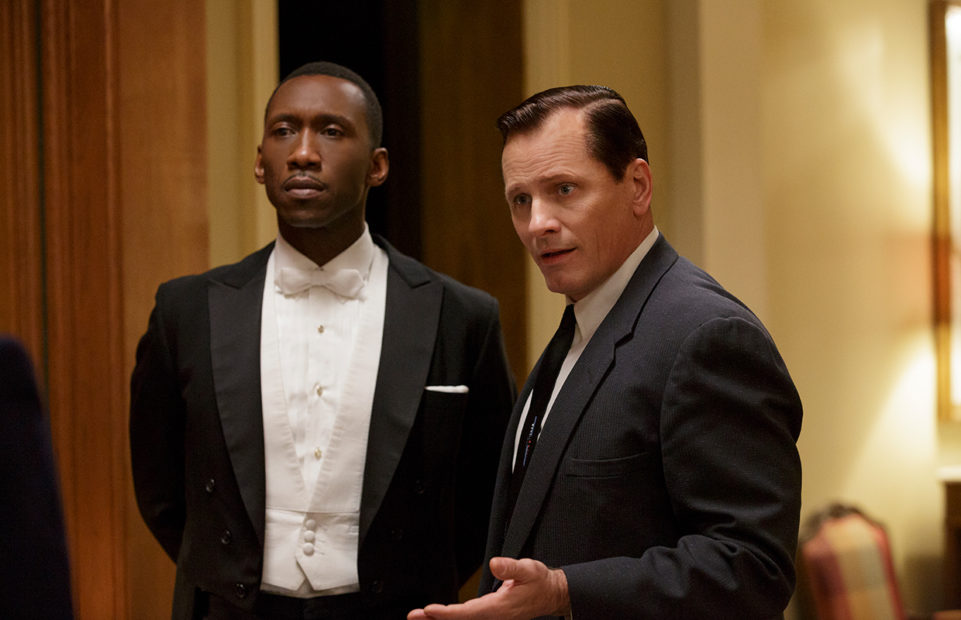 The idea for the film came from Vallelonga's son Nick, an actor, director, writer and producer. He grew up hearing the stories of this and subsequent roadtrips his dad took with Shirley. He had the foresight to tape hours of interviews with both his father and Shirley before they died. And he also had the letters his parents wrote to each other during the trips – Tony's honed and refined on Shirley's advice.
The film is directed by Peter Farrelly, in a more serious vein than his hits like Dumb and Dumber. Tony Vallelonga is played by Viggo Mortensen (The Lord of the Rings, Captain Fantastic), with Mahershala Ali (Moonlight, Hidden Figures) as Dr Shirley. The film has been nominated for five Oscars, including Best Picture, best actor for Viggo Mortensen and best supporting actor for Mahershala Ali.
It's a real buddy movie - it's rare, and pleasant,  to see male friendship get this much attention. It's probably overkind to the two main protagonists given that it was written by a family member and even features some onscreen. But the characters are so endearing, despite their faults, that you want them to be the fundamentally good human beings they are portrayed as.
The Green Book
The film takes its title from a guide book published for almost thirty years from 1936: The Negro Motorist Green Book. It was compiled by a New-York-City mailman with the wonderful name Victor Hugo Green. He originally focussed on his home town, Harlem, but was encouraged to expand to provide black travelers with essential information about where they could, and couldn't get served gasoline, food, or get a room for the night across the Southern states. The strapline across the cover was the slightly ominous, "Carry your "Green Book" with you. You may need it."
Brent Leggs, the director of the African American Cultural Heritage Action Fund, describes The Green Book as a "sort of a 20th Century version of the Underground Railroad, and this annual travel guide was the Bible of black travel."
Real History
The New York Public Libraries Digital Collection has a 1948 copy of the guide you can consult online. The introduction would be perfect for students from B1. It begins, "It has been our idea to give the Negro traveler information that will keep him from running into difficulties, embarrassments and make his trips more enjoyable." And concludes, "There will be a day sometime in the near future when this guide will not have to be published. That is when we as a race will have equal opportunities and privileges in the United States." That prediction came true. Publication ceased two years after the 1964 Civil Rights Act. Unfortunately Mr Green didn't live to see it.
See our Webpicks for a short radio programme and
the online book to use in class.
Copyright(s) :
Metropolitan Film Export