Do some armchair travelling with the Big Jubilee Read: a list of 70 books, ten for each decade of Queen Elizabeth II's record-breaking reign. As befits its head, the authors and settings range all over the Commonwealth: representing 31 countries on six continents. It includes eight Nobel Literature Laureates, and a lot of Booker Prize winners.
In great majority, the books are novels, thought long-form poems by Nobel Laureates Seamus Heaney (Ireland) and Derek Walcott (St Lucia) make the cut. Other Nobel Laureates include this year's Abdulrazak Gurnah (Tanzania), J.M. Coetzee (South Africa), Alice Munro (Canada), Kazuo Ishiguro (UK, born in Japan), V.S. Naipaul (Trindad and Tobago) and J.M. Le Clézio (for his Mauritius connections).
We saw some favourites on there, like Salman Rushdie's Midnight's Children, Andrea Levy's Small Island, Eleanor Catton's The Luminaries and Douglas Adams' wonderfully quirky The Hitchhiker's Guide to the Galaxy. There are bestsellers you might recognise from film and TV adaptations like John Le Carré's Tinker Tailor Soldier Spy, E.R. Braithwaite's To Sir, With Love, Thomas Keneally's Schindler's Ark or Michael Ondaatje's The English Patient.
But there are also lots that we can't wait to discover. You can check out the full list here.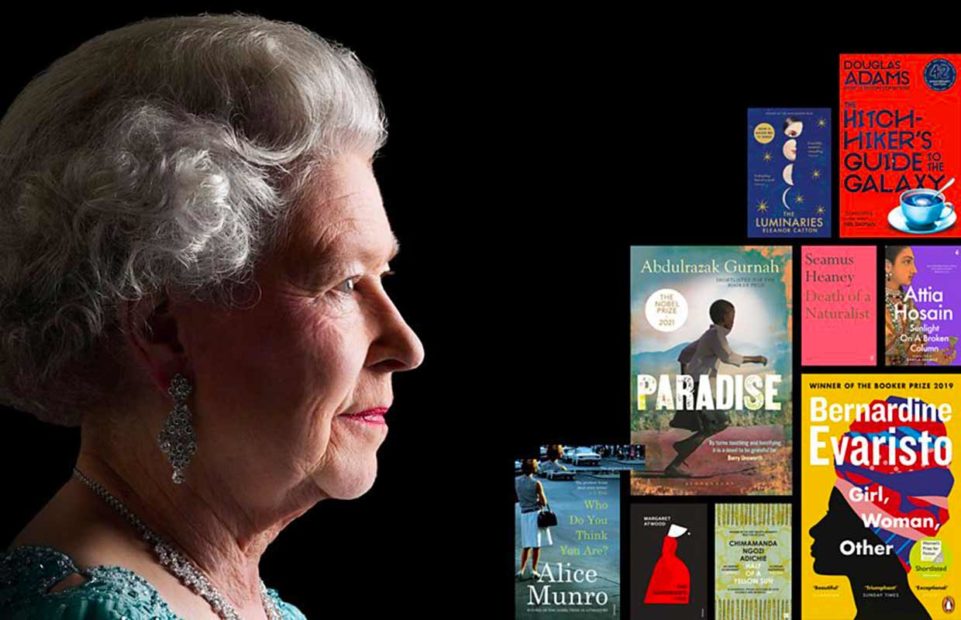 Of course we don't actually know what the Queen reads but Alan Bennett had a go at imagining her reading list in his charming novella The Uncommon Reader. He depicts the monarch discovering a mobile library that visits Buckingham Palace and becoming an avid reader.
Lots of LLCER
Two of the books on the list are on the list of books to read for the LLCER speciality, Arundhati Roy's The God of Small Things, a fascinating reflection on language and caste in India, and Margaret Atwood's dystopian novel The Handmaid's Tale.
You can also find extracts from several of the novels in Shine Bright LLCER. In File 3 Brave New Women, you'll find extracts from The Handmaid's Tale and its sequel The Testaments, as well as a speech by Nigerian novelist Chimamanda Ngozi Adichie, who is on the Big Jubilee Read list for her 2006 novel Half of a Yellow Sun, about the Biafran War, which followed Nigerian independence from the UK in the late 1960s.
In File 8 From Isle to Isle, you'll find an extract from The Lonely Londoners, in which Trinidadian writer Sam Selvon wrote about the Windrush Generation were encouraged to come the U.K. from the West Indies after WWII. And one from Wide Sargasso Sea, Jean Rhys' retelling of the Jane Eyre story through the eyes of Mr Rochester's "mad wife", also from the West Indies.
There's an extract from The God of Small things in File 16 Coming-of-Age Stories.
There is a whole snap file (18) on Canadian novelist Yann Martel's Life of Pi, a wonderful tale of a young Indian man who survives a shipwreck by sharing a lifeboat with a large tiger. Or does he?
Copyright(s) :
BBC/The Reading Agency

Downloadable resources ready to use in class
>
The Handmaid's Tale: Sneak Peek